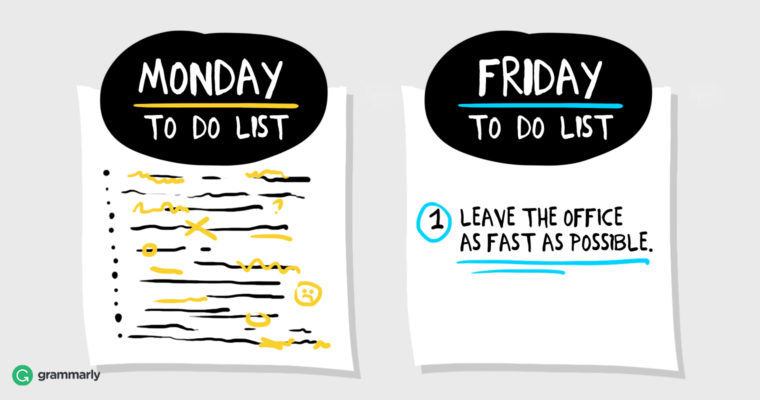 Is Friday a super productive work day? Or are you starting to wonder why you bother coming in at all? For many of us, getting through the day on Friday (especially the afternoon) can be a real struggle.
Who doesn't get that #FridayFeeling?
After a long week of getting stuff done, we're just ready for the weekend to begin. Staying focused on work can feel impossible, but indulging in a lighter work day can be guilt-inducing when we expect (or others expect) that we'll get more work done than we actually do.
What if you could truly enjoy your Friday and still have a productive work day where you're proud of what you accomplished?
Inconceivable? Think again. Here are four simple strategies you can use to make your Fridays more productive and fun.
1

Schedule your day strategically

Has this ever happened to you on a Friday afternoon?You glance at the clock, it's 4:30, and you still haven't crossed the most important To Do item off your list.

Friday is prime time for procrastination, so do what you can to resist this trap. If you're planning on dipping out early, the last thing you want holding you back are some serious To Do items—or being stuck in a meeting at 4:00 pm.

Instead of drifting into work late, come in early or on time. Schedule your important projects and meetings for the morning when you're feeling more focused and energetic. Then save the grueling afternoon for tasks that aren't as important.

When you're strategic and intentional about your schedule, you can get your most important work done before that Friday Feeling rolls around in the afternoon.

Productive Friday accomplished? Check!
2

Do the small stuff you've been putting off

If you're like me, Friday afternoon is the worst time for tasks that require critical thinking. Good thing productivity isn't just about the big stuff!

Instead of whiling away the hours on Slack or falling down the Internet rabbit hole, why not channel your restless energy for good?

Friday afternoon is the perfect time to check off those pesky little To Dos and get things prepped for next week.

Go ahead and answer the last emails in your inbox. Fill out that report you've been putting off. Do the online training you forgot about. Touch base with Patty in marketing about that thing. If your desk looks like a garbage heap, do some tidying up so your workspace feels fresh and organized.

Start thinking about next week. Prep yourself on the project deadlines and meetings you have coming up. Get clear on your top priorities for Monday so you can roll into work ahead of the game.

You'll feel super productive and better able to enjoy your weekend when you have everything wrapped up and ready to go for next week!
3

Set realistic expectations

Clear strategies for a more productive Friday are helpful, but you still need to be realistic about how much you can really do. Between the extra distractions (beer hour, anyone?) and lower mental energy, you might be working at a more relaxed pace.

Maybe you have five projects you'd like to cross off your Friday list, but it's more realistic that you'll get only three done before you run out of steam.

Setting realistic expectations will help you enjoy what you're able to accomplish and not beat yourself up over the things you didn't get done.
4

Give yourself permission to have fun

Letting yourself relax a little on a Friday may feel like an easy choice . . . or it may leave you worried that you're slacking off and should be getting more done.

The reality is this: when you're tired and distracted, forcing yourself to make sluggish progress or staying late to eke out a little more on a project is not as productive as you think. You're not doing your best work.

A better option is to accept when you need to take a break. Give yourself permission to relax. It's okay to leave a little early to unwind with friends or go to a fitness class, take a walk, catch some alone time at a cafe over lunch.

Maybe there's a coworker you want to connect with or a creative project you love but don't normally have time for.

After a long week of kicking ass and taking names, sometimes the best thing you can do for your work and for yourself is to take a step back so you can recharge.

Remember, it's okay if you don't disrupt the markets, solve world hunger, or write the next Great American Novel. That stuff will be waiting on Monday, but right now it's Friday—so take a break!

What are your favorite productivity hacks for getting through Fridays? Come share with us in the comments section below!