Features
Communication Assistance, Built for You

Go beyond fixing mistakes so that you, your team, or your entire organization can communicate with speed, skill, and confidence.

Assistance comes to you through seamless integration on desktop and mobile, across thousands of websites and applications. Discover the possibilities of writing with an AI co-creator—built with privacy and security in mind.

Confident Writing for Individuals and Organizations

From email threads to comment threads, from texts to theses, you want to put your best writing out into the world. Grammarly helps your ideas shine with instant writing guidance, delivered intelligently, whenever you need it.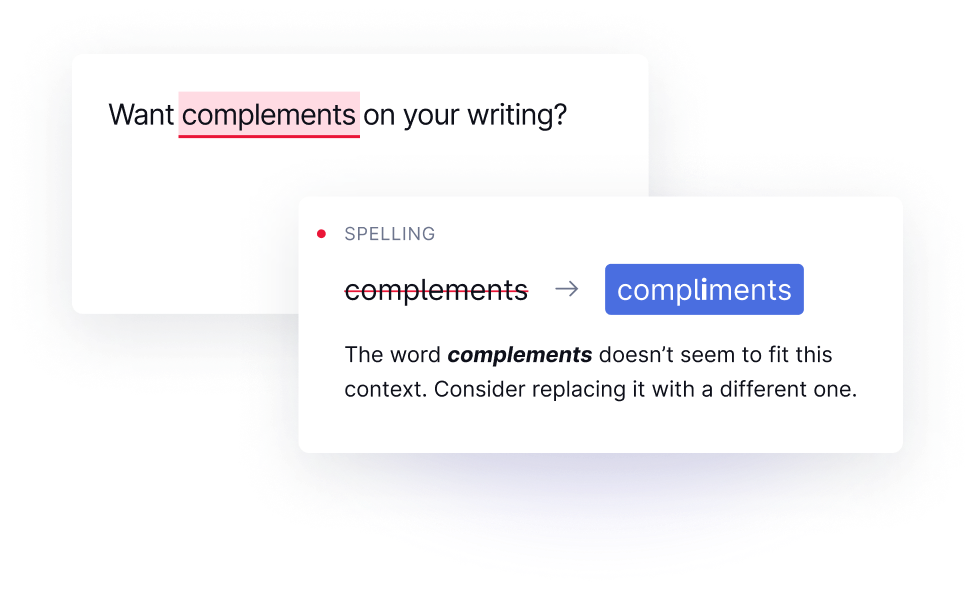 Correctness
Ensure your writing is mistake-free and polished

Catch typos, missing punctuation, or commonly confused words before they become distracting to your reader.


Tone Suggestions
Make the right impression every time

Get guidance to adjust the mood and attitude of your writing, without changing your meaning.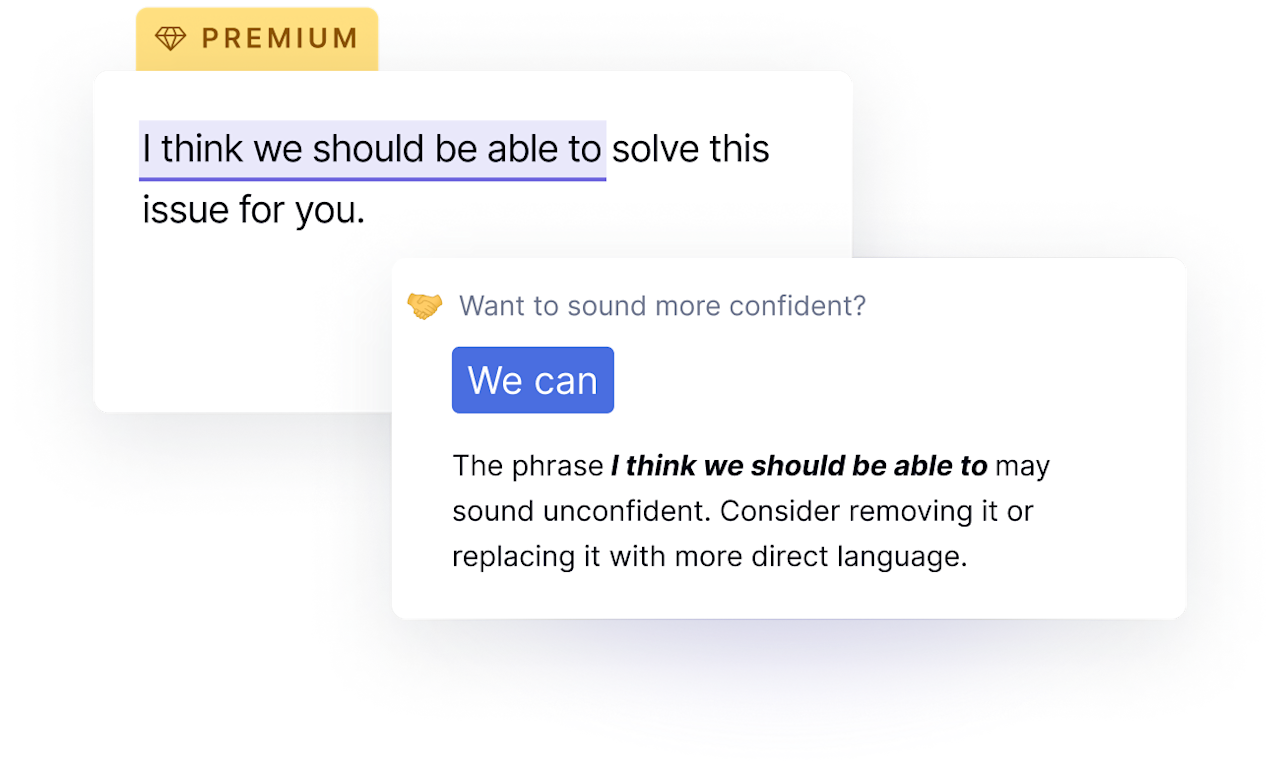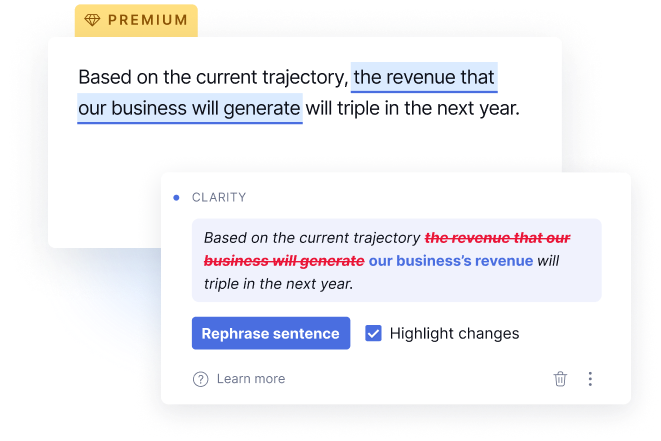 Full-Sentence Rewrites
Clean up tangled, hard-to-read sentences

Use clarity suggestions to make your writing easy for your reader to understand.


Custom Style Guides
Empower your team to write with a unified voice

Apply shared guidelines to help teams sound consistent by encouraging the language and tones unique to your brand.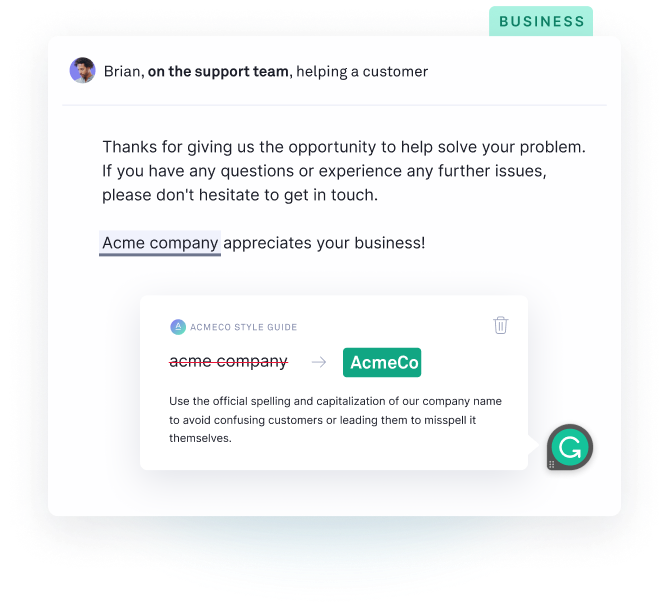 Writing at the Speed of 
Generative AI

Grammarly uses generative AI to help you write, rewrite, ideate, and reply with simple prompts or even at the click of a button. With a Grammarly plan, you get a monthly allowance of prompts to begin writing with generative AI assistance. You'll be amazed at what you can do.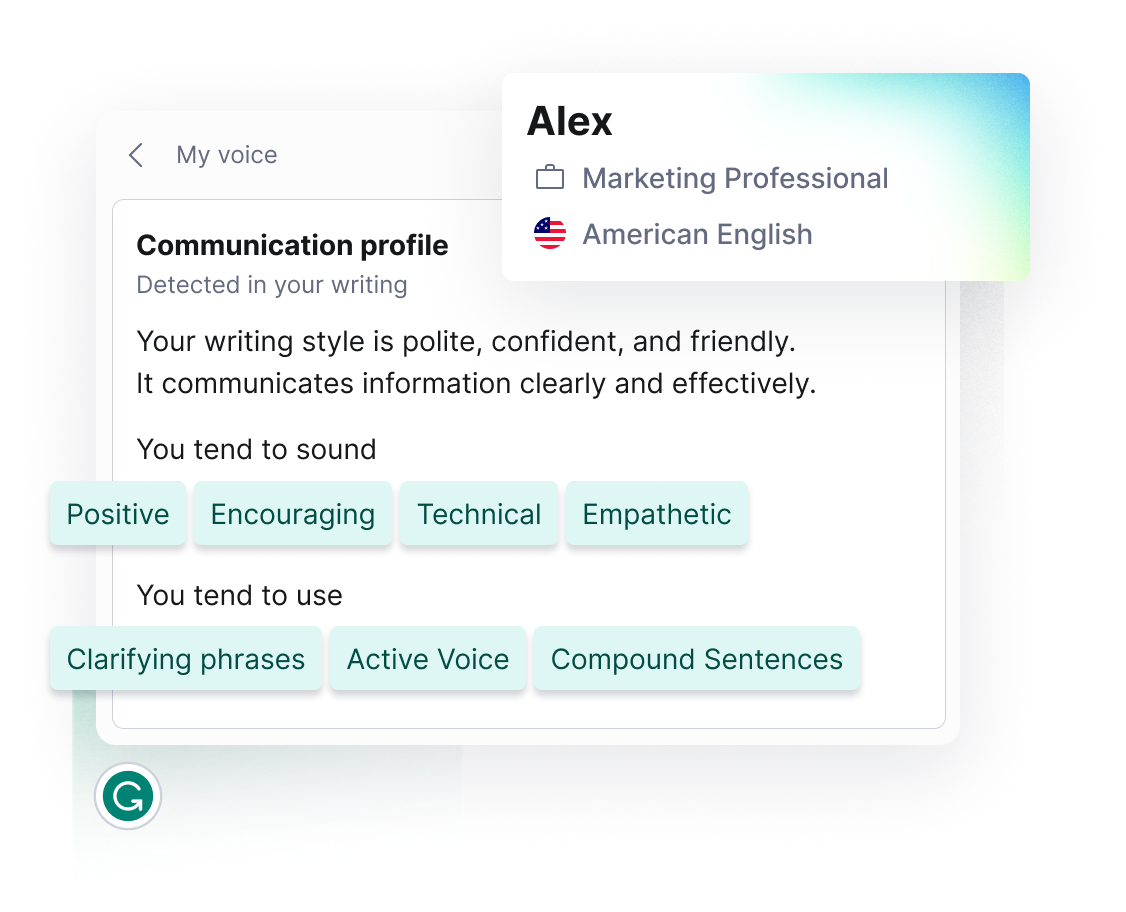 Assistance, in your voice

Write in your voice using generative AI with customizable profile options for tone, formality, and professional relevance.

Rewriting made delightful

Grammarly's generative AI finds ways to make your writing shine—and gives you new versions to consider.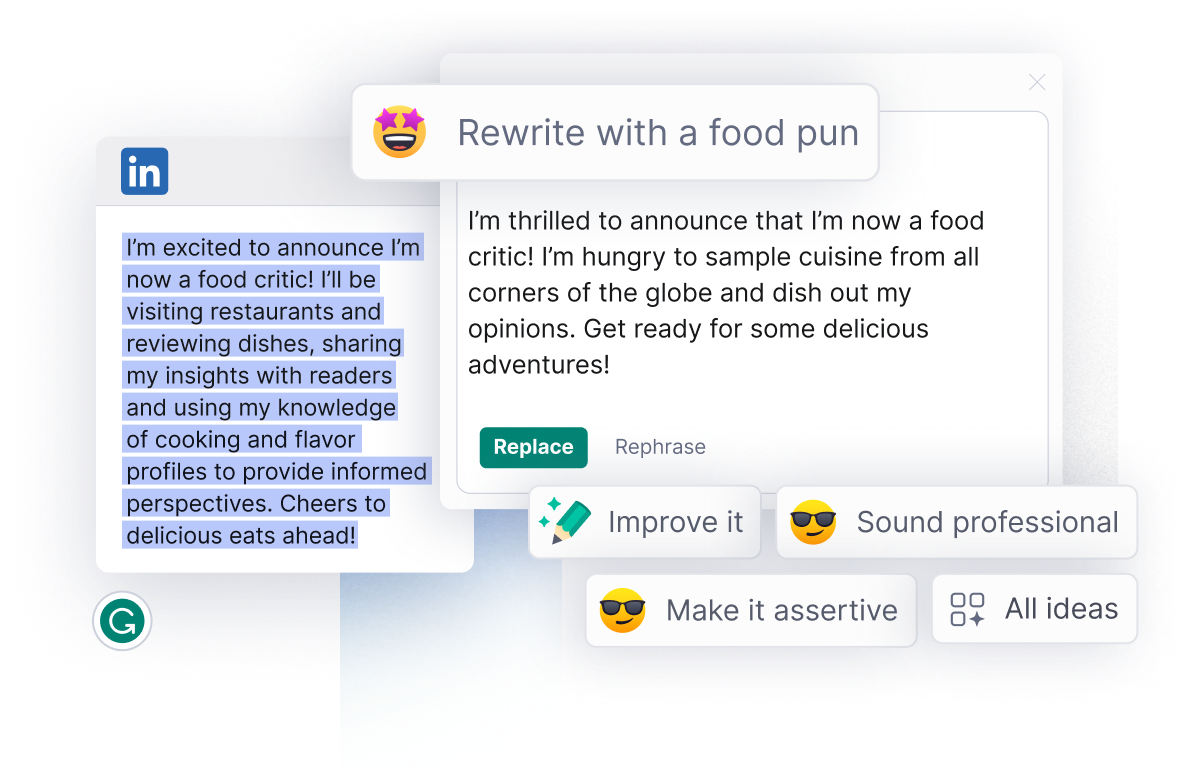 Writing Support Where You Need It

Available in 500,000+ mobile, web, and desktop applications, Grammarly is here to help—whether you're creating, working, learning, or even just chatting with friends.






You Own What You Write

Grammarly's user-first principles of security and data privacy are at the heart of everything we build. Our business model is to sell subscriptions, not customer data.

90% of users say Grammarly helps them edit their work more efficiently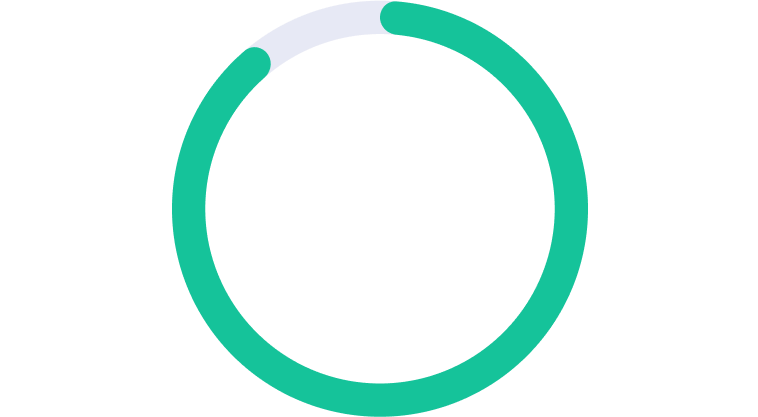 Frequently Asked Questions

Where can I use Grammarly?

Grammarly is designed to work where you do and to keep working as you move across applications, browsers, and devices. Grammarly's suggestions are available on all major web browsers (

Google Chrome

,

Mozilla Firefox

,

Microsoft Edge

, and

Safari

) and on desktop apps with our Grammarly for

Windows

and

Mac

product offering. To use Grammarly on mobile devices, download our mobile keyboards for

Android

or

iOS

, or our

iPad app

. You can also write directly within the

Grammarly Editor

, our writing platform made for accessing and editing long-form documents across devices.
What does Grammarly offer beyond spell check and grammar check?

Great writing is more than just mistake-free writing. Grammarly helps you move beyond "good enough" by providing suggestions to make writing clearer, more engaging, or more effective. It also evaluates your writing for more nuanced editorial decisions, like tone and sentence variety. For students and researchers, Grammarly offers plagiarism detection and citation support so papers stay original and use proper citation practices throughout. For organizations, features like style guides and snippets are designed to keep teams consistent, on-brand, and efficient. Visit our

Plans

page for a complete list of capabilities, by subscription offering.
How does Grammarly's technology work?

Grammarly's AI combines human expertise with advanced machine learning and natural language processing. Our linguists, research scientists, and engineers build on cutting-edge language research and anonymized user data to deliver smarter writing suggestions.

Is Grammarly secure?

All of Grammarly's products are built with information security as a top priority. Grammarly has security features to protect you from unauthorized access. Data is encrypted to keep your information safe. And our vigilance about security is not just within the product either. We maintain a security-first culture within our organization and have the enterprise-grade certifications to prove it. You can learn more about information security in our

trust center

.
Can Grammarly see or use my writing?
What data does Grammarly collect?

To serve our users, Grammarly collects necessary information, such as usernames, email addresses, and contact and language preferences. Read more in our

Privacy Policy

. Any user can

request to view

all the data associated with their account. You can also find information about the small number of trusted

third-party processors

that help us provide our services.
What's included in a paid plan?

Paid plans for individuals include access to our Premium features—such as clarity, vocabulary, tone, and consistency improvements—to make your writing polished and professional for your most important communication needs. Students and researchers will also benefit from citation support and advanced plagiarism detection. Paid plans for businesses and institutions come with team-specific features and enterprise-grade security measures for organizational success and peace of mind. Visit our

Plans

page to see what's included in our Free, Premium, and Business plans.
Who can use Grammarly's generative AI features?

If you have a Grammarly account in any country, you have access to Grammarly's generative AI assistance. Grammarly Business and Grammarly for Education accounts have access to Grammarly's generative AI features, unless turned off by your account administrator.

Where can I use Grammarly's generative AI features?

Grammarly's generative AI assistance is available in the following product offerings and platforms: Grammarly for Windows, Grammarly for Mac, Grammarly for Chrome, Grammarly for Edge, and the Grammarly Editor. You'll be able to use our generative writing capabilities in Gmail, Google Docs, Microsoft Word, LinkedIn, and Medium. Grammarly's generative AI features will become available for more applications and websites over time.

Is Grammarly's generative AI assistance available in every Grammarly plan?

Yes, all Grammarly plans include access to Grammarly's generative AI capabilities through a monthly allowance of prompts. To learn more and see a complete plan comparison, visit our

Plans page

.
How does Grammarly use my data?

Grammarly's

enterprise-grade attestations and certifications

and

user-first approach to security and privacy

reflect our practices and policies to keep customers' data safe and secure.

Grammarly's product offerings access text only when you have the product activated. Grammarly never sells customer data and never provides information to third parties to help them advertise their products to you. Rather, Grammarly makes money when people subscribe to our paid offerings.

Any information used to power Grammarly's generative AI features, such as prompt type, prompt text, and the context in which it's used, will be shared with our partners for the sole purpose of providing you with the Grammarly experience. We do not allow any partners or third parties to use your data for training their models or improving their products.

In addition, Grammarly takes extreme care to isolate each customer's data. Any writing that an individual or organization reviews with Grammarly will never appear in another customer's writing suggestions.
Confident Writing Made Simple

Join over 30 million people and 50,000+ teams who use Grammarly every day to make their writing shine.