Free Grammar Checker

Ensure your English writing is mistake-free. Paste your text or start typing below to check for grammar, spelling, and punctuation errors.

Explore More Tools for
Exceptional Writing

Fix grammar mistakes, catch plagiarism, build citations, and rewrite sentences in seconds with Grammarly's powerful AI writing tools.

The Number One Grammar Checker... and More

Grammarly cleans up your writing by finding grammar mistakes and typos, but it goes beyond a simple grammar check. Real-time feedback and advanced suggestions help you avoid common errors and improve your writing skills over time. Learn how Grammarly can help:

Grammar, spelling, & punctuation

Apply instant corrections to grammar errors, misspelled words, and punctuation mistakes for polished writing.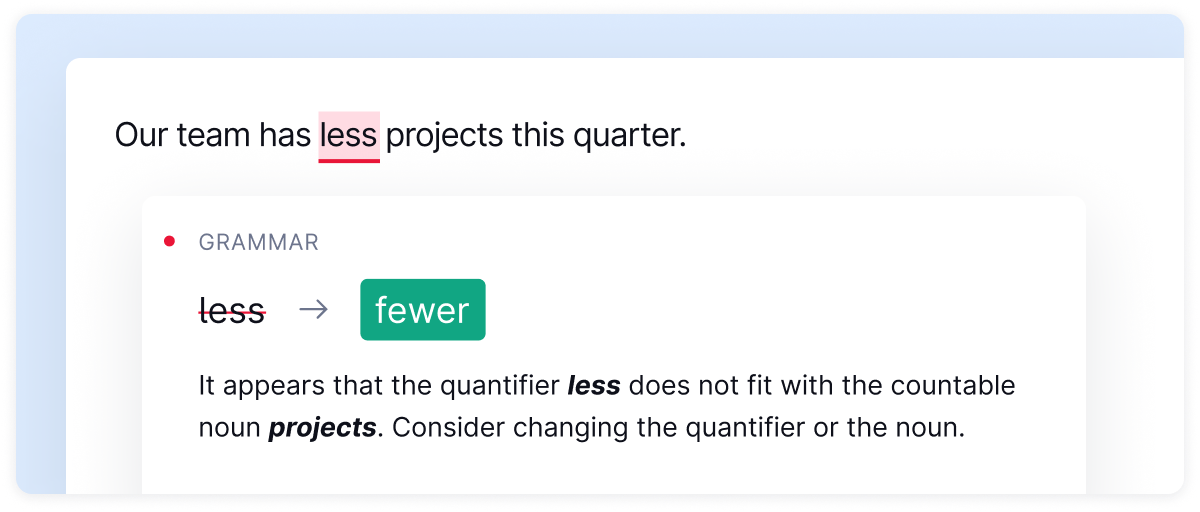 Clarity and conciseness

Rewrite full sentences to keep your message clear, concise, and easily understood.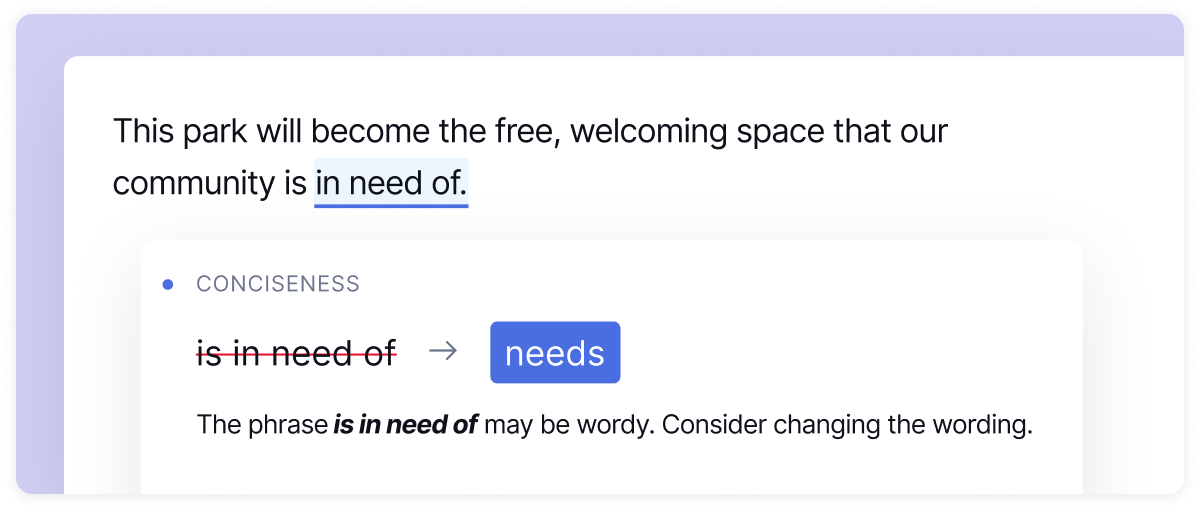 Tone suggestions

Ensure your tone is well-received so you can build stronger relationships and drive projects forward.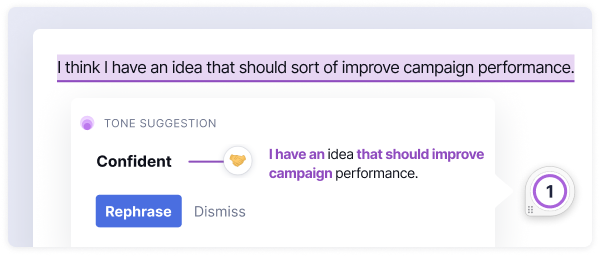 Plagiarism and Citations

Avoid plagiarism and properly cite sources with tools for your research and school papers.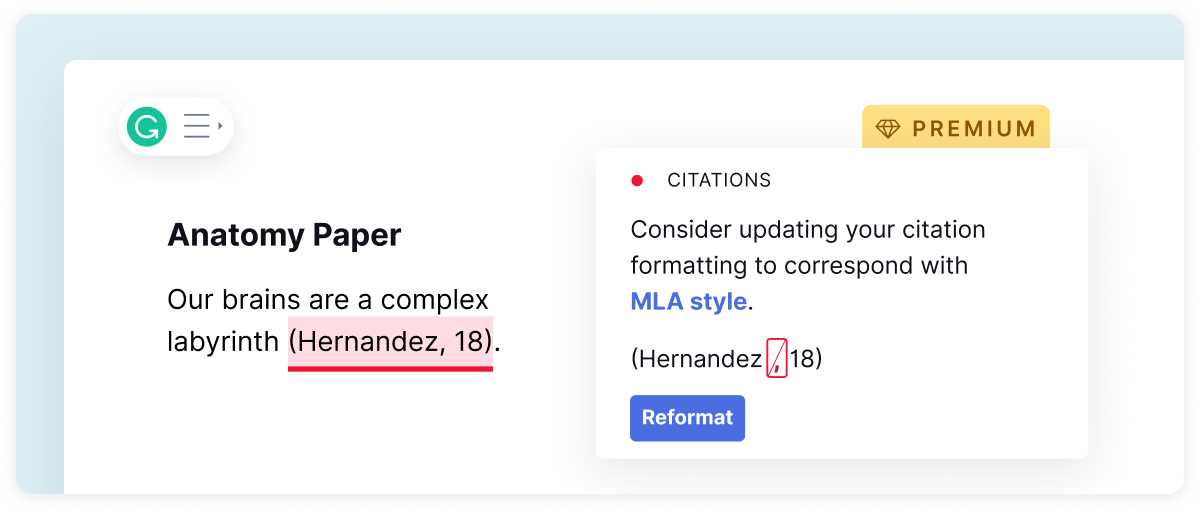 The Basics Behind Good Grammar

Wondering why Grammarly made suggestions to that word or sentence? Check out these articles from our extensive resource library to learn more about the whats, whys, and hows of English grammar.

Writing Support in All the Right Places

Write confidently almost anywhere you type. Grammarly works on 500,000+ websites and applications on your Windows or Mac computer, iOS and Android mobile devices, word processors and email clients, and more. Use it where you're writing, or add your text to The Grammarly Editor.

Write Exceptionally With Grammarly Premium

Achieve your professional goals and improve your grades with advanced suggestions for clarity, tone, plagiarism, and more. Learn the Premium difference.

For Individuals
Free

Basic writing suggestions and tone detection


Grammar

Spelling

Punctuation

Conciseness

Tone detection

For Individuals
Premium

Clarity, vocabulary, and tone improvements


Everything in Free

Full-sentence rewrites

Word choice

Tone suggestions

Citations

"My biggest piece of advice for anyone in college is to download Grammarly. Grammarly catches mistakes you might miss and helps with communicating clearly. Game changer!"

Jessica Wythe
PhD Candidate and Grammarly User Since Undergrad
"The service goes beyond the basic spell check and grammar check built into the word processor, as Grammarly can identify correctly spelled words that are used in the wrong context."

Bill Winterberg
Journalist, Atlanta
Frequently Asked Questions

How can I check my grammar online?

Check your grammar online using Grammarly's

Grammar Check Tool

. If you need a tool that will help correct your writing instantaneously as you write, you can install Grammarly for your desktop or browser extension.
Does Grammarly check more than just Grammar?

Yes! Grammarly also checks for typos, common punctuation mistakes, and misspelled words. Grammarly goes beyond basic grammar checks to provide suggestions for tone, word choice, subject-verb agreement, sentence structure, plagiarism, citations, and more. With Grammarly checking your writing, you can feel confident your work is polished and your message is communicated clearly, concisely, and powerfully.

Is Grammarly the best grammar checker?

Grammarly uses a combination of expert linguists and natural language processing to bring best-in-class writing assistance to writers of all levels. As one of the best writing tools available, Grammarly is trusted by authors, businesses, professionals, teachers, students, and anyone who needs support for mistake-free writing and clear communication. Grammarly conveniently works across multiple platforms and devices with just one account, and it's easy to use. Once you sign in, it will work where you write!

Can I use Grammarly for free?

Yes, you can use

Grammarly Free

with no ads. We don't sell your data, and Grammarly Free is truly free. Although we offer advanced writing suggestions with

Grammarly Premium

, we'll never force you to upgrade.
Why is grammar important?

Grammar is important because the clearer you are, the more effective your writing will be. Whether it's an important email, school paper, college application, or business proposal, clean writing and compelling communication are keys to success. Good grammar can help you improve your grades, collaborate effectively, or get your point across effectively.

How can I write correct English?

To write in correct English, it's important to follow grammar, punctuation, and spelling guidelines. To write fluently in English, you also need to know the complicated nuances of the English language. Luckily, Grammarly can help you improve both. In addition to helping you correct mistakes and fix grammar errors, Grammarly's suggestions can also help you learn and improve your writing over time.

Make Great Writing Simple

Join over 30 million people who use Grammarly every day to make their writing shine.