Free Citation Generator

Get well-formatted APA, MLA, and Chicago-style citations with a citation generator built by writing experts.

APA Full Citation Preview
Add your citation information, and we'll format it here.
A Better Way to Work
Feel confident you've done your best work with the help of Grammarly. Benefit from:
Get Grammarly It's free
Get all types of academic writing support at your fingertips, from automated citation generation to plagiarism detection to proofreading.

Beyond Citations: Everything You Need to Ace Your Assignments

Ensure your essay has flawless citations and no plagiarism.

Proofread instantly for mistake-free writing.

94% of students say Grammarly Premium helped improve their grades.

Become a more confident writer over time.

Grammarly: The Writing Assistant for Better Grades

Grammarly's real-time feedback on every assignment helps you achieve standout introductions, flawless citations, and everything in between. Be confident your written work will make the grade with Grammarly.

Get citations within seconds

Pull automatically generated citations from online sources directly from your web browser as you do your research—preformatted and ready to go, whether you use APA, MLA, or Chicago.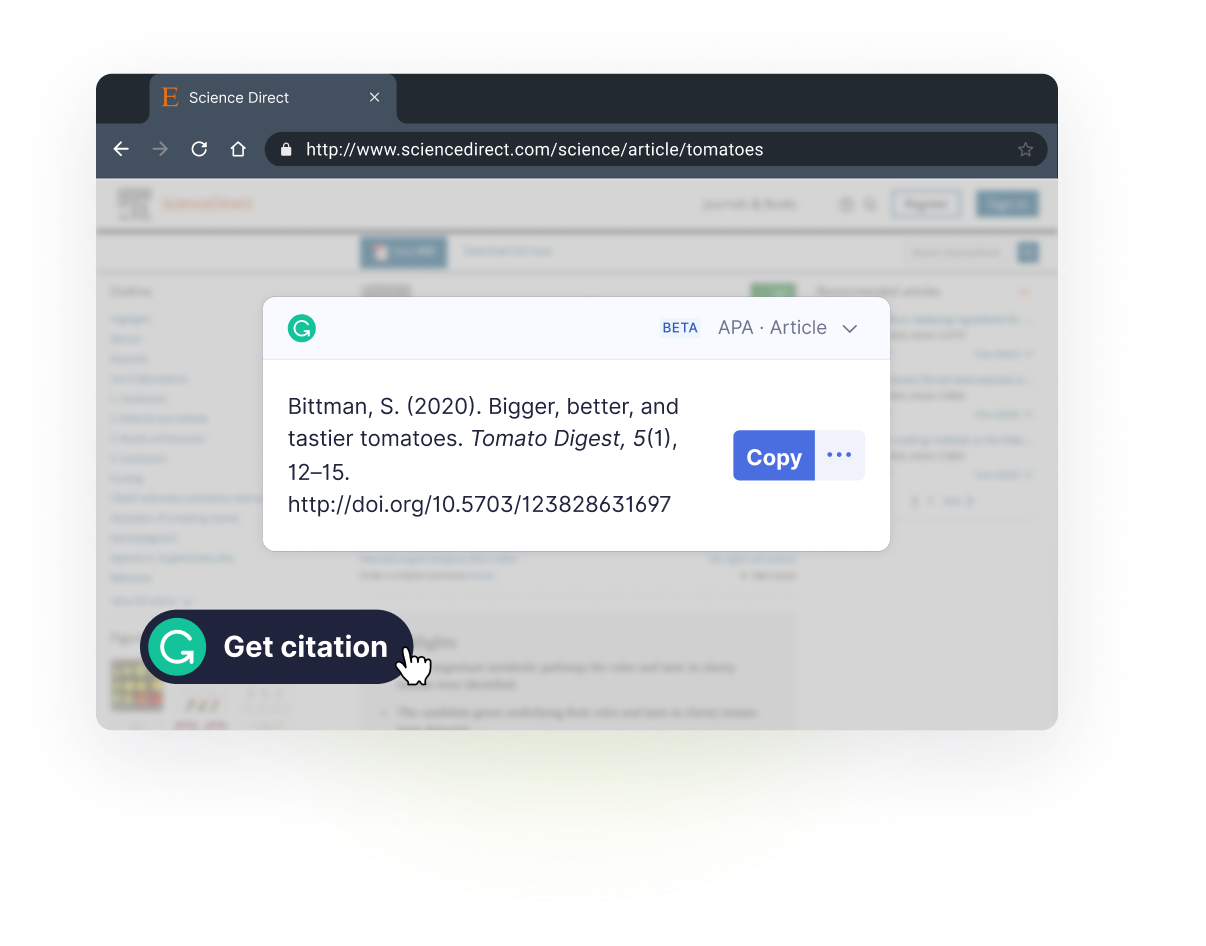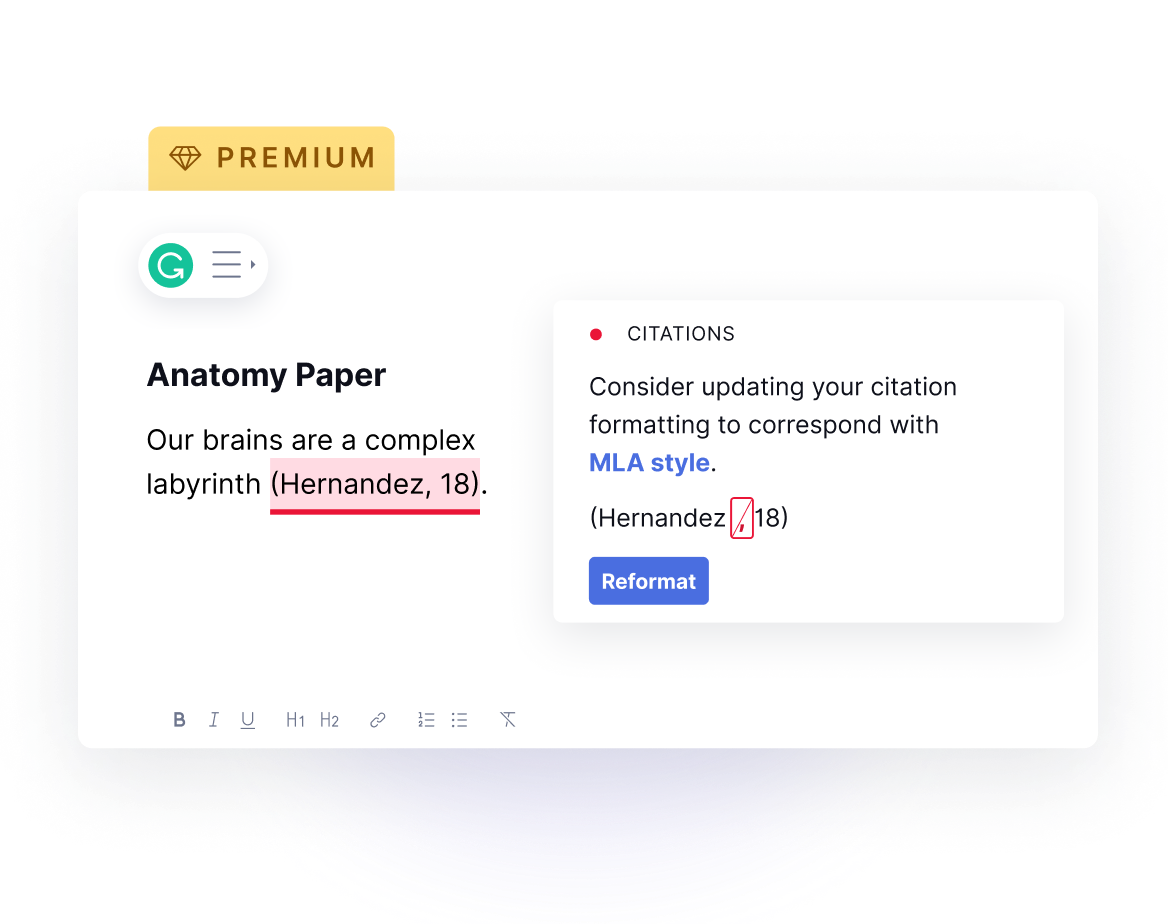 Never lose points over citation formatting

Supporting the most updated APA, MLA, and Chicago style guides, Grammarly will keep your periods, parentheses, and other punctuation consistent when you cite sources.

Keep your writing original

Avoid accidental plagiarism. While you write, Grammarly identifies passages that may need references and shows you what the source may be.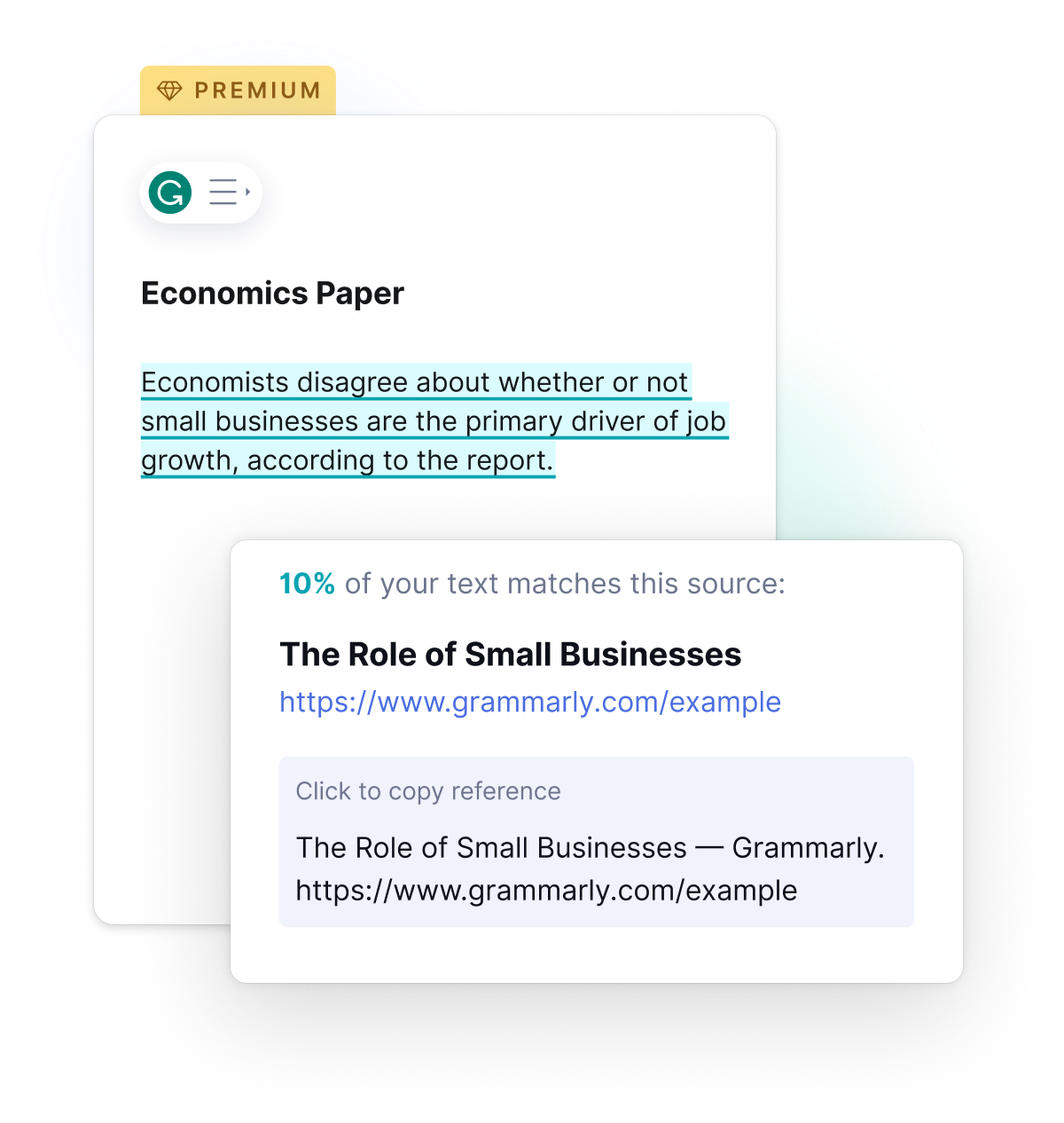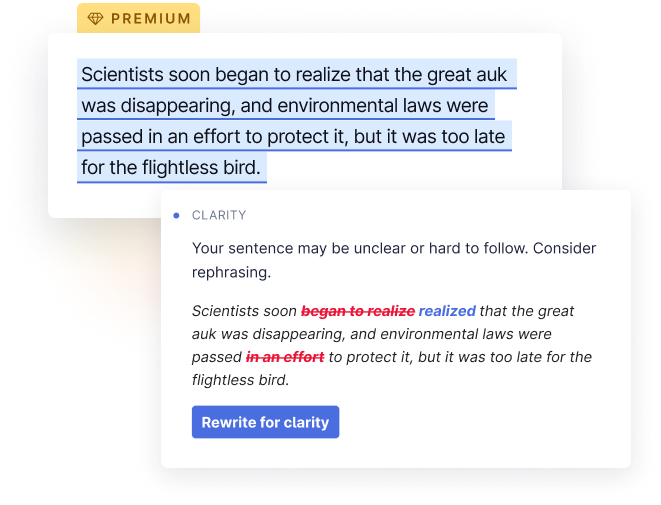 Make your ideas clear

More than just a punctuation or spell checker, Grammarly helps you clean up tangled, unclear sentences to get your point across.

Proofread with ease

With just a few clicks, clean up typos, subtle grammatical mistakes, and misplaced punctuation you might otherwise miss.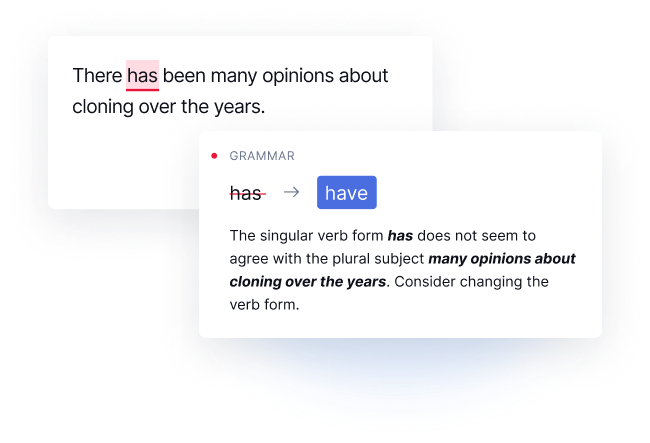 Works Where You Write

Whether you're writing a paper or discussing materials online, Grammarly is here to help you show up with confidence.






"Grammarly makes citations so easy and delightful. While working on my final dissertation, I saw a Grammarly pop-up on a research article just when I needed it. In one click, I got my citation. That's what you call the right feature at the right time!"

Sreekiran A.R.
M.Sc. Artificial Intelligence and Machine Learning at University of Birmingham
"Grammarly's citation features save me time and stress as I know my referencing has been taken care of for me. Life-saver!"

Lauren Hawke
Student, Human Nutrition
Trusted by Students and Educators at Over 3,000 Institutions, Including:

How to Cite (Practically) Anything

How do in-text citations work? Can you cite Wikipedia? What do you do if the scientific article has 25 authors, or the photo was published anonymously? Is your references page formatted appropriately? Fear no more—these articles guide you through common (and uncommon!) source variations so you can cite accurately.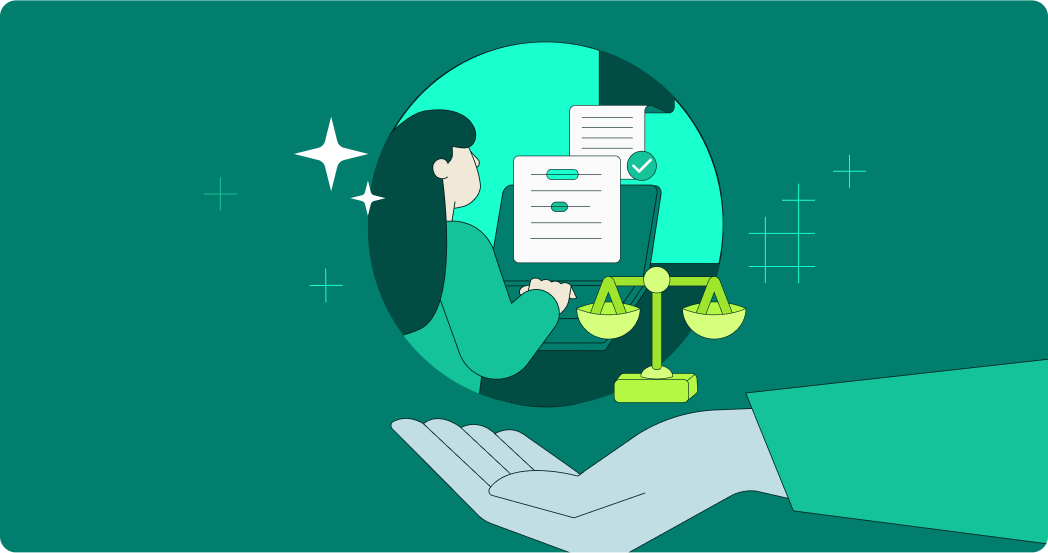 AI Resources for Students

Interested in learning more about how generative AI tools can boost your academic success? We have you covered. Browse
our resources
to learn how to use AI responsibly and effectively to improve your grades, impress your teachers, and spark your creativity.
Frequently Asked Questions

What is a citation?

A citation is a reference to a book, webpage, news article, or any other source of information used in an academic work. It lets readers of your paper know when you're incorporating someone else's idea or creation into your writing. 

There are three citation styles—MLA, APA, and Chicago. Whether you use MLA citations, APA citations, or Chicago-style citations depends on your academic discipline. Plus, there are two types of citations for all styles: in-text citations and full citations. You use in-text citations in the body of your paper right after you quote, paraphrase, or reference a source. You use full citations at the end of the paper, where you list all your sources in what's called a bibliography, works cited, or references page (for Chicago-style citations, MLA citations, and APA citations, respectively).

How do you cite a source?

How you cite a source varies depending on if you're using APA citations, MLA citations, or Chicago-style citations. On top of that, citing sources works differently for in-text citations versus full citations. A good way to do citations is to use a free citation generator, like the one at the top of this page. 

In addition to the free citation generator on this page, you can use Grammarly's browser extension to generate citations automatically. This tool instantaneously generates copy-and-paste-ready citations for you when you visit a compatible source website like Wikipedia, Frontiers, PLOS One, ScienceDirect, SAGE Journals, and more. To use Gramamrly's auto-citations,

install the Grammarly browser extension

.

If you'd like to know more about writing citations on your own, you can find information midway through these pages:

Free MLA Citation Generator

,

Free APA Citation Generator

, and

Free Chicago Citation Generator

.
Why do you need citations?

There are a few reasons why you need citations, but the most important is that you have to credit the authors of the ideas you use in your paper. Otherwise, you risk

plagiarizing

. (Fun fact: Grammarly can help detect plagiarism if you forget a citation.

More on that here

.) 

Citations are also essential because they support your arguments and ideas and tell readers of your paper where to find out more about your research.
What is a citation generator?

A citation generator is an online tool you can use to make accurate citations quickly. To use the free citation generator above, just fill out the form with information about a source, like its title, its author(s), and the page numbers referenced. The free citation generator will then instantly make a citation for you. You can choose which type of citation format you'd like the free citation generator to use—MLA, APA, or Chicago—and if you'd like it to make an in-text or full citation.

What is a citation machine?

Citation machine is just another term for citation generator. It's an online tool that makes accurate citations for you when you enter information about a source. No matter if you're looking for an in-text or full citation or if you're doing APA citations, MLA citations, or Chicago-style citations, most citation machines can do them all. 

Which style guide should I choose for my assignment?

The style of citation you should use for your assignment depends on your field of study and your professor's guidelines.

MLA-format citations

are typically used by those in the liberal arts and humanities,

APA-format

citations are used for the sciences and education, and

Chicago-style citations

are usually the go-to for history, business, and fine arts. Chicago or MLA may be used for other humanities subjects, like literature and theater. Generally,

MLA-format citations

are the preferred style guide for humanities work at the undergraduate level, whereas Chicago is more common at the graduate level.
What's the difference between Bibliography, References, and Works Cited pages?

Bibliography, references, and works cited are all the same thing—they're a list of full citations for all the sources you used in your

research paper

. They just have different names under each citation style. MLA calls this list the "

works cited

" page, Chicago calls it the "

bibliography

," and APA calls it "

references

." No matter what you call it, this list of full citations goes on a separate page (or separate pages) at the end of your paper. This way, readers know where to look if they'd like to find more information about a source you've used.
What's the difference between full citations, in-line citations, parenthetical citations, footnotes, and annotations, and when should I use each?

It may feel confusing to understand what type of citation to use, where, and when, but don't worry. It doesn't take long to get up to speed. Here's a quick overview of what you need to know:

Full citations

go at the end of your paper in your references, works cited, or bibliography section (the name changes depending on if you're using APA, MLA, or Chicago-style citations). They include all relevant source information a reader may wish to know. What you should include in a full citation depends on the source, but it will have information such as the source's title, author, publisher, year of publication, URL, and more. You can use Grammarly's free citation generator to quickly create accurate full citations in

MLA

,

APA

, or

Chicago

style.

In-line citations

, a.k.a. in-text citations, are abbreviated versions of full citations. They're used in the body of a paper right after you reference or quote a source. You can use Grammarly's free citation generator for

MLA citations

,

APA citations

, and

Chicago-style citations

to create in-line citations in seconds.

Parenthetical citations

are a type of in-line citation used by the MLA and APA formats. To write a parenthetical MLA citation, put the last name of the source's author and the page number(s) your information comes from in parentheses right after you reference or quote a source. To write a parenthetical APA citation, put the last name of the source's author, the source's publication date, and, if relevant, applicable page numbers in parentheses right after you reference or quote a source.

Footnotes

are a form of in-text citation used in the Chicago format. To create a footnote, put a superscript numeral right after any text where you've quoted or referenced a source. Then, under a horizontal line at the bottom of the page, put a full citation preceded by the same numeral used in the superscript. Most word-processing programs can help you do this formatting automatically.

An

annotation

is a summary or evaluation of a source placed after a full citation. You'll only need to use annotations if you're doing an annotated bibliography.
Strong Writing, Proper Citations, Good Grades

96 percent of students say that Grammarly increases their confidence in their written material. Join them to give your writing—and your grades—that extra polish.