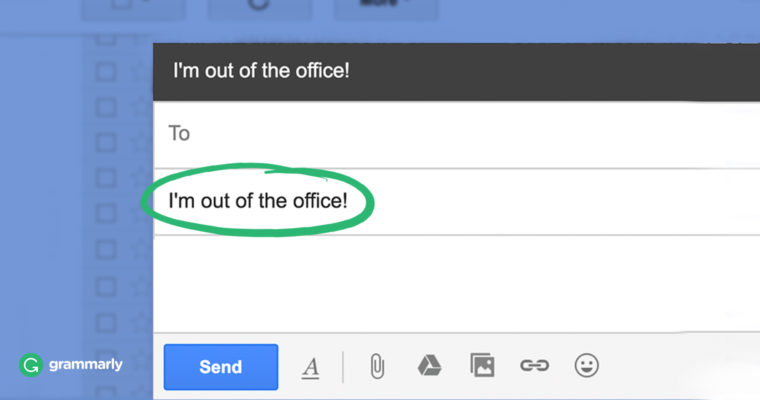 When I was working full-time in media relations, exchanging emails with journalists all day every day, I learned one thing—out of office messages don't have to be boring. Although most of the out of office replies I got were pretty standard, a few stood out by either making me laugh or providing me with interesting information. Here are some ways to make good use of your own out of office message.
Here's a tip: Want to make sure your writing always looks great? Grammarly can save you from misspellings, grammatical and punctuation mistakes, and other writing issues on all your favorite websites.
7 Cool Out of Office Message Examples
Example 
1

The Social Media Booster

I'm always trying to amplify my social media signal. (Ahem! Follow me on Twitter if you like information about writing and productivity.) Your out of office message can help you accomplish that.

Hey, there!

I'm out of the office this week, but my Twitter signal is always on. Seriously, I've got robotic wonder thumbs! (No, not really.) I never fail to tweet fascinating stories about how people can win big with their marketing efforts. So, until I'm back at my desk, won't you follow me [link]?

Whether you follow me or not, I'll get back to you as soon as I can upon returning to my desk on July 17.
Example 
2

The Hand-Off

Sometimes your position is so crucial that people will need to have someone to turn to in your absence. When that's the case, it's often best to keep things professional by telling people when you'll return and who they can contact in your absence. But, if your situation is a bit less formal, you can also have some fun.

I'll be out of the office until Monday, July 24. If your message is urgent, please reach out to the lovely and talented Bob Smith at bob@domain.com. If you have breaking news to share, contact Big News Journal's hard working managing editor, Ashley Jones, at ashley@domain.com. Just make sure your news is juicy. Ashley has no time for your shenanigans!
Example 
3

The GIF

We work hard and we take our work seriously. But sometimes it's okay to have a little fun. If your job position is such that you can get away with it, why not dig up a fun gif to go with your out-of-office message? It'll lighten someone's day and make your email memorable.

I'm out of the office until Monday, July 17 without email and WiFi. I'm sure to return tanned and refreshed, at which time I'll reply to your email cheerfully. I will not, however, be able to get away with wearing my vacation shirt once I'm back to work. RIP, vacation shirt.

Here's a tip:

Get cool gifs to use in your email at

Giphy

or

Tenor

. Just don't get too crazy and make sure the gif is appropriate for the culture of your office and your professional field in general. You don't want to inadvertently send the wrong message.
Example 
4

The Networking Opportunity

If you're going to a professional conference, odds are good that a lot of the colleagues who email you will be there, too. Conferences are a great place to ramp up your networking efforts, so let people know where they can find you.

Greetings! I'm out of the office July 24-28 attending the Epic Professional Conference. Are you there, too? You'll find me walking the floors with a Starbuck's coffee in my hand, comfy kicks on my sore feet, and a bag full of brochures and swag. (I hope someone's giving away those light-up bouncy balls again this year. I burned mine out.)

If you're at the conference, I'd love to meet up to chat about your email marketing strategies. Feel free to text me at (123) 456-7890 so we can connect.

Here's a tip: Be careful giving out phone numbers. Remember that complete strangers may send you email, and your auto-reply could be sending them information you'd rather keep private.
Example 
5

The "Read My Stuff"

If you write, and you publish, then you've got content to promote. Why not use your out-of-office message to make anyone who reaches out to you aware of it?

Hello! Thanks for getting in touch. I'm out of the office until August 5 with limited access to email. But never fear! I've left you with some helpful writing tips to read and share.

I'm looking forward to connecting with you when I return.
Example 
6

The Bot Acknowledgement

While you're away, your email is going to be handled by a bot. Everyone knows it, so you might as well acknowledge it in a fun automated email.

This is Jane's bot. Jane is indisposed and unable to respond to your email. I'm replying to let you know that she will return to her desk on August 1. It is her intent to attend to your request promptly at that time.

Meanwhile, Jane leaves you with the following message. Please ponder its significance:

"I, for one, welcome our new robot overlords." —Jane
Example 
7

The Lead Generator

There's really never a bad time to collect leads or subscribers. Your out of office email can be a handy tool for lead generation. When someone tries to connect with you, why not tell them how they can stay connected?

Hi, and thanks for writing! I'm out of the office with no access to email until August 3. If your request is urgent, you can contact helena@handbasket.com for assistance. Otherwise, I'll get back to you as quickly as possible when I return.

While you wait, why not subscribe to our fantastic newsletter? You'll get actionable tips once per week geared toward helping you grow your online business. Join us here [link].
Do's and Don'ts for Out of Office Emails
It's okay to have some fun with your out-of-office message in most cases, but there are a few simple rules you should always follow to make sure that, ultimately, your message is both useful and professional.
Do check your company's policy on out of office messages. If there's no firm policy, it might be best to check in with your supervisor and have your message approved in advance.
Don't reveal too much. Strangers, spammers, and maybe even scammers could potentially see your auto-reply. Keep that in mind before you tell all and sundry that your house is vacant.
Do know your audience. If you send more formal emails during your working hours, don't create an informal out of office email for your downtime.
Don't make typos. You don't want to be blasting out the same spelling mistake or grammar error for a week, do you?
Do consider a message rule. If your email client will handle it, consider creating a message rule where your auto-reply goes out only on the second message from the same person. That way, you won't be oversharing your status with spammers or colleagues who really don't care that you're away.
Now, go enjoy that vacation! You've earned it.