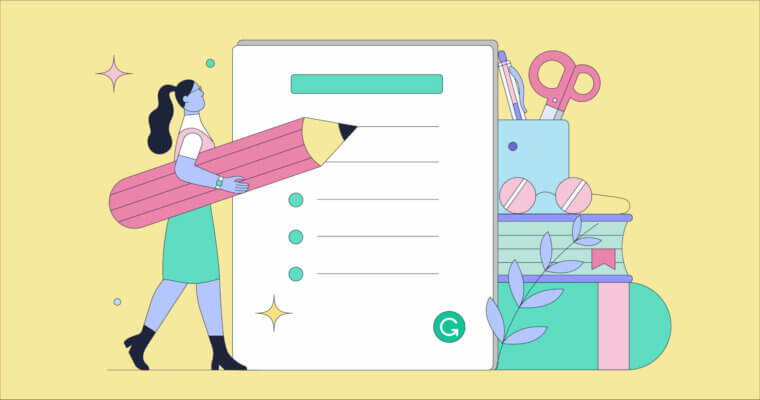 A college thesis (also known as a dissertation) is the crowning achievement of a student's hard work. For many, a thesis is the culmination of many years of study within a particular major or field, such as literature, history, or business. 
Your writing, at its best
Grammarly helps you communicate confidently
In a student's final year, the thesis can be seen as the final component of one's candidacy for a degree; in other words, it is the last opportunity a student has to show off what they've learned and internalized.
Generally speaking, a thesis should challenge an intellectual question in a persuasive manner, inciting thought-provoking discussion or argument in readers. College theses are mostly just extended academic essays, though it is important to include all of the elements that are expected in a well-developed college thesis. 
The following guide will help you write a strong, impactful thesis that enlightens readers and enriches your field of study.
Drafting a thesis statement
Most research for a college thesis begins with a question. Think about the topics and theories that you've studied over the course of your degree. Is there a question that hasn't been answered adequately in your field? Is there a topic that's sustained your intrigue and is worth exploring further? 
As you keep this question in mind, read everything you can about the topic. Ask one of the college librarians for assistance—they will know exactly what you're looking for and what materials will best support your research. In addition to searching for information online, perusing academic databases, journals, and books can be very helpful. 
In this initial drafting phase, the more information you gather, the easier it will be to form your argument. Your thesis statement should answer this one simple question: what is your paper about? Being able to clearly articulate your argument or assertion in your thesis statement is key, as your readers will be able to quickly identify what you're trying to prove.
Organizing an outline 
With so many ideas and tidbits from your initial research floating around, creating an outline is essential for organization. Even if your professor hasn't asked for one, outlines are still incredibly helpful tools for structuring your thesis—which will probably be the longest and most involved paper you've ever written. 
All academic essays have an introduction and a conclusion. (Typically, your thesis statement will come at the end of your introduction.) The paragraphs in between will make up your supporting arguments, but it is important that your argument flows smoothly. 
As you organize your outline, plan out the subject for each paragraph or subsection. You'll want to make sure that each subject supports your thesis statement and furthers your argument. Know that your outline is merely a starting point; as you conduct research and start writing, the structure is apt to change.
>>READ MORE: 7 Helpful Essay Tips
Gathering supporting evidence and research
After defining the outline and thesis statement, you are ready to start the process of developing your supporting evidence. For your dissertation to be successful, you need to effectively argue your claims, and the best way to do so is by relying on hard facts.  
Spend time rigorously researching your topic. Gathering between 15-20 primary and secondary sources is a good rule of thumb at this stage. As you research, you can link up supporting evidence with certain sections of your paper based on your outline. The more evidence you compile, the better equipped you will be to root your claims in fact-based logic—which will fortify your overall argument. 
Start writing
At this point, it's finally time to start writing. Don't think too deeply about finding the perfect words for every sentence; get the bulk of the argument down and worry about editing later. Being a perfectionist while writing will only impede your progress. 
It's important to remember that an effective thesis has a definable, arguable claim. Your sentences should be concise, authoritative, and specific. By focusing on structure and the way your points flow together, your thesis will gain persuasive strength.   
While writing, keep in mind that a solid argument not only revolves around a strong thesis but also acknowledges opposing points of view. Anticipating the counterarguments will help you refine your thesis. After all, every argument has a counterargument. If yours doesn't, your paper might be an opinion, but not a valid argument.  
Formatting special sections like appendices 
Once you've written, tweaked, and finished your thesis, you can turn your attention to the "special" sections of your paper, like its appendix or bibliography. Depending on the instructions you've received, your bibliography may need to follow a specific style and format, such as APA, MLA, or Chicago Style. Remember that each formatting style has specific guidelines for citing different types of sources, including books, PDFs, TV shows, and speeches. Use Grammarly's free Citation Generator for more help in citing your sources. 
After all the hard work you've done, you don't want to lose points because your table of contents was ill-defined or you forgot to add page numbers. Getting a second pair of eyes to look over your formatting and using a writing assistant are two handy ways to double-check your paper before submitting it.
There is no greater feeling than turning in an assignment that you've spent months—if not years—working to complete. By following these useful steps, you can feel confident that your thesis paper presents an interesting and irrefutable argument that showcases all you've learned.