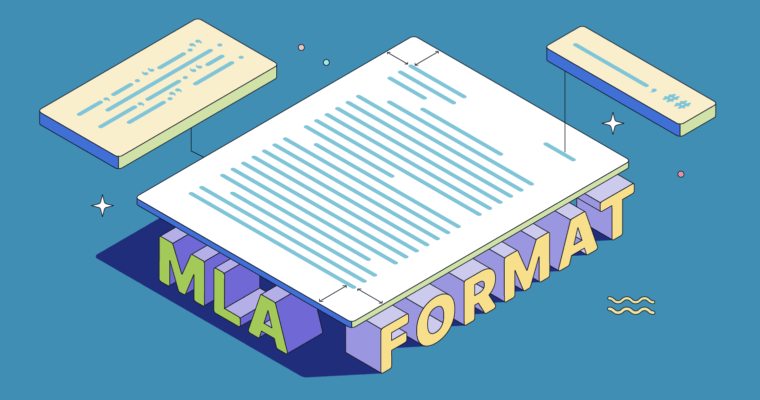 MLA format is a set of formatting and citation guidelines for how an academic paper should look, similar to other styles such as Chicago or APA format. We use MLA format for topics in the humanities, including languages, philosophy, and the arts, but not history (which uses Chicago) or the social sciences, like psychology or education (which use APA format).
Since most schools' requirements include humanities courses, there's a good chance you'll write a paper in MLA format at some point. Below, we explain how the MLA format works and what sets it apart from Chicago and APA formats. We'll also cover how to cite sources in MLA format, with examples.
What is MLA format?
MLA format was developed by the Modern Language Association to provide a uniform way for academics in the arts and humanities fields to format their works and cite their sources. MLA format, like other academic styles, includes specific guidelines for a paper's heading, in-text citations, works cited page, quotations, abbreviations, and even the size of the margins.
This format (like other academic formats) takes the guesswork out of formatting your academic writing and ensures that your sources are cited and credited properly, leaving you, and your readers, to focus on your paper's content.
When to use MLA format
Use MLA format for the final draft of every piece of academic writing, including essays, reports, and research papers, that you do in your arts and humanities courses. That means English, arts, philosophy, religion, and ethics courses and any other classes you take that fall within these subjects.
If you aren't sure if you need to use MLA or whether a specific formatting style is necessary for a particular assignment, ask your instructor.
Use MLA format for every part of an assignment you submit. That includes any essay outline, research proposal, literature review, or list of sources your instructor asks you to submit before or alongside your final paper.
There's no need to format your first draft or any other documents that your professor won't see, though you certainly can use MLA format throughout the writing process if you'd prefer. One benefit of doing this is that you'll see approximately how many pages your final draft will span before you reach that stage.
MLA vs. APA, Chicago, and other formats
MLA is one of the most commonly used academic styles, especially for high school and undergraduate students. You might also be familiar with APA format, the American Psychological Association's style, or Chicago, short for the Chicago Manual of Style. These styles each include instructions for formatting citations, crediting sources, using quotations in your work, and other aspects of writing academic papers.
Because the MLA format deals with the humanities, it places more emphasis on authorship than the other styles do. That means the names of creators are prominent in the text. By contrast, APA format emphasizes dates, and Chicago emphasizes supplemental notes like footnotes and endnotes.
Although the three styles have some common approaches to citing sources, each format has its own unique way of doing things for each source type. Make sure you understand the rules for the format you're using so you don't follow another style's rules by mistake.
How to set up your paper in MLA format
MLA formatting rules
1 The sources page is referred to as the works cited page. It appears at the end of the paper, after any endnotes.
2 The entire paper is double-spaced, including block quotations and the references on the works cited page.
3 Use block quotes for quotations that are four lines or longer.
4 Abbreviations do not include periods between the letters (e.g., US instead of U.S.).
5 The paper is printed on 8½-by-11-inch paper.
6 Place a 1-inch margin along all sides of the paper (with the exception of the running head).
7 Write in Times New Roman, Arial, or Helvetica font. The text size should be between 11 and 13.
8 Each page must include a running head with the author's last name and the page number in the top-right corner. The running head follows the right margin but is only 1.5-inch from the top of the page.
9 A title page is not required.
10 The heading on the first page is left-justified and includes:
Author's name
Instructor's name
Course number
Date the paper is due
MLA style rules
1 MLA format uses the Oxford comma, aka the serial comma.
2 Spell out numbers or fractions that can be written in one or two words (e.g., eighty-eight, five million, or two-thirds). Use numerals for when more than two words are needed (e.g., 101; 2,981; or 2 ½). However, when these numbers are mixed together, or when numbers are discussed frequently, use numerals (e.g., between 3 and 125 people).
3 Use numerals for items in a series (e.g., chapter 6, page 12, or room 34).
4 Always spell out a number if it begins a sentence. Even better, try rephrasing the sentence with a different opening.
5 Do not abbreviate dates. You can use either the month-day-year or day-month-year formats, but be consistent throughout the entire work.
6 Use a person's full name the first time they are mentioned, unless they are commonly referred to by their surname alone, like Cervantes or Cicero. Any subsequent mentions of the person use only their surname, including particles like de, O', or von.
How to cite sources in MLA: citation examples
For every academic paper you write, you need to cite sources—that is, mention where your evidence or points came from. This is necessary not only to avoid plagiarism but also to validate your ideas with proof.
According to the MLA Handbook, you must cite sources "when the work of others informs your ideas." That means every idea that is not your own requires its own citation, even if there are two in the same sentence.
How to present evidence and quotes in MLA
There are two ways to reference another work: paraphrasing and direct quotes.
Paraphrasing involves restating the original idea in your own words. However, your paraphrased text must be fundamentally different from the source text—you must do more than just replace a few words with synonyms. It's best to change both the wording and the sentence structure.
You can also directly quote a passage from a source, especially if the original wording is important. However, relying too heavily on direct quotes might suggest you're relying too much on others' ideas rather than your own. It's best to use them sparingly and only when they're truly necessary. Furthermore, when you do use quotations, try to keep the quotes as brief as possible, even as short as a single word.
Regardless of whether you use paraphrasing or quotations, you still need to cite the source.
In-text citations in MLA
MLA format prefers in-text citations, which involves citing the source directly in the text right next to its reference. There are two types of in-text citations: parenthetical and narrative.
Parenthetical citations are miniature or condensed citations that include only the bare minimum of information. In MLA format, they include only the author's or creator's last name, although a page number, line number, or time stamp is optional.
The Greek myth of Sisyphus provides the perfect analogy for humankind's struggle of living with the absurdity of life (Camus 78).
Narrative citations are when you mention the author's name in the text, which makes the second mention of it in the citation redundant. In this case, parenthetical citations are necessary only if you're mentioning the page number or location.
Camus finds the Greek myth of Sisyphus to be the perfect analogy for humankind's struggle of living with the absurdity of life (78).
Both kinds of in-text citations still require a full citation for the source in the works cited page.
If the author's name is unavailable, use whatever comes first for that entry in the works cited page, which is typically the work's title.
Footnotes and endnotes in MLA
Footnotes and endnotes are not common in MLA format, which prefers in-text citations instead. However, there are few situations when they are called for:
A series of sources: If the same passage requires multiple citations in the same line, it's better to cite them all in a note than in an in-text citation.
Deviations from standard documentation: Use a note if you're not following a normal documentation practice, such as when you're citing line numbers instead of page numbers for poetry. You only need to mention this the first time you reference the source.
Flagging editions or translations: Some texts, especially classic works, have multiple versions. Use a note to mention which edition or translation you're using. Again, you only need to mention this the first time you reference the source.
Content notes: You can use notes to mention supplemental—but nonessential—information, such as personal commentary or to explain a word choice. Footnotes and endnotes are good for these sorts of tangential asides that don't fit in the main text.
Papers written in MLA format use either footnotes or endnotes but not both. Make sure to choose one form and stick with it. Footnotes appear at the bottom of the page they reference, endnotes are written on a separate page titled "Notes" or "Endnotes" at the end of a section, chapter, or entire work.
To signal a note, place a superscript number (1) at the end of the sentence the note refers to. If a note is needed in the middle of a sentence, place it after a punctuation mark like a comma, colon, or semicolon. The exception is the dash; note numbers come before a dash.
Certain translations use an alternative word choice.1
Although some have disagreed with this assessment,2 Camus seems to almost admire Sisyphus's determination.
Sisyphus was the king of Ephyra3—now known as Corinth.
Each note number in the text corresponds to either a footnote or an endnote later in work.
Notes are written in the order of their numbers. Each note begins with the superscript number corresponding to its place in the text.
1 Thomas Warren suggests Camus's use of la mesure should be translated into English as "measurement" instead of the popular translation "moderation."
2 See Thomas Nagel's paper, "The Absurd."
3 Corinth was a city-state on the Isthmus of Corinth, the land that connects the Peloponnese to the mainland of Greece, according to Wikipedia.
MLA prohibits the abbreviation ibid.
Works cited page for MLA
According to MLA format guidelines, any source used in your paper must have a corresponding full citation in the works cited page, a page at the end of a book or paper that lists all the sources and their bibliographic information.
The works cited page comes at the end of a work, after any endnotes. This page is titled simply "Works Cited" and mostly follows the same text and formatting guidelines as the rest of the work. For example, it has one-inch page margins and size 11 to 13 text.
Entries are listed in alphabetical order by the first word of each entry, usually the author's or creator's last name.
The one particular formatting rule about the works cited page is the use of the hanging indent. Basically, every line after the first one in a single entry is indented by a half-inch.
Camus, Albert. The Myth of Sisyphus and Other Essays. Translated by Justin O'Brien, New York, Random House, 1955.
How to cite different types of sources in MLA format
Each type of source, like books, journal articles, documentaries, etc., has its own particular rules for MLA citations. Feel free to check out our previous guides below, which cover the details of how to cite each source in MLA.
MLA format FAQs
What is MLA format?
MLA format is the academic style developed by the Modern Language Association. It's the standard format for academic papers in the arts and humanities. MLA has specific guidelines for citing books, films, TV shows, newspaper articles, PDFs, and other types of sources.
How is it different from other formats?
There are numerous differences between MLA format and other academic formats. One of the most notable is how sources are cited.
What are some examples of MLA citations?
In-text citation: (Lamott 28).
Reference listed on the works cited page: Coates, Ta-Nehisi. Between the World and Me. Spiegel & Gray, 2015.
Grammarly helps you cite with confidence
Grammarly is meeting students' needs by simplifying the citation process. Our citation features expand on Grammarly's trusted support for students, which includes grammar and spelling suggestions and plagiarism detection that identifies missing citations. Auto-citations generates citations for online sources in seconds, without your having to enter any info manually or even leave the web page. And when you're ready to edit your paper, citation style formatting will proofread your in-text and full citations to ensure they're mistake-free and consistent.