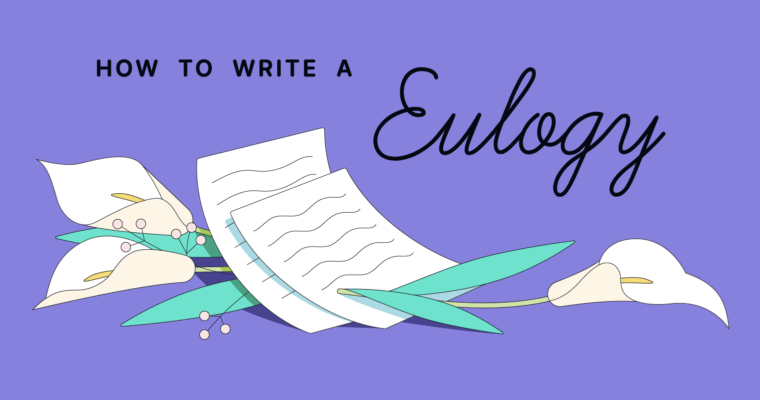 Amid the grief of losing a loved one, it can be difficult to articulate the impact that person had on your life and the lives of others. Delivered during the memorial or funeral service, a eulogy is a speech that's written by a person who was close to the departed.
Give your writing extra polish
Grammarly helps you communicate confidently
The purpose of a eulogy
Giving a eulogy is an honor bestowed upon one or more surviving friends and family members who had a deep connection to the departed.  
Eulogies offer those in attendance a chance to recall the departed's accomplishments, character, and legacy. In doing so, it pays tribute to them through shared, cherished memories and offers solace for mourners as they say farewell to their loved one. 
What makes a good eulogy?
Summing up a person's life in just a few words can feel like a tremendous responsibility. If you've been called upon to deliver a eulogy, a few key elements can help make it memorable. 
A strong eulogy not only shares the person's life milestones and influence, it also illuminates their personality through storytelling. Incorporating a thoughtfully selected personal anecdote into your eulogy can be a heartfelt reminder of your loved one's characteristics that attendees can fondly reflect on.
How to structure a eulogy
Eulogies can take many forms. Some people who deliver a eulogy choose to open with a poem, a religious reading, or a personal anecdote, while others might choose to use these elements as a closing thought. 
Regardless of which approach you choose, a reliable structure involves three parts: a beginning, middle, and end.
Beginning
The opening of the eulogy should set the tone for the speech. This section can include your relationship to the deceased, a reading of a quote or scripture they enjoyed, and their major milestones, like a romantic partnership, becoming a parent, their career, etc. 
Middle
Next is the heart of the eulogy. This is where you'll share the deceased's life achievements, personal stories, and the impact they had on the people around them.
End
The closing of the eulogy can include the reading of a poem, song lyrics or verse, or an expression of gratitude for your loved one. It can also highlight the main sentiment that you'd like attendees to remember about the departed.
How to write a eulogy that honors your loved one
No two eulogies are exactly alike since each person's story is distinct. However, there are dos and don'ts to be mindful of as you draft the eulogy.
Do be aware of your time. A well-paced eulogy speech takes about five to ten minutes and is around 700 to 3,000 words. Although there isn't a hard time limit for a eulogy, being concise keeps listeners' attention and provides time for other parts of the service.
Don't wing it. Even if you're confident about your oratory skills, the day of the service can surface a lot of intense emotions that might make it difficult to articulate a meaningful tribute. Prepare your speech in advance and practice aloud. 
Do ask someone to read your speech beforehand. As with any written assignment, having another person read it over can help you identify blind spots.
Don't include details that raise eyebrows. This isn't the appropriate time to share information that might be received as inappropriate or aggrieved.
What to avoid in a eulogy
Since a eulogy is meant to commemorate the life of your loved one, it's best to avoid sharing off-color details that might be perceived as negative or embarrassing toward the departed's character. This includes commentary that is disrespectful, private, or offensive. 
9 topics to avoid: 
1 The reason for their death
2 Trivializing their death
3 Family grudges and disagreements
4 Unhealthy habits
5 Criminal history and other legal issues
6 Triggering memories
7 Criticisms about their life choices
8 Unresolved arguments
9 Their faults
Ultimately, when writing a eulogy, it's helpful to refer back to an old adage as a guiding principle: "Don't speak ill of the dead." When writing a eulogy for someone you didn't particularly like or know well, gather one or two positive memories or generic attributes and stick to the facts. You can also keep the eulogy brief by sharing a broad overview of their life and reciting a poem or passage instead of sharing a personal story. 
If your relationship with the deceased wasn't positive, and you're struggling to write their eulogy, consider respectfully declining the opportunity.
Examples of strong eulogies
A powerful and moving eulogy can be long or short in length. Your diction and syntax can also be simple or complex. The strongest eulogies are sincere and reflect how the audience remembers the departed.
Below are examples of two very different eulogies, both of which illustrate the impact that the departed had on those around them.
Oprah Winfrey's eulogy for Rosa Parks:
To Reverend Braxton, family, friends, admirers, and this amazing choir: 
I feel it an honor to be here to come and say a final goodbye.
I grew up in the South, and Rosa Parks was a hero to me long before I recognized and understood the power and impact that her life embodied. I remember my father telling me about this colored woman who had refused to give up her seat. And in my child's mind, I thought, "She must be really big." I thought she must be at least a hundred feet tall. I imagined her being stalwart and strong and carrying a shield to hold back the white folks.
And then I grew up and had the esteemed honor of meeting her. And wasn't that a surprise. Here was this petite, almost delicate lady who was the personification of grace and goodness. And I thanked her then. I said, "Thank you," for myself and for every colored girl, every colored boy, who didn't have heroes who were celebrated.
I thanked her then.
And after our first meeting I realized that God uses good people to do great things. And I'm here today to say a final thank you, Sister Rosa, for being a great woman who used your life to serve, to serve us all. That day that you refused to give up your seat on the bus, you, Sister Rosa, changed the trajectory of my life and the lives of so many other people in the world. I would not be standing here today nor standing where I stand every day had she not chosen to sit down. I know that. I know that. I know that. I know that, and I honor that. Had she not chosen to say we shall not—we shall not be moved.
[ . . . ]
The full eulogy can be found here.
Eight-year-old Bindi Irwin's eulogy for her late father, Steve Irwin:
My daddy was my hero. He was always there for me when I needed him. He listened to me and taught me so many things, but most of all he was fun. I know that Daddy had an important job. He was working to change the world so everyone would love wildlife like he did. He built a hospital to help animals and he bought lots of land to give animals a safe place to live.
He took me and my brother and my mum with him all the time.
We filmed together, caught crocodiles together, and loved being in the bush together. I don't want Daddy's passion to ever end. I want to help endangered wildlife just like he did.
I have the best daddy in the whole world and I will miss him every day. When I see a crocodile I will always think of him and I know that Daddy made this zoo so everyone could come and learn to love all the animals. Daddy made this place his whole life and now it's our turn to help Daddy.
You don't have to be a seasoned writer to write a strong eulogy. The key is establishing a solid structure, sharing fond memories of your loved one, and striking a tone that celebrates their life.
Eulogy FAQs
Can there be more than one eulogy?
Yes, a funeral or memorial service may have one or more participants deliver a eulogy. It's common to hear from individuals from different parts of the deceased's life, such as a partner, kin, or childhood friend. 
If organizers plan on having multiple eulogies delivered at a service, consider keeping each eulogy brief to account for time. 
Is it appropriate to share a funny story during a eulogy?
Sharing a lighthearted story during a eulogy can be appropriate and lend levity to a somber and difficult experience. When including humor in the eulogy, avoid embarrassing stories about the departed or anecdotes that might offend or surprise attendees in a negative way.
How long is a eulogy?
Eulogies are generally about five to ten minutes long and approximately 700 to 3,000 words. This length is simply a guideline and might vary depending on how many people are delivering eulogies for the deceased.