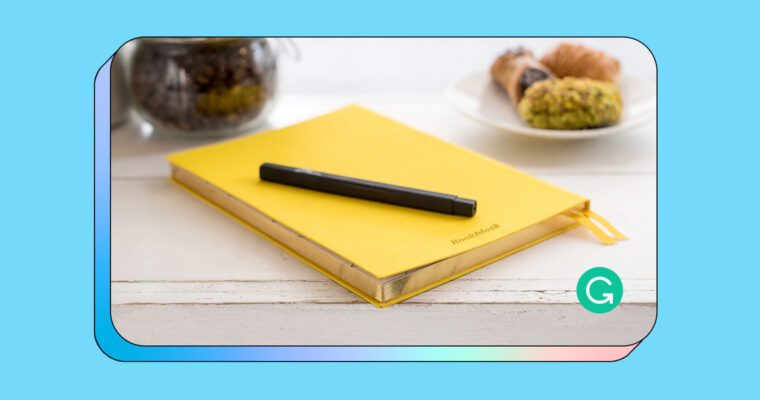 Where you write impacts how you write, plain and simple. 
If you close your eyes and imagine the ideal workspace for writing, what type of setting would you envision? Perhaps you picture a room with plenty of natural sunlight and bookshelves overflowing with all of the authors you wish to emulate. Or, you may be more of a minimalist at heart, desirous of a bare-bones office space that's free from distractions beyond the work at hand. Whatever kind of setup sparks your creativity and inspires you to churn out your best writing is ultimately the one that's right for you. 
Write your best, wherever you write.
Grammarly can help.
Some of the most celebrated writers throughout history have had some pretty unique workspaces where they've produced canonical, best-selling work. From backyard sheds to dining room tables, these workspaces are nothing if not individualistic. Still, these famously uncommon writing rooms have one thing in common: They are sacred environments for creating art.
As long as your environment stimulates artistic discovery, writers have consistently shown that there's no one way to crafting the perfect workspace. Let's take a look at seven famous writers' unconventional workspaces. 
1

E.B. White

Novelist, essayist, and New Yorker writer E.B. White is best known for his children's book, Charlotte's Web. His boathouse writing space—a wooden bench, desk, and a view of the outdoors—was about as bare as it gets. Who knows, maybe the spiders that crept around his workspace inspired some of his best-loved characters. Though he also enjoyed writing amid the hustle and bustle of his family, White's boathouse setup shows that sometimes, getting down to business means getting away from any and all distractions.

>>READ MORE: How To Write a Nonfiction Book Proposal
2

Susan Sontag

"Intelligence is really a kind of taste: a taste in ideas," Sontag once said, and her writer's desk is a near-perfect embodiment of this. Piled high with papers and files and photographs and first drafts, Sontag's workspace parallels her writing style, which is characterized by cultural and critical theory and the vast range of art she consumed.
3

George Bernard Shaw

Irish playwright and Nobel-prize winner George Bernard Shaw is another writer who kept things simple. When asked about his secluded workspace, Shaw confessed, "People bother me. I came here to hide from them." Though Shaw's little writing nook looks rather austere, it certainly wasn't ill-equipped; the workspace was complete with some of the finest technology of the era, like an electric heater, typewriter, and telephone to the main house.

>>READ MORE: How To Write Better
4

Neil Gaiman

Award-winning English author and comic book creator Neil Gaiman took things a little more seriously than most when putting together his writer's workspace—he built a gazebo in the woods. Similar to J.D. Salinger's infamously secluded writing shed, Gaiman's outdoorsy workspace is situated among trees and wildlife, though he admitted that he goes through phases of actually using it. 

>>READ MORE: How To Write a Story
5

Danielle Steel

As the author of a whopping 179 novels (and counting), there must be something secret in the sauce of Danielle Steel's workspace, right? Some 25 years ago, Steel employed several artisan builders to create her bookish writing desk and let them choose which of her books they included in the finished product. Steel's workspace is also decorated with framed covers of every book she's written. While some might fear getting the yips in a workspace that's filled with their writerly achievements, for Steel, it's the ideal environment for writing her next romantic best-seller.
6

Will Self

If you like a bit of chaos in your workspace, look no further than English author Will Self's charmingly cluttered writing room. With sticky notes stuck to every free surface in sight and a map of London stapled to the blinds, Self is a creative mind who likes his artistic environment to literally exhibit whatever he's working on. Self once said that he struggles to throw anything away! To each his own.
7

Paul Muldoon

Pulitzer Prize-winning poet Paul Muldoon works out of an all-wooden room that looks slightly like a coffin. Situated in his New York City apartment, Muldoon's writing space is really just his dining room. With two other more conventional workspaces available at Princeton University and the New Yorker offices in Manhattan, Muldoon's dining room is more of a pop-up workspace that he easily reconfigures whenever inspiration strikes. Decorated with many unique 19th-century trinkets, Muldoon's oak-laden dining room proves to be the ideal place for summoning the work of the old to create poetry that's profoundly new.