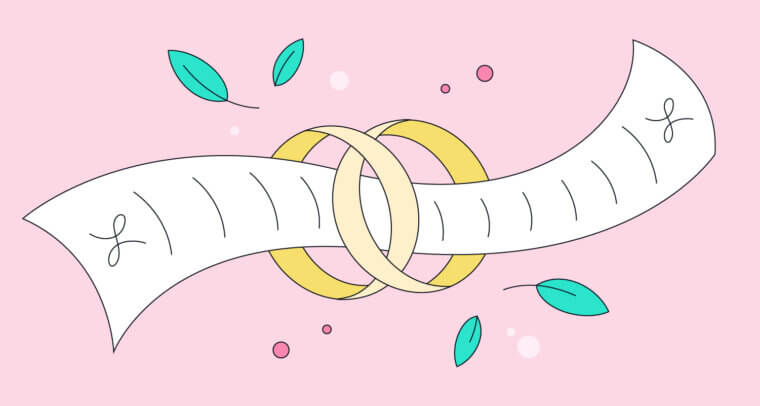 A wedding ceremony provides couples an opportunity to express their commitment as they move into the next part of their relationship. 
In marriage vows, each person takes turns professing their love for the other in front of friends and family. Although this is a common part of a ceremony, wedding vows can take different styles, formats, and tones. 
Give your writing extra polish
Grammarly helps you communicate confidently
How to frame your wedding vows
A meaningful wedding vow captures the strong emotions you might have going into your union while also including a declaration of ongoing love to your future spouse. However, articulating all of this in a short speech can be challenging.
Regardless of the vows you ultimately decide on, there are a few key points to include when writing your marriage vows. Somewhere in your vows, assert your affection, compliment your partner, offer your commitments, and end with a closing vow.
6 wedding vow writing tips
Below are some tips that can help as you write your vows.
1

Agree on a vow format in advance
Before sitting down to write your vows, communicate with your spouse about the format or structure. Some couples prefer to keep the wording of their vows a secret from each other until the ceremony.  
Although you don't need to go into detail about what you'll say, agree on a structure and tone for your wedding vows. This will keep the two speeches cohesive during the ceremony. For example, it can feel and sound disjointed if one person writes their vow in an anecdotal letter format and the other recites a traditional wedding vow.  
2

Get inspired
Gather your most cherished keepsakes, letters, cards, gifts, and photos from your relationship to remind yourself of moments, feelings, and milestones as you draft your vows. 
When reflecting on a specific keepsake, try to articulate why it's so meaningful to you and explore the emotions it brings up about your partner.
3

 
Keep your vows PG  
Remember, you might be writing your vows for your partner, but you'll be reciting them in front of a crowd of friends and family of all ages. Keep salacious comments and stories out of your vows, as well as any details that might embarrass your future spouse. 
4

 
Be concise
Although you might have an abundance of anecdotes to share and promises you'd like to profess to your partner, keep your vows under two minutes, or approximately 200 to 400 words.
Keeping your vows expressive and genuine, but also concise, will hold the attention of your audience and maintain the momentum of the ceremony.
5

Start writing early
The speech might take only two minutes to recite at the ceremony, but it will likely take you a lot more time to write. Begin brainstorming what you'd like to say in your vows as soon as you and your partner have agreed on a format. 
Give yourself time to write the first draft, and have a trusted friend or family member offer constructive feedback about the length and pacing of your vows.
6

It's not really about you
Vows are a moment to publicly share the qualities you love about your partner and declare your abiding commitment to them. It's tempting to talk about what your partner does for you, but this is a moment to recognize who they are in their own right.
Wedding vow formats
Vows are deeply personal, so there's no one right structure to follow. If you're feeling stuck and don't know how to format your vows, here are some ideas to explore. 
Chronological
A chronological vow format begins at the start of the relationship through to the wedding day and beyond. 
For example, "surprise and delight" might be the central theme of your vows. In structuring your speech, you might allude to how you first met unexpectedly at a library, the endearing notes they left for you to find while you were dating, and how you look forward to a lifetime of more shared surprises together.   
Letter 
Structuring your vows as a letter to your partner is another common format. Like a conventional personal letter, it starts with addressing your partner, usually with "Dear _____" or another affectionate greeting, like "To my loving ______."
The body of the letter can be chronological, or you might simply allude to shared goals and dreams, or you can express any other sentiments you'd like to share. Toward the end, state your promises to your future spouse and close the letter with an affirmation of your love.
Listicle 
A listicle format is a straightforward list of promises that you intend on keeping during the marriage. 
It can include lighthearted vows, like "I vow to always fold the laundry because I know it's your least favorite chore," or sincere vows, like "I vow to assume your best intentions when things get tough" or "I vow to cherish the life we build, however that might look." 
Illustrative anecdote
Is there a story about your partner that encompasses who they are, what you love about them, or why you've chosen to spend your life with them? This kind of vow is personal and offers insight to the audience about what you see in your partner and the qualities that make them special, all in a real-life story format.
8 types of marriage vows
Like the varying structures that wedding vows can have, there are also different types of vows you can create. 
1 Traditional: The traditional wedding vow addresses the seven vows of marriage and is what you might have heard in movies or as a wedding guest when the couple doesn't write their own vows.
2  Realistic: This type of wedding vow acknowledges that not everything in the future will be perfect. Despite this, you choose to support and grow through it with your future spouse.
3 Sincere: Sincere wedding vows have a romantic tone. 
4 Funny: A marriage vow can be written in a lighthearted, humorous way while also conveying a heartfelt sentiment.
5  Anecdotal: Vows can be short stories or vignettes that illustrate who your partner is and why you want to spend your life with them.
6  Modern: Modern wedding vows can combine multiple types of vows that aren't considered traditional. For example, it might include references to pop culture, like a shared favorite TV show or a partner's favorite sports team.
7 Poetic/lyrical: Your entire wedding vow can be a poem or lyric, or you might use a poem or song lyric as a thematic anchor for your vows.
8 Religious: Some couples choose to include religious elements in their vows. These might reference their faith or include a favorite scripture or holy passage.
No rule says you can choose only one type of vow. You can create a personalized vow by mixing different types that best reflect your unique relationship.  
Helpful wedding vow writing prompts
Getting stuck at some point while writing your vows is normal. These prompts can help you find topics or themes for your marriage vows:
How did you feel when you first met them?

What does marriage mean to you?

What do you love about them?

What are your shared core beliefs?

How have they changed you?

What kind of obstacles have you beaten together?

What do you see when you envision your future together?

How do you complement each other?
Marriage vow examples
Below is an example of a traditional wedding vow that makes seven promises to a spouse-to-be.
I, _____, take you, _____, for my lawful wife/husband, to have and to hold from this day forward, for better, for worse, for richer, for poorer, in sickness and in health, until death do us part. I will love and honor you all the days of my life.
In contrast, here's an example of a nontraditional wedding vow that includes humor, sincerity, and timely references.
Throughout the years, you've taught me so many things. You taught me that bananas, peanut butter, and pickles actually taste amazing together. You taught me that bees are friends, not foes. You taught me to appreciate the silver lining when things don't go as planned. You taught me that even if the world shuts down and we're quarantined at home, we can still find new ways to laugh and learn together. I'm so proud to continue laughing and learning as a team in marriage. I vow to always keep an open mind and open heart in moments of uncertainty. I vow to lift you up when you're working toward your best self and to hold you close when you're not feeling like yourself. I love you eternally. You are my person in life and in spirit.