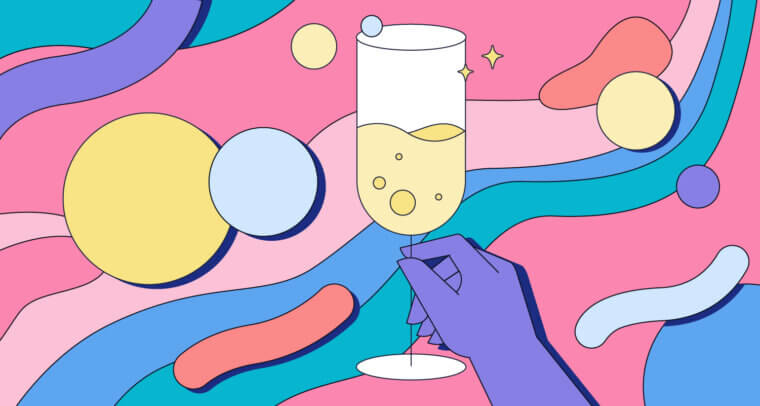 A memorable wedding toast can be many things: tear-jerkingly sincere, comedic and light-hearted, overly long and drawn out. We all know what it's like to sit through a toast that's disorganized, awkward, or simply isn't landing. But we've also all witnessed authentic and personal speeches that provide a wonderful window into the lives of those being celebrated.
Typically, the wedding hosts, the best man, and the maid of honor are expected to give brief toasts once everyone is seated for dinner. Sometimes, the groom will give a short speech to his bride and the guests at the reception. 
With so many speakers to contend with, it can be intimidating to write and deliver a toast that stands out from the others and resonates with the audience—many of whom are new faces, out-of-towners, and people you've just met (and might never meet again). 
Give your toast extra sparkle
Grammarly helps you communicate confidently
If you're the toast-giver, how can you write a toast that's a testament to the newlyweds and sheds light on them as a couple? What do you say, how long should the toast be, and how can you tie it all together?
The good news is it's entirely possible to pen a memorable toast. The secret to a great speech is to be genuine. Rather than waste time describing some niche memory or inside joke that will be hard to relate to or understand, choose authentic anecdotes that are positive, kind-hearted, and charming. 
Let's dive in. Here's what to include in a memorable wedding toast.
6 tips for writing a great wedding toast
1 Don't wing it: You may not need to refer to notes when you give your speech, but write it out ahead of time so you know where to start, what should go in the middle, and how you want it to end.
2 Introduction: Identify yourself—your name and relationship to the couple. You can add a quick blurb about the first time you met either of the couple, if you have a nickname for them, or how long you've been friends. Keep this part short and sweet.
3 Give thanks: Thank the couple and the wedding hosts for bringing everyone together (writing this out is also an opportunity to double-check that you'll be pronouncing everyone's names correctly). Opening with thanks creates a spirit of gratitude at the start of your toast. Consider something along the lines of, "I'm so grateful to be a part of this special day because . . . " Discussing why this moment is especially meaningful will set the stage for a personal and thoughtful toast.
4 Choose one defining word or story: Spend some time ruminating on the person you're toasting. Is there a particular word that comes to mind when you think of them? Is there one memory that illustrates how funny, unique, or thoughtful they are? Avoid stories that are off-color or offensive. While a little context might be helpful, make sure you include only the relevant details of the story. 
5 Add a couple of supporting anecdotes: Sometimes one great anecdote can do the trick, but if you feel like sharing a couple of memories from your friendship with the newlyweds, that's fine too! Try to choose examples that everyone will understand and find engaging. Your toast should build up the couple, not tear them down in front of their family and friends. Remember, this is a toast, not a roast.
6 Tie it together with something sweet: Now that you've shared a bit of your personal history with the couple, it's time to sing their praises and congratulate them on their now-official union. Consider ideas such as how the person is better and happier because of their partner. It can also be memorable to end with a wish for the couple and send them into their marriage with the hope of more good things to come.
What to leave out of your wedding toast:
As you prepare and practice your heartfelt toast, a handful of "don'ts" should be avoided. These things can cheapen your speech and make you appear distasteful or inappropriate. 
No exes

:

There really is no room to mention the couple's past relationships in your toast. Neither of them wants to think about their new spouse's exes on their wedding day.

It's not about you

:

The focus of your toast should be the newlyweds and their relationship. Even if you were part of a story or memory you're retelling, don't dwell on your role or presence. It's fine to introduce yourself briefly, but don't make the toast about you.

Don't rely on liquid courage

: Too much alcohol can derail a toast and threaten to make the moment about you and your gaffs rather than the couple. Better to be a little nervous than over-imbibe. 

Avoid swearing

: Even if you're known for being funny or crass, leave out the swear words. The audience might have kids whose parents won't appreciate the language or sensitive attendees who are bothered by bad words. Plus, it'll make your toast seem less formal and could cheapen the rest of what you say.
Wedding toast ideas to get you started
Even if you have a general idea of what you want to include, it's always helpful to try out a few prompts as you begin the writing process. Here are a few brainstorming prompts to get the juices flowing:
When did you first hear about your friend's future spouse? 

For siblings, parents, or childhood friends, what was the betrothed like as a kid?

What makes you most grateful for your relationship/friendship?

What do you remember about meeting your friend's future spouse for the first time? 

What does each partner bring out in the other?

Why do you think the newlyweds will have a great marriage?

What does true love mean to you, and how does the couple show or share that?

What do you think is the key to a happy marriage?

What are your main hopes for the couple's new life together? 
As long as your toast is sincere and comes from the heart, it will touch the audience and be cherished by the newlyweds. 
Remember that brief is better, so keep it under five minutes, and don't forget to toast the couple at the end of the speech! Once everyone has raised their glasses, you can rest assured that you've delivered a memorable toast.