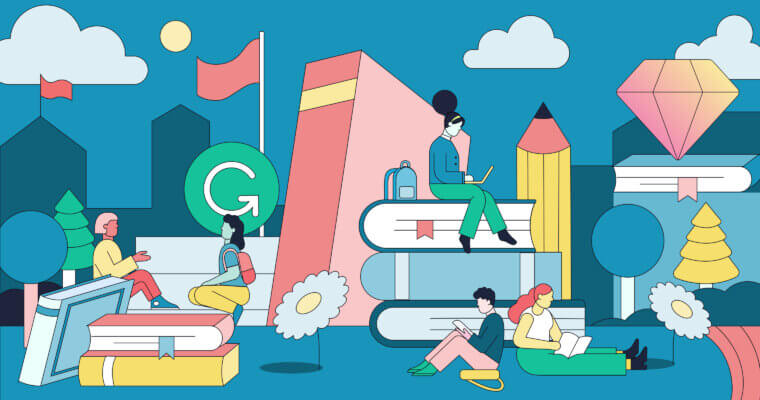 The start of the school year means building upon the successes and learning from the struggles of the past year. It means carving out a path to a brighter future. Each answer you type and each essay you write is a step toward the direction you're headed in as a student. 
You may be excited to return to campus while also feeling overwhelmed with readjusting to student life and performing well academically. At the same time, you may be thinking about the next steps as you prepare for the next chapter of your life. Your work as a student amounts to more than just academic achievements and good grades—it provides the foundation for your professional future.
With the pressure and responsibility to have a productive school year, the key to starting on the right foot is preparation. Adding Grammarly Premium to your toolkit can help you save time, improve your grades, and feel confident in every writing assignment you submit.
Give your writing extra polish
Grammarly helps you communicate confidently
What is Grammarly Premium?
Grammarly is your go-to writing assistant. Download it and use it where you do your most important writing. The free version goes beyond a basic grammar, punctuation, and spell checker, also detecting the tone of your writing and suggesting ways to make your sentences more concise. 
When you subscribe to Grammarly Premium, you get advanced suggestions such as spelling and punctuation consistency, tone adjustments, full-sentence rewrites, vocabulary replacements, and plagiarism detection. These features help you take your work to the next level, ensuring that everything you write is original and polished. 
Here are three ways Grammarly Premium can help you succeed in your academic writing:
1

Write confidently 
In a recent survey of Grammarly users, 99% of students say that Grammarly Premium increases their confidence in their written material. Whether you're writing essays, research papers, reports, online course discussions, or dissertations, Grammarly Premium can help you become a better writer through its many advanced features.
Write with clarity
Premium's full-sentence rewrites point out when your sentences are hard to read, offering revisions so your writing is clear and concise. These rewrites help you effectively communicate your original ideas without altering your voice—in emails to your professors, forum discussions with your classmates, or formal papers that make up a substantial percentage of your grade.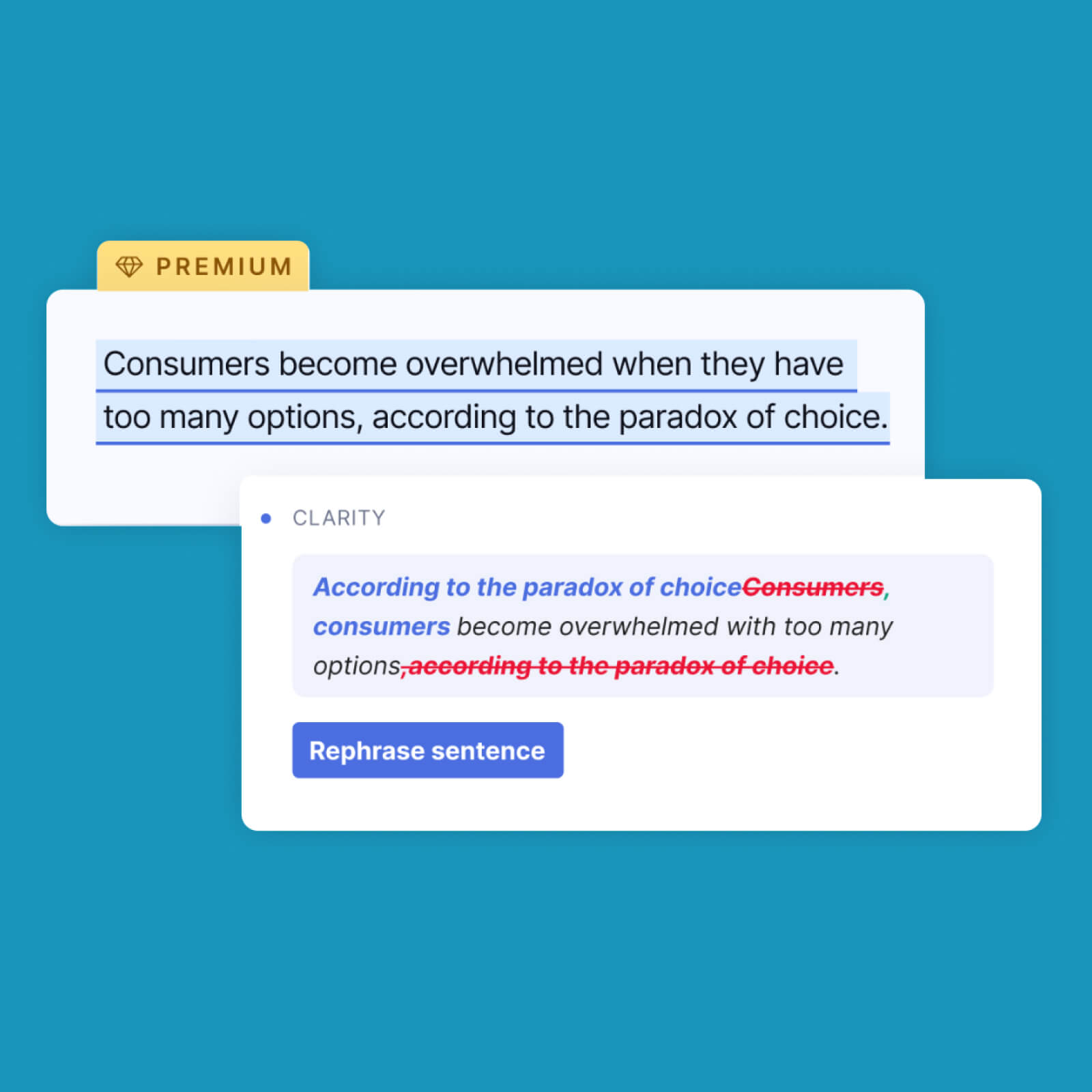 Write with originality
Premium's built-in plagiarism detection checks your work against 16 billion web pages with one click and identifies sources that may need citations. Avoid unintentional plagiarism, rest assured your writing is original, and make the grade when you submit school papers.
Write without mistakes
Grammarly's free plan provides spelling, grammar, and punctuation suggestions to help ensure your assignments are mistake-free. Premium goes a step further with advanced suggestions such as spelling and punctuation consistency throughout your long-form work. Instantly proofread your writing with Grammarly's comprehensive suggestions so you can confidently submit mistake-free papers. 
2

Improve your grades 
A survey of Grammarly users shows that 94% of students saw an improvement in their grades when they used a Premium plan for school. Mistakes, typos, inconsistent styling, plagiarism, and unclear writing can make you lose points on papers, but Grammarly checks for and flags these issues in your written work to help you raise your grade.
Grammarly Premium provides suggestions for style, tone, clarity, plagiarism detection, word choice, fluency, grammar, punctuation, and spelling—helping you improve these aspects of writing so you can improve your overall grade. 
3

Maximize your investment
Textbooks cost an average of $80–$100, a new laptop can cost you thousands of dollars, and academic tutoring can range anywhere from $20 an hour to hundreds of dollars per month. Compared to other college-related costs, Grammarly Premium at $12 per month (or $144 for a year) is money well spent. 
For the subscription price, you get something invaluable in return: writing support that increases your confidence and improves your grades. When you add Grammarly Premium to your school toolkit, you set yourself up for success this academic year and beyond.
See how Grammarly Premium could improve your academic work 
Write a more compelling essay
It's true. You probably can't get through four years of college without writing an essay, whether for general education classes or for your major. If you're on the humanities track, you can expect to write several essays each semester. An essay can be anything from a one-page write-up dissecting Maya Angelou's "Phenomenal Woman" to a multipage paper on Plato's The Republic. Whatever the case, Grammarly Premium has your back. It helps ensure that you're writing in active voice, your sentence structure is sound, and the final draft is mistake-free and ready to submit.
Fine-tune your research report 
If you choose the path of the sciences, you'll likely find yourself writing research papers or reports full of evidence, stats, and sources to cite. Whether you're researching the impact of strong leadership on social movements or the greenhouse effect on global warming, Grammarly Premium can help. Use Premium's advanced suggestions to keep spelling and punctuation style consistent, choose words that are uncommon and unrepetitive, and rewrite sentences to make your argument clear and concise. 
Avoid plagiarism 
Plagiarism can happen unintentionally when you don't realize your writing shares similarities with another published work. Sometimes paraphrasing can even border on plagiarizing, so it's important to be careful when submitting academic papers. Grammarly Premium scans your words for plagiarism by matching it against billions of pages online. It even provides links so you can give credit to the source material. With Premium, you'll feel confident that every written assignment you turn in is your original work.
Grammarly Premium helps you write your future
Writing is an evitable reality of any college career—for both undergraduate and graduate students. When the difference between an A or B grade depends on the strength of your writing, Grammarly Premium can elevate your finished assignments from good to excellent. With an annual subscription that costs only $12 a month, Grammarly Premium can make all the difference in how you get through the writing demands of the school year—and set you up for future professional success. 
As you head back to school, invest in improved grades and polished writing assignments. Invest in writing your future with Grammarly Premium.