Where Grammarly Works

Improve your writing and communication across 500,000+ apps and websites—with just one Grammarly account.

Grammarly is your constant companion in all the places you love to write, providing instant writing suggestions so you can communicate with confidence no matter the context.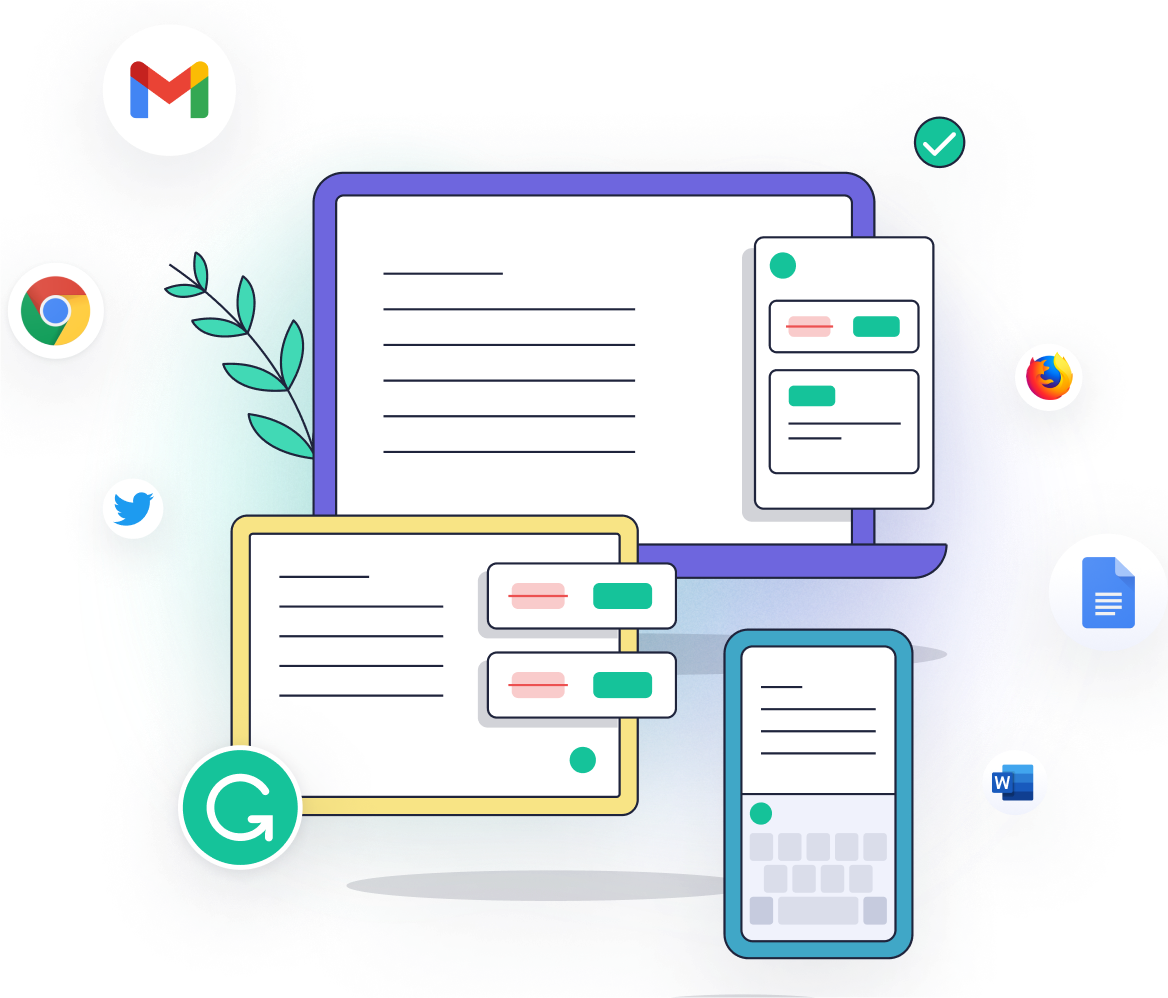 Writing Support Across Your Desktop

Grammarly works where you write on your desktop computer, across websites and desktop applications. Get comprehensive
writing
support in email clients, word processors, browsers, apps, and more.
Grammarly for Mac and Windows

Write confidently on your favorite
desktop
apps and websites on Mac and Windows.
Grammarly Browser Extension

Get advanced writing support in Google Docs and other sites on major
web browsers
.
Grammarly Editor

Draft, save, and edit documents in a dedicated
text editor
that syncs across your devices.
Ready to transform your writing?

Communication Support on Your Mobile Device

Grammarly Keyboard helps you communicate confidently on the go. Keep your writing
mistake-free
and ensure your wording conveys the appropriate tone for your reader.
Write confidently on your mobile device.

Works Where You Write

Get instant writing feedback when you use Grammarly across your favorite apps, websites, browsers, and devices, including:







"Grammarly is a simple, easy tool that helps me keep one consistent voice across all my communication. Because Grammarly also integrates wherever I write, the biggest benefit is that I save time."

Natasha Hipwell
President & Founder at The Online Hero
Frequently Asked Questions

Is Grammarly free across desktop, mobile, and tablet?

Yes, you can use Grammarly Free for as long as you'd like on your desktop, mobile device, and tablet. If you're looking for more advanced writing suggestions and customizable features, try

Grammarly Premium

.
How do I install Grammarly on my computer?

Download Grammarly for

Windows

or

Mac

, open the file and follow the installation prompts. If you need help, check out our

support article

for step-by-step instructions.
Does Grammarly work in email?
Does Grammarly work in Microsoft Word?

Yes, Grammarly for Windows and Mac supports integration with multiple applications and websites, including

Microsoft Office apps

.
Does Grammarly work in my web browser?
Does Grammarly work in Google Docs?

Yes! With the Grammarly browser extension, you can get real-time writing suggestions in

Google Docs

.
How do I install and use Grammarly on my phone?
How do I install and use Grammarly on my iPad?

Download Grammarly for iPad from the App Store and follow the installation prompts on your device. If you need additional help, check out our

iPad support article

.
Is my data secure wherever I use Grammarly?

We value the trust you put in us to keep your information safe and secure. With your privacy a top priority, we remain vigilant about information security and maintain industry-standard security protocols and procedures to keep your data safe. We do this through secure infrastructure, multiple attestations and certifications, adherence to information security best practices, compliance with privacy regulations, and more. Read about what we do to

keep your information safe

.
Write Your Best with Grammarly

Join 30 million people who use Grammarly across 500,000+ apps and websites to make their writing shine.