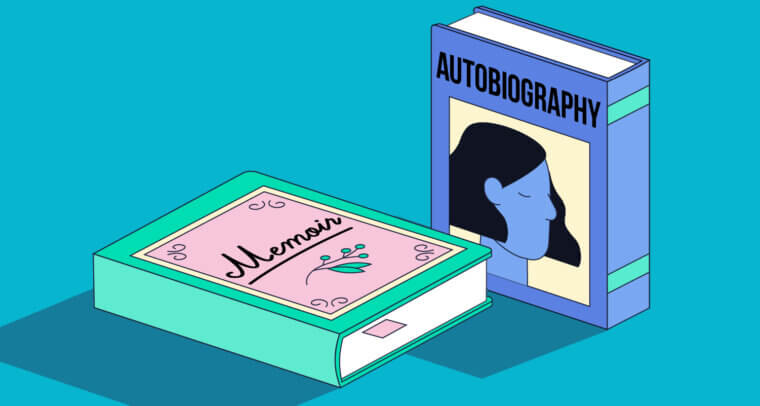 Memoir and autobiography are often used synonymously. These two nonfiction genres are very similar, so it's easy to get them confused. They're both the story of someone's life written by that person, and they both use the pronouns "I" and "me" since they're written in the first person. They're both true stories from the author's life. But there are some key differences. 
A memoir is a nonfiction narrative in which the author shares their memories from a specific time period or reflects upon a string of themed occurrences throughout their life. An autobiography is a factual and historical account of one's entire life from beginning to end. 
If you've struggled to understand the difference between autobiography and memoir, you've come to the right place to learn more.
Make your writing memorable
Grammarly helps you communicate confidently
What is a memoir?
Memoir comes from the French word mémoire, which means memory. A memoir is a nonfiction but subjective collection of narratives in which the author remembers experiences, emotions, and events from a certain period in their life. Memoirs focus on intimately conveying their perception of these memories in a way that is emotionally truthful but isn't fact-checked. 
How do you pronounce memoir?
Memoir can seem like a tricky word to pronounce, but it's actually quite simple. The beginning is "mem" just like "memory." The end is essentially an elongated pronunciation of "war." Put together phonetically, it sounds like "MEM-waar." You can consult an online dictionary to hear an audio recording of this word being pronounced out loud.
What is memoir as a literary genre?
A memoir is a literary nonfiction genre in which the author recounts their experiences during a significant period of their life. They might focus on their childhood and family, a spiritual journey, their experience with fame, a big adventure, or many different but thematically related events in a collection of personal essays. These days, some memoirs are even graphic novels illustrated by the author.
How is a memoir structured?
There isn't one right way to structure a memoir. Memoir authors can experiment with how they order the events they're recounting, whether they write in the past or present tense, use a linear narrative, or divide their memoir into sections. 
While a memoir is a flexible genre, it should include these things:
A specific theme

Something the author overcame

First-person writing style

Supporting details and events from the past and the people who were present

Storytelling basics like plot and setting 

Honesty
Memoirs typically fall into one of these structures:
Flashbacks:

The author jumps back and forth between the past and present to provide backstory

Chronological:

The author writes about their experiences in the order in which they happened. 

Themed:

The author includes only memories that fall into one specific theme. 

Overcoming:

The author focuses on one struggle and how it affected their life. 
What is an autobiography?
An autobiography is a nonfiction account of someone's life that they wrote themselves. Usually, an autobiography covers the author's entire life up to the point of writing in chronological order and is sometimes (though not always) drafted in the later years of the author's life. The events recounted in autobiographies are factual and fact-checked. They're often used as resources by historians.
Many autobiographies are written by people who have some claim to fame who write about their journey to becoming famous. The author might be a politician, change-maker, business figure, professional athlete, or celebrity. But anyone can write an autobiography.
The etymology of the word autobiography is made up of three Greek root words: "auto," meaning self; "bio," meaning life; and "graph" meaning write. 
What is a biography?
A biography is also a nonfiction account of someone's life, but it's written by someone else. Biographies are typically based on interviews, letters, personal journals, photos, reference books, newspapers, and digital media. The word biography has the same roots as autobiography but without the "auto" prefix.
What is an autobiography as a literary genre?
Autobiographies fit into the nonfiction genre. They are retrospective narratives that tell the story of the majority of an author's life. Autobiographies are factual and chronological. Authors in this genre tend to focus on providing context for their life and personal development within a historical and cultural framework. 
How is an autobiography structured?
Traditionally, autobiographies have been written chronologically. But nowadays, there are two common structures for autobiographies. Each of these structures follows traditional storytelling principles. These two structures are standard across the publishing industry. 
Most autobiographies follow a chronological structure like this:
Foundation:

childhood experiences, family members, community, home life, school, friendships, family traditions

Adversity:

pivotal moments that lead to life achievements

Conclusion:

lessons learned after overcoming or embracing adversity
Some autobiographies follow a structure that the writer Joseph Campbell called "the hero's journey," which includes these elements:
Adversity:

a life crisis or pivotal moment that was a catalyst for the life they lead today

Foundation:

childhood experiences, family traditions, community, school, friendship, and home life

Conclusion: how they overcame adversity and the lessons they learned along the way
"The hero's journey" format can be used to grab a reader's attention. It provokes curiosity and a desire for resolution in the reader that compels them to keep reading.
Memoir vs. autobiography examples
Memoirists selectively share the stories and emotions that contribute to their chosen theme or time period. Here are some popular memoirs from the past and present: 
A Heartbreaking Work of Staggering Genius

by Dave Eggers

A Moveable Feast

by Ernest Hemingway

Angela's Ashes

by Frank McCourt

An Astronaut's Guide to Life on Earth

by Chris Hadfield

Between the World and Me

by Ta-Nehisi Coates

Dreams from My Father: A Story of Race and Inheritance

by Barack Obama

Eat, Pray, Love: One Woman's Search for Everything Across Italy, India and Indonesia

by Elizabeth Gilbert

Falling Leaves: The Memoir of an Unwanted Chinese Daughter

by Adeline Yen Mah

Hunger: A Memoir of (My) Body

by Roxane Gay

I Am Malala: The Girl Who Stood Up for Education and Was Shot by the Taliban

by Malala Yousafzai and Christina Lamb

I Know Why The Caged Bird Sings

by Maya Angelou

Just Kids

by Patti Smith

Kitchen Confidential: Adventures in the Culinary Underbelly

by Anthony Bourdain

Love, Loss, and What We Ate

by Padma Lakshmi

Me Talk Pretty One Day

by David Sedaris

My Life on the Road

by Gloria Steinem

Night

by Elie Wiesel

On Writing: A Memoir of the Craft

by Stephen King

Orange is the New Black: My Year in a Women's Prison

by Piper Kerman

Out of Africa

by Isak Dinesen

The Glass Castle

by Jeannette Walls

The Woman Warrior: Memoirs of a Girlhood Among Ghosts

by Maxine Hong Kingston

The Year of Magical Thinking

by Joan Didion

The Color of Water: A Black Man's Tribute to His White Mother

by James McBride
Autobiographies are factual accounts of someone's entire life. Here are some examples of popular autobiographies throughout history: 
Agatha Christie: An Autobiography

by Agatha Christie

Autobiography of a Yogi

by Paramahansa Yogananda

Autobiography of an Androgyne

by Earl Lind

Autobiography of Mark Twain

by Mark Twain

Cash: The Autobiography

by Johnny Cash

Chronicles: Volume One

by Bob Dylan

I Am Ozzy

by Ozzy Osbourne

Living for Change: An Autobiography

by Grace Lee Boggs

Long Walk to Freedom

by Nelson Mandela 

Narrative of the Life of Frederick Douglass

By Frederick Douglass

Open: An Autobiography

by Andre Agassi

The Autobiography of Benjamin Franklin

by Benjamin Franklin

The Autobiography of Malcolm X

by Malcolm X and Alex Haley

The Interesting Narrative of the Life of Olaudah Equiano

by Olaudah Equiano

The Story of My Life

by Helen Keller
Memoir vs. autobiography FAQs
What is a memoir?
A memoir is a nonfiction first-person narrative written about a specific theme or time in the author's life. 
What is an autobiography?
An autobiography is a factual, nonfiction first-person account of the majority of the author's life, usually in chronological order. 
What are the key similarities between memoir and autobiography?
Autobiographies and memoirs both have these elements:
Nonfiction 

Written in the first person

Recounted events from the author's life
How do memoirs and autobiographies differ?
Autobiographies:
Factual

Usually chronological

Cover the majority of the author's life
Memoirs: 
Emotion-focused

Only cover a piece of the author's life or a specific theme

Can have many different types of timelines
Here's a tip:

Grammarly's 

Citation Generator

 ensures your essays have flawless citations and no plagiarism. Try it for citing biographies in

Chicago

,

MLA

, and

APA

styles.