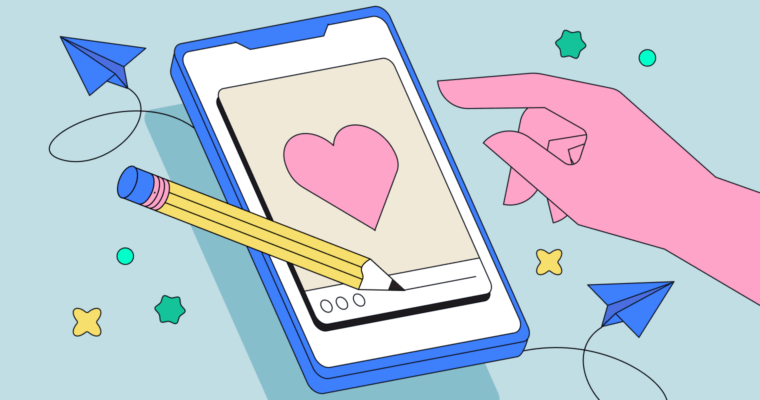 On Instagram, the phrase "a picture is worth a thousand words" might be an understatement. However, a well-crafted Instagram caption can help you say a lot more. Captivating Instagram captions grab a user's attention, provide context to a post, inject it with personality, and generate meaningful engagement.
Give your writing extra polish
Grammarly helps you communicate confidently
8 tips for writing an Instagram caption
1

Start strong

Every post gets 2,200 characters, but only the first 80–100 characters will be visible on the feed. Make your first line of text enticing enough so the user will want to pause and see more. This might mean using emoji to grab their attention, asking a question they want to know more about, or including an immediate call to action.
2

Add context

Instagram captions are secondary to the image, but that doesn't mean their only purpose is to explain the image. Use the space in your captions to add context or fill out details that a viewer might not immediately understand from the image.
3

Have fun with emoji

Emoji can say a lot in a little space. They also add color to your caption, which will help catch viewers' attention, especially on a predominantly visual platform.
4

Harness the hashtag

Instagram captions also play a role in increasing the discoverability of your posts. By using relevant hashtags in your captions, you can expand the reach of your content and attract new followers who are searching for specific topics or interests.
5

Include a call to action

A call to action is a simple and effective way to increase the engagement on your page. Some common calls to action are double tap if you agree, comment below, and hit the link in bio.
6

Know your audience

Consider who your followers are. How do they relate to you or your brand? What are their interests? When are they online? Tailored captions help your followers feel more connected to you or your brand. Captions are also a great place to express your personality beyond your bio.
7

Don't overdo it

In general, short Instagram captions are more effective for keeping your audience engaged. Users aren't on Instagram to dive deeply into a topic; they're there to scroll until their eyes glaze over. Use bright and impactful language that gets your point across.
8

Edit

Run your caption through our free grammar checker to make sure that your message is typo-free.
Why are Instagram captions important?
Captions are the most direct way to address an audience on Instagram. When you write compelling captions, your followers are more likely to leave comments, like a post, or complete a call to action. Not only does engagement create a closer connection with your audience, but it increases the discoverability of your posts as well. Captions that resonate with users may encourage them to share your post, leading to greater exposure and visibility.
Use GrammarlyGO to make your post shine
If you want help creating a personalized Instagram caption, try GrammarlyGO. With GrammarlyGO, you get end-to-end writing assistance that enables you to generate text and provides revision suggestions to help your caption shine.
Crafting an Instagram post is unlike many of your other writing tasks, and GrammarlyGO helps you create high-quality, relevant writing by understanding your unique context. It picks up on aspects like what you're trying to accomplish with your writing, the app you're using, the people you're writing for, and more. Then it uses that context to suggest relevant prompts, allowing you to refine your message until it's just right.
GrammarlyGO is now available in beta. You'll get access to contextually aware, personalized AI that helps you write drafts, rewrite for tone and length, and generate the perfect Instagram caption.
Instagram caption examples
Nike (@nike): Nike often uses concise yet impactful phrases that motivate its followers. Their brand is known for its inspirational, empowering, and concise messaging ("Just do it"),and Nike's Instagram captions are consistent with its brand voice. Here's a recent caption below the picture of a soccer player:
She's laced up ✅She's locked in ✅She's ready to win🥇.
If you're a goalkeeper facing a shot from the U.S. Women's National Soccer Team rookie forward @sophsssmith, we've got two words for you: good luck. She might be all smiles on and off the pitch, but that doesn't mean she doesn't possess the instinct to put a team to sleeep with a swift touch of the ball. #NikeFC
Humans of New York (@humansofny): Humans of New York is a portrait project by street photographer Brandon Stanton. This page is a great example of how to use a consistent Instagram caption format and how to complement your photos using text. Stanton's captions are quotes from the person photographed, which give a glimpse into their everyday lives. One post shows a mother and her grown-up son, with his arm around her neck.
"Made sure we had food. Made sure we had clothes. Made sure we had a roof over our heads. Electricity may have been cut off a couple times, but we always had somewhere to go. Mama always came through."
Oreo (@oreo): The Oreo brand's Instagram posts are a good example of having a clear and concise call to action. Its posts regularly ask questions, suggest comments, and direct people to the link in bio. They understand that the Oreo audience is there for quick, saccharine hits—just like the brand's cookies—and that's exactly what Oreo's Instagram captions deliver. In a recent post, the brand included two pictures: one with an Oreo popsicle, and the next with nothing remaining but the stick.
Swipe ➡️to treat yourself 😋
Instagram caption FAQs
What is an Instagram caption?
An Instagram caption is the body of text that accompanies an Instagram post. Captions are limited to 2,200 characters, but only the first 80–100 characters appear on the main feed.
What is the purpose of an Instagram caption?
The purpose of an Instagram caption is to provide context, add personality, and generate engagement around your post.
What are the best tips for writing an Instagram caption?
Eight tips for writing an Instagram caption are:
Start strong
Add context
Have fun with emoji
Harness the hashtag
Include a call to action
Know your audience
Don't overdo it
Edit