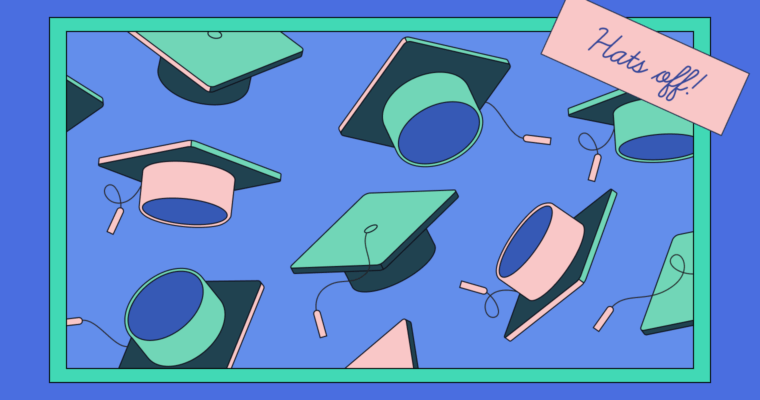 Graduation is an exciting time in life—a chance to look back on the path that led to this academic achievement, and to anticipate the promise of all that's yet to come. If you know someone who has a high school, college, or graduate school graduation coming up, a well-written graduation card can provide encouragement, offer words of wisdom, or convey how proud you are of their accomplishment. And, traditionally, writing a card is a common social custom surrounding this pivotal life event.
Even so, if you haven't written very many grad cards, you might not know where to start. Here's everything you need to know to write a great graduation card.
Give your writing extra polish
Grammarly helps you communicate confidently
What is a graduation card?
A graduation card is typically given on or around graduation day and is an opportunity to express pride, say congratulations, or otherwise acknowledge that the graduate has attained something important.
It can also convey sentiments like:
Wishing them luck in the future
Saying you'll be there to provide support for their post-grad life
Recounting relevant anecdotes about their time in school or university
Detailing all of the hard work that got them to graduation day
Encouraging them to continue to seek educational achievement
Ideally, of course, you'll want to avoid more clichéd phrases—like "Congraduations!" or mentioning "the next chapter" in their life—since those can come off as insincere.
But in general, a graduation card can be quite short (just a line or two), though if you have a close relationship with the graduate, you can go a bit longer. That said, keep in mind that you can always opt to say some things in person if that feels like a better or more comfortable way to communicate your thoughts.
5 types of graduation card messages
Depending on how close you and the graduate are, you can choose from any number of approaches and tones, including:
Sentimental: It's common to feel sentimental about graduation, and it's completely acceptable to let that show in a graduation card. Just keep in mind that the graduate should be the main subject of your note.
Advice: Graduating from high school or college can be exciting, but also scary. So if you have any useful words of wisdom to pass along to the graduate, this card is a great place to do it.
Funny: Graduation day can tend toward the emotional, especially if you're the parent or parental figure of the graduate. So switching gears to provide a dose of humor can be a helpful way to lighten the mood while still acknowledging the focus of the day.
Encouragement: Similar to words of wisdom, a graduate may be in need of encouragement, or kind and hopeful thoughts as they leave their academic setting. This can be especially helpful if there were challenges or obstacles on the road to graduation.
Quotation: A well-chosen quote can communicate the message that you have in mind, if you can't seem to pull the words together to express your feelings.
Examples of graduation card messages
1

A short, sentimental card from a parent

[Name/nickname],

It's hard for me to believe you're already graduating from high school—it seems like just a moment ago that I was saying goodbye to you as you walked into kindergarten. You make me proud every day, and I'm lucky to be your parent. Congratulations on the momentous occasion. I can't wait to celebrate with you!

Love always,

Mom
2

An encouraging card from a mentor

[Name],

Congratulations on this big accomplishment! I know how hard you've worked to get here; I admire your perseverance, tenacity, and intelligence. You have a bright future ahead of you, and I can't wait to see what you do next.

– [your name]
3

Advice

[Name],

You've achieved such an important milestone—congratulations on your well-earned diploma. My school days are long behind me, and I have a few thoughts that I wish someone had told me when I graduated, so here they are.
Let curiosity be your guide—don't let the learning end just because you're done with school.
Challenge yourself: if you're in a rut try something (anything!) new; talk to people who are different from you; be your own advocate, even if it makes you uncomfortable.
YOLO—seriously! Fill your life with people and work that bring you joy.
– [Name]
4

Encouragement

Congratulations [name]! Graduating is no small feat—and I'm so impressed by your perseverance and proud of all you've accomplished. I can't wait to see what you'll do next, but please don't forget to take time to relax and soak in this important moment.

– [Name]
5

Quotation

Dear [Name],

I think Eleanor Roosevelt said it best: "The future belongs to those who believe in the beauty of their dreams."

A huge congratulations on your important achievement!

– [Name]