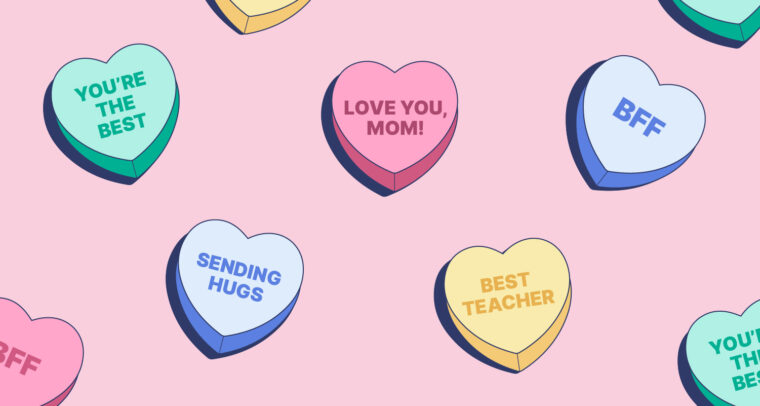 When Valentine's Day comes around, all of the cards, gifts, heart-shaped trinkets, and boxes of chocolate always seem to be about romantic love. Whether or not the holiday was invented by Hallmark, people love love—and having an excuse to show it. 
But what about the people you love in a non-romantic way who also deserve tokens of affection? 
On Valentine's Day (or any other day!), you can remind the many people you love just how much they mean to you with a simple, thoughtful note. Instead of only focusing on romantic love this Valentine's Day, here are several ideas for sending a platonic, familial, or friendly love note to brighten someone's day.
Strike the right affectionate tone
Make sure your note is understood the way you intend.
1

A handwritten letter to a friend
When's the last time you sent a letter to a friend telling them how much they mean to you? There's nothing quite as heartwarming as a handwritten letter, especially when we've all been feeling disconnected. Spend some time crafting a letter that expounds upon why you love or appreciate your friend. With sincerity, honesty, and a little humor, a handwritten note will go a long way.
How to start: "I've been thinking about you so much ever since [mention something that reminds you of your friend and connect it to a memory you share together]."
2

A postcard to your grandparent 
Grandparents are extremely special people with plenty of wisdom and lived experience to share. Yet, we rarely tell them just how important they are. What do you love most about them? Sending a quick postcard that reminds them of your love and gratitude will surely make their day. 
How to start: "Grandma! I wanted to send you this postcard to tell you how much I appreciate you and your [passion for / attitude about / stance on / ability to / etc.]."
3

An affectionate text to your sibling 
If your relationship with your brother or sister doesn't normally involve you sharing your feelings, sending them an affectionate text will definitely make them smile. Spend five minutes typing out a meaningful, personal text. No matter what your relationship is normally like, stringing together a few words and forming a nice text will go a long way in making your sibling feel appreciated. 
How to start: "My dear sister, I just wanted to say that I love you so much for [personal example]."
4

A sweet message in your child's lunchbox
There's nothing quite as heartwarming as opening up your lunchbox and finding a sweet note from mom or dad. Make your little one's day by hiding a small sticky note in their lunch bag that simply says "I love you!" While it may gross out your tween or get spattered with peanut butter, they'll love getting a little lunchtime reminder that you went the extra mile to make them smile.
How to start: "Hi Freddie! Hope you're having a great day at school so far. Make sure you eat your carrot sticks like a good bunny rabbit. 🙂 Love you!! Mom"
5

A note of gratitude on your neighbor's door
Your neighbors are a fundamental part of your daily community. Whether they lend a helping hand carrying your groceries upstairs or supply eggs for those cookies you're baking, neighbors often offer small acts of kindness when we need it most. If you haven't ever thanked them just for being your neighbor, slip a note under their door or in their mailbox. Tell them how grateful you are that they're next door.
How to start: "Hey CJ! I just wanted to say that I love being your neighbor and am so glad our homes brought us together. Thanks for always [letting me borrow your lawn mower / making me laugh / playing with my dog / etc.]"
6

A video message to your parents
This type of note is especially wonderful if you live far away from your parents, who most certainly miss seeing your face! Sending a short video message to one or both of your parents is a surefire way to bring a smile to their face. And, it's better than a mere text message. Record yourself expressing just how much you love them and send it off—chances are, your parents will be glad just to see you (and can enjoy your message again and again)!
How to start: "Greetings [parent]! I felt like sending you a special video message telling you that I love and miss you! You are truly the best for [always picking up my late-night calls / listening to my updates about work / sending me new recipes to try / etc.]."
7

A voice note to your colleague
Similar to sending a video message, creating voice notes is an extra personal way to tell someone why you appreciate them. A voice note is instantly intimate, as the person can hear your voice and, in effect, feel your presence. Sending a cheerful note is a great way to lift someone's spirit. So, why not leave one for your colleague and thank them for all their help on that recent work project? 
How to start: "Hey Madison! I am so incredibly grateful for all of your help on that project this week. I don't know what I would do without you and feel so lucky to have you on my team!"  
8

A gushing email to your favorite teacher
If you still keep in touch with your favorite professor from college or a past teacher from grade school, now is the perfect time to tell them how much they mean to you. If they've ever done anything special for you, like writing a recommendation letter or lending you a book that made a big impact, tell them! Spend fifteen minutes writing them an effusive email that communicates just how influential they've been on your life or your trajectory.
How to start: "Hi Professor! It's been so long since we've chatted but recently I've been thinking a lot about our English class and how much you taught me. I wanted to send you an email thanking you for introducing me to [subject / idea / life lesson / etc.]."
>>Read More: How to Stay Connected with Teachers During Distance Learning
9

An Instagram story for your friend
Devoting an Instagram story to one of your friends is the social media equivalent of shouting from the rooftops. Not only are you turning the spotlight on your friendship and what it means to you, but you are sharing this message with your entire circle. Your friend is sure to appreciate this gesture, which goes above and beyond a message that's just between the two of you. Add photos from your favorite memories together and tell the world why they're so great.
How to start: Start with a photo of the two of you and caption it: "This is my best friend @[your friend's username]. Here's why I love her." Add subsequent photos that show off the reasons why you love your friend!
10

A candygram to your cousin
A final idea is to send a candygram (or a similar care package) to a family member, like your cousin whom you haven't seen in months. A candygram is simply a box of treats that includes a heartfelt greeting. Less involved than a gift basket, this is a sweet way to brighten someone's day (literally!) and give them an edible reminder of your love for them.
How to start: "Owen! Since you're just the sweetest cousin, I thought I'd send you a few sweet treats. Know that I'm always thinking of you and hope you're doing great at the new job!"