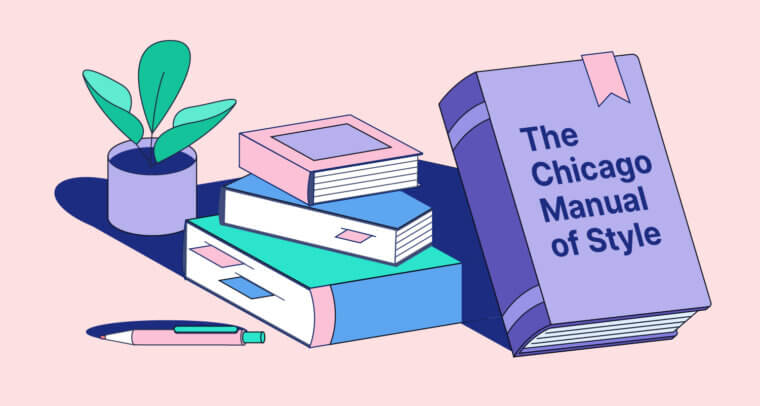 Chicago style is a set of formatting and citation guidelines that tell you how an academic paper should look, similar to other styles like APA or MLA. Based on the Chicago Manual of Style, or CMOS, Chicago style is the preferred format for citing sources related to history and historical topics. It is known for its comprehensive system of footnotes and endnotes.
Each of the main formats has different rules for writing citations and bibliographic information. Depending on the topics you write about, you may need to learn Chicago style at some point. Below, we explain all the guidelines for Chicago format, including how to cite sources, and give Chicago citation examples.
Give your writing extra polish
Grammarly helps you communicate confidently
What is the Chicago Manual of Style (CMOS) format?
The Chicago Manual of Style (CMOS) is one of the main styles for academic writing. Currently in its seventeenth edition, it was first published in 1906 by the University of Chicago Press.
Like other styles, such as MLA and APA, the Chicago Manual of Style provides guidelines for formatting works and citing sources in specific fields. While Chicago style is mainly used for history, it's also occasionally used for subjects in business and the fine arts.
Is Chicago the same as Turabian?
The name "Turabian style" comes from the style guidelines created in 1937 by Kate L. Turabian, the University of Chicago's graduate school dissertation secretary. The Turabian style narrows down the Chicago style to provide a format for college and graduate students to use with research papers.
The Turabian style guide is still published today and has many similarities with Chicago style. The difference is that Turabian style is aimed at students, while Chicago style is broader and includes more guidelines.
When to use Chicago format and citations
If you aren't sure which style guide to use for your assignment, ask your instructor. Chicago format is typically the go-to style for history papers, but it can also be used for humanities and social sciences.
Specifically, Chicago style is preferable if the writer plans on using abundant footnotes or endnotes. Compared to the other styles, Chicago places the most emphasis on notes for citations and commentary. This comes in handy if you're repeatedly citing multiple sources in the same line or sentence, as footnotes and endnotes can help you avoid lengthy in-text citations.
Chicago vs. MLA, APA, and other formats
Aside from its emphasis on footnotes, Chicago differentiates itself from other styles with its flexibility. For example, Chicago doesn't require that a paper include a title page, but it has formatting guidelines if you choose to use one. Similarly, there are no hard-and-fast requirements for your headings and subheads, but Chicago style also provides guidelines you can follow.
Because of its thoroughness, Chicago style is more commonly a requirement in graduate rather than undergraduate education. It is also prevalent in published works.
How to set up your paper in Chicago format
Chicago formatting rules
1 Chicago style uses two different citation formats: the notes-bibliography system and the author-date system. Both are completely acceptable for a paper formatted in Chicago, but your instructor may require that you use one or the other.
2 The bibliography page is titled "Bibliography" in the notes-bibliography system and "References" or "Works Cited" in the author-date system.
3 A title page is not required.
If you do include a title page, do not include a header or page number on it. Write the paper's title one-third of the way down the page. Write your name, course number, paper title, and submission date on separate lines centered two-thirds from the top. Title pages count as page 1, so the text of your paper begins on page 2.
If you don't include a title page, include your name and paper title on the first page.
4 Each page has a margin that is 1 to 1.5-inches on all sides.
5 Each page (excluding the title page) includes a page number in either the top right or bottom center of the page. Whichever placement you choose, keep it consistent throughout the entire paper.
6 The paper is double-spaced.
7 Every new paragraph is indented half an inch.
8 No specific font or size is required, but 12-point Times New Roman is recommended.
9 Quotations of five lines or longer are formatted as block quotes. Do not put these in quotation marks. Instead, indent the passage an additional half an inch. Add an extra line space before and after the block quote.
10 All headings are formatted in headline case (Capitalize Every Major Word of the Heading), rather than sentence case (Capitalize only the first word of the heading).
Chicago styling rules
1 Contractions are acceptable but are still considered too casual for formal papers.
2 Chicago style uses the Oxford comma, aka the serial comma.
3 In general, spell out numbers zero through one hundred. Also spell out large numbers that end in hundred, thousand, hundred thousand, million, or billion (e.g., five thousand, not 5,000). This rule also applies to ordinals, so spell out ordinals like first or three-thousandth, but use numerals for ordinals like 103rd.
4 Spell out numbers if they begin a sentence, title, or heading.
5 Spell out simple fractions (e.g., two-thirds), but use numerals for whole numbers and fractions together (e.g., 5 ⅔).
6 Use numerals for numbers with symbols or abbreviated measurements (e.g., 30° or 50 km). Likewise, use numerals for percentages (e.g., 75 percent). Try to avoid using these numbers at the beginning of a sentence.
7 Use numerals for decimals (e.g., 0.6).
8 Use periods for abbreviations that end in lowercase letters (Jr., Mrs., et al.). Also use periods for initials in names (e.g., E. B. White) unless the entire name is replaced with initials (e.g., MLK).
9 Do not use periods for abbreviations with two or more capital letters (e.g., UK, CEO, or PhD).
How to cite sources in Chicago: citation examples
Citations are a necessary part of any academic paper, no matter the format. This includes Chicago style, which requires writers to cite sources for the sake of "ethics, copyright laws, and courtesy to readers."
Chicago style is unique in that it gives the writer a choice between using footnotes and endnotes (the notes-bibliography system) or in-text citations (the author-date system). Unless otherwise specified in the assignment, you can use whichever you prefer.
How to present evidence and quotes in Chicago
Aside from your original findings, if you're presenting ideas, data, or evidence from other sources, you can either paraphrase the source or quote it directly.
Paraphrasing involves rewriting another person's ideas in your own words. It's best to change up the entire sentence structure rather than replace the original words with synonyms. Your version must also be distinct enough from the original to pass a plagiarism checker.
In situations where you want to retain the original wording, you can always use a direct quote in your paper. Direct quotes are good for substantiating your claims or if the original wording is especially pertinent. However, if used excessively, quotes can make your paper hard to read, so use them only when necessary. When you do use them, try to keep them short and succinct so they don't distract the reader.
No matter if you paraphrase or use direct quotes, you still need to cite the source.
Footnotes and endnotes in Chicago style
If you've decided to use the notes-bibliography system, you must also choose whether to use footnotes or endnotes.
Although they are formatted in similar ways, footnotes appear at the bottom of the page that includes the text they refer to, while endnotes appear at the end of a section, chapter, or entire work. If you have a lot of citations per page, it may be better to use endnotes; otherwise, your footnotes will take up too much of the page.
Both footnotes and endnotes are marked with a superscript number (1) that comes after the cited text, ideally at the end of a sentence. Note numbers follow some punctuation, like periods or quotes, but not dashes.
One of the key differences in the leadership of Richard the Lionheart and Saladin was how they handled unwanted prisoners of war: Saladin had them released, while Richard had them executed.1
For footnotes and endnotes, you have another choice to make. You can list full citations in either a bibliography page or the notes themselves. If you're including a bibliography (which we explain below), use the short form of notes, which mentions only the basic bibliographic information: the author's surname, an abbreviated title of the source, and the relevant page numbers.
1. Maalouf, Crusades, 210.
A full citation of the same source is provided in the bibliography at the end of the work.
If you're not using a bibliography, you must include all the bibliographic information in the long form of notes. These provide all the bibliographic information, such as the publisher and year of publication.
1. Amin Maalouf, The Crusades through Arab Eyes. London: Al Saqi Books, 1984.
However, you use the long-form note only the first time a source is cited; after the first mention, all other citations for that same source use the short form. Footnotes and endnotes are formatted in the same way and use both short- and long-form notes.
Author-date citations in Chicago (in-text citations)
As an alternative to footnotes and endnotes, Chicago style also offers the option of using the author-date system, which falls more in line with MLA and APA formats.
The author-date system uses in-text parenthetical citations that require only the author's surname and the year of publication, although page numbers or other location markers are also recommended. Author-date citations come in parentheses at the end of the cited text but appear before other punctuation marks.
Saladin's health weakened as he "suffered frequent attacks of malaria," leaving him bedridden for days at a time (Maalouf 1984, 215).
Like other styles, Chicago's author-date system requires a list of full citations for each source at the end of the work.
Bibliographies and reference lists in Chicago style
Unless you're using full citations in footnotes or endnotes, you need to include a list of all the sources used in your writing, along with their bibliographic information. This list comes at the end of a chapter or the entire work. In the notes-bibliography system, it is titled "Bibliography"; in the author-date system, it is titled either "References" or "Works Cited."
This section has its own special formatting. Names are inverted, so the surname comes first, and titles are capitalized in headline case. Entries use a hanging indent, which means the first line is not indented, but every subsequent line is.
If a work has more than one author, only the first listed author's name is inverted; all others are written normally. Use the word and before the final author's name, separate the names with commas.
Entries are organized alphabetically by the author's surname. If no author is listed, use the first word in the title or whatever word comes first in the entry.
Each type of source has its own particular format. For example, the same article would have two different formats depending on if it were taken from a print journal or an online journal. Below we provide links to guides on how to format each type of source in Chicago style.
Maalouf, Amin. 1984. The Crusades through Arab Eyes. London: Al Saqi Books.
How to cite different types of sources in Chicago style
Learning the different formats for each type of source can get confusing, so we've compiled a list of individual guides, separated by type. Feel free to take a look so you know how to cite every kind of source in Chicago style.