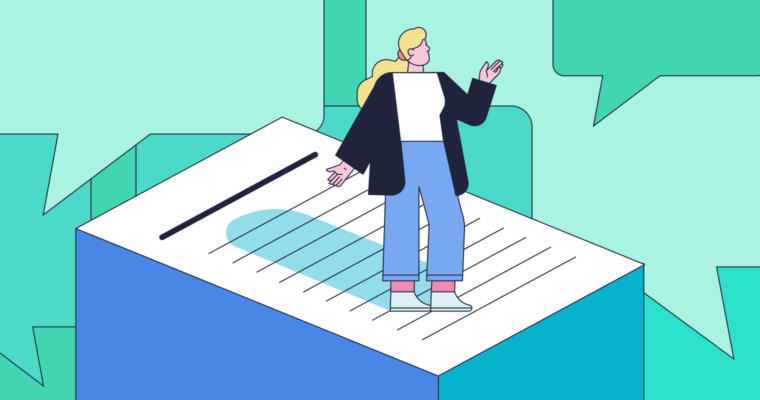 When you have a personal story to tell and don't want to write an entire book, a narrative essay may be the perfect fit. Unlike other types of essays, narrative essays don't need to stick to certain requirements or include a bibliography. They have a looser structure, more creative language, and just one requirement: to tell a story.
Give your writing extra polish
Grammarly helps you communicate confidently
What is a narrative essay?
A narrative essay typically tells a true story that may have a few elements changed for clarity or dramatic purposes. However, this isn't a requirement. You can format a fictional story as a narrative essay.
Narrative essays, perhaps unsurprisingly, are defined by the presence of a narrative in the text. Rather than presenting and defending a position, as in an argumentative essay, or analyzing another text, like in an analytical essay, a narrative essay tells a coherent story. They're often personal essays that detail specific episodes in their authors' lives, which is why they're popular for college essays.
Unlike most other types of essays, narrative essays have room for literary devices, such as metaphor and onomatopoeia. You can be creative in a narrative essay because you're writing a story rather than presenting and dissecting others' statements or work.
5 steps to writing a narrative essay
Step 1: Topic choice (or prompt given)
The first step in writing a narrative essay is to determine the topic. Sometimes, your topic is chosen for you in the form of a prompt. You might map out the topics you want to mention in the essay or think through each point you'd like to make to see how each will fit into the allotted word count (if you're given one).
At this stage, you can also start thinking about the tone you'll use in your essay and any stylistic choices you'd like to incorporate, such as starting each paragraph with the same phrase to create anaphora or leaving the reader with a cliffhanger ending. You can change these later if they don't mesh with your first draft, but playing with these ideas in the idea-generating stage can help you craft multiple drafts.
Step 2: Make an outline
After you've explored your ideas and gotten a clear sense of what you'll write, make an outline. An outline is a bare-bones precursor to your essay that gives a high-level view of the topics it will cover. When you're writing, your essay outline can act as a map to follow when you're not sure how to start or help you transition between topics once you've started.
Step 3: Write your narrative essay
Next, it's time to write! With your outline as a guide, flesh out the sections you've listed with clear, engaging language. A narrative essay doesn't—and shouldn't—stick to the same requirements as an academic essay, so don't feel a need to use formal language or summarize your essay in its introductory paragraph.
Tip: Use a first-person point of view
Most narrative essays are written from a first-person point of view. That means using pronouns such as I and me when describing the experiences you explore in your essay.
Tip: Use storytelling or creative language
If you've ever written fiction or creative nonfiction, use the same kind of language and conventions in your narrative essay. By this, we mean using storytelling techniques, such as dialogue, flashbacks, and symbolism, to engage readers and communicate your essay's themes.
Step 4: Revise your narrative essay
If you can, wait at least a few hours—or if possible, a day or so—before rereading your essay and making changes. By doing this, you'll have an easier time spotting mistakes and catching places where the narrative could be smoothed out or enhanced. As you read your draft, think back to the goals you identified when you approached your topic:
Does the draft address the points you planned to address?
Does it fit the tone you decided you would use?
If you had a prompt, does it sufficiently answer the prompt?
With these points in mind, make any changes you think will improve your narrative essay. Tools such as the Grammarly Editor can help you with this stage by flagging mistakes and making suggestions.
Step 5: Proofread and publish your narrative essay
Give your second draft another read-through to catch any grammatical mistakes you may have missed. At this stage, you're done making substantial changes to the narrative—you're polishing it to make sure you're submitting the best version of your essay.
Once you've done your read-through and made any necessary changes, hit "send," "submit," or "publish" and congratulate yourself for finishing a narrative essay.
Narrative essay vs. descriptive essay
Both narrative essays and descriptive essays incorporate vivid figurative language to help readers visualize their subjects. However, in a descriptive essay, vividly describing the subject is the goal. In a narrative essay, the goal is to tell a story. In-depth descriptions may be part of the essay, but they need to support the narrative.
Narrative essay outline example
Title: Careful, You Might End Up in My Book!
Introduction: Real-life characters make the best subjects.
Body paragraph: We're all characters in countless stories.
Body paragraph: It's possible to be both the protagonist and the antagonist.
Body paragraph: Recognize yourself? Don't worry, it's our little secret.
Conclusion: Write whom you know.
Narrative essay FAQs
What is a narrative essay?
A narrative essay is an essay that tells a story. Typically, it's nonfiction but may include some enhanced language to clarify or heighten the dramatic effect.
What are the steps to writing a narrative essay?
1 Choose a topic and generate ideas for your essay.
2 Write an outline.
3 Write a first draft.
4 Edit the draft.
5 Proofread and submit your final draft.
What's the difference between a narrative essay and a descriptive essay?
While a narrative essay tells a story, a descriptive essay provides a vivid description of a place, person, object, or feeling. In a descriptive essay, the text focuses on exploring its subject, whereas a narrative essay tells a story with a beginning, middle, and end.