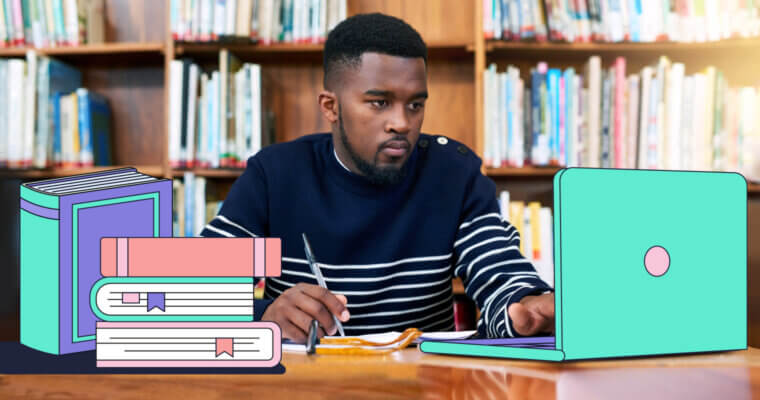 Once you're in college and really getting into academic writing, you may not recognize all the kinds of assignments you're asked to complete. You know what an essay is, and you know how to respond to readings—but when you hear your professor mention a research proposal or a literature review, your mind might do a double take. 
Don't worry; we've got you. Boiled down to its core, a research proposal is simply a short piece of writing that details exactly what you'll be covering in a larger research project. You'll likely be required to write one for your thesis, and if you choose to continue in academia after earning your bachelor's degree, you'll be writing research proposals for your master's thesis, your dissertation, and all other research you conduct. By then, you'll be a research proposal pro. But for now, we'll answer all your questions and help you confidently write your first one. 
Your writing, at its best
Grammarly helps you communicate confidently
What is the goal of a research proposal?
In a research proposal, the goal is to present the author's plan for the research they intend to conduct. In some cases, part of this goal is to secure funding for said research. In others, it's to have the research approved by the author's supervisor or department so they can move forward with it. In some cases, a research proposal is a required part of a graduate school application. In every one of these circumstances, research proposals follow the same structure.
In a research proposal, the author demonstrates how and why their research is relevant to their field. They demonstrate that the work is necessary to the following:
Filling a gap in the existing body of research on their subject

Underscoring existing research on their subject, and/or

Adding new, original knowledge to the academic community's existing understanding of their subject
A research proposal also demonstrates that the author is capable of conducting this research and contributing to the current state of their field in a meaningful way. To do this, your research proposal needs to discuss your academic background and credentials as well as demonstrate that your proposed ideas have academic merit. 
But demonstrating your research's validity and your personal capability to carry it out isn't enough to get your research proposal approved. Your research proposal also has to cover these things:
The research methodology you plan to use

The tools and procedures you will use to collect, analyze, and interpret the data you collect

An explanation of how your research fits the budget and other constraints that come with conducting it through your institution, department, or academic program
If you've already read our post on literature reviews, you may be thinking that a research proposal sounds pretty similar. They're more than just similar, though—a literature review is part of a research proposal. It's the section that covers which sources you're using, how you're using them, and why they're relevant. Think of a literature review as a mini-research proposal that fits into your larger, main proposal. 
How long should a research proposal be?
Generally, research proposals for bachelor's and master's theses are a few pages long. Research proposals for meatier projects, like Ph.D. dissertations and funding requests, are often longer and far more detailed. A research proposal's goal is to clearly outline exactly what your research will entail and accomplish, so including the proposal's word count or page count isn't nearly as important as it is to ensure that all the necessary elements and content are present. 
Research proposal structure
A research proposal follows a fairly straightforward structure. In order to achieve the goals described in the previous section, nearly all research proposals include the following sections:
Introduction
Your introduction achieves a few goals:
Introduces your topic

States your problem statement and the questions your research aims to answer

Provides context for your research
In a research proposal, an introduction can be a few paragraphs long. It should be concise, but don't feel like you need to cram all of your information into one paragraph. 
In some cases, you need to include an abstract and/or a table of contents in your research proposal. These are included just before the introduction. 
Background significance
This is where you explain why your research is necessary and how it relates to established research in your field. Your work might complement existing research, strengthen it, or even challenge it—no matter how your work will "play with" other researchers' work, you need to express it in detail in your research proposal.  
This is also the section where you clearly define the existing problems your research will address. By doing this, you're explaining why your work is necessary—in other words, this is where you answer the reader's "so what?" 
In your background significance section, you'll also outline how you'll conduct your research. If necessary, note which related questions and issues you won't be covering in your research. 
Literature review
In your literature review, you introduce all the sources you plan to use in your research. This includes landmark studies and their data, books, and scholarly articles. A literature review isn't merely a list of sources (that's what your bibliography is for); a literature review delves into the collection of sources you chose and explains how you're using them in your research. 
Research design, methods, and schedule
Following your research review, you'll discuss your research plans. In this section, make sure you cover these aspects:
The type of research you will do. Are you conducting qualitative or quantitative research? Are you collecting original data or working with data collected by other researchers?

Whether you're doing experimental, correlational, or descriptive research

The data you're working with. For example, if you're conducting research in the social sciences, you'll need to describe the population you're studying. You'll also need to cover how you'll select your subjects and how you'll collect data from them. 

The tools you'll use to collect data. Will you be running experiments? Conducting surveys? Observing phenomena? Note all data collection methods here along with

why they're effective methods for your specific research.
Beyond a comprehensive look at your research itself, you'll also need to include:
Your research timeline

Your research budget

Any potential obstacles you foresee and your plan for handling them
Suppositions and implications
Although you can't know your research's results until you've actually done the work, you should be going into the project with a clear idea of how your work will contribute to your field. This section is perhaps the most critical to your research proposal's argument because it expresses exactly why your research is necessary. 
In this section, make sure you cover the following:
Any ways your work can challenge existing theories and assumptions in your field

How your work will create the foundation for future research

The practical value your findings will provide to practitioners, educators, and other academics in your field

The problems your work can potentially help to fix

Policies that could be impacted by your findings

How your findings can be implemented in academia or other settings and how this will improve or otherwise transform these settings
In other words, this section isn't about stating the specific results you expect. Rather, it's where you state how your findings will be valuable. 
Conclusion
This is where you wrap it all up. Your conclusion section, just like your conclusion paragraph for an essay, briefly summarizes your research proposal and reinforces your research's stated purpose. 
Bibliography
Yes, you need to write a bibliography in addition to your literature review. Unlike your literature review, where you explained the relevance of the sources you chose and in some cases, challenged them, your bibliography simply lists your sources and their authors.
The way you write a citation depends on the style guide you're using. The three most common style guides for academics are MLA, APA, and Chicago, and each has its own particular rules and requirements. Keep in mind that each formatting style has specific guidelines for citing just about any kind of source, including photos, websites, speeches, and YouTube videos.
Sometimes, a full bibliography is not needed. When this is the case, you can include a references list, which is simply a scaled-down list of all the sources you cited in your work. If you're not sure which to write, ask your supervisor. 
Here's a tip:
Grammarly's 
Citation Generator
 ensures your essays have flawless citations and no plagiarism. Try it for citing journal articles in
MLA
,
APA
, and
Chicago
 styles.
How to write a research proposal
Research proposals, like all other kinds of academic writing, are written in a formal, objective tone. Keep in mind that being concise is a key component of academic writing; formal does not mean flowery. 
Adhere to the structure outlined above. Your reader knows how a research proposal is supposed to read and expects it to fit this template. It's crucial that you present your research proposal in a clear, logical way. Every question the reader has while reading your proposal should be answered by the final section. 
Editing and proofreading a research proposal
When you're writing a research proposal, follow the same six-step writing process you follow with every other kind of writing you do. 
After you've got a first draft written, take some time to let it "cool off" before you start proofreading. By doing this, you're making it easier for yourself to catch mistakes and gaps in your writing. 
Common mistakes to avoid when writing a research proposal
When you're writing a research proposal, avoid these common pitfalls: 
Being too wordy
As we said earlier, formal does not mean flowery. In fact, you should aim to keep your writing as brief and to-the-point as possible. The more economically you can express your purpose and goal, the better.   
Failing to cite relevant sources
When you're conducting research, you're adding to the existing body of knowledge on the subject you're covering. Your research proposal should reference one or more of the landmark research pieces in your field and connect your work to these works in some way. This doesn't just communicate your work's relevance—it also demonstrates your familiarity with the field. 
Focusing too much on minor issues
There are probably a lot of great reasons why your research is necessary. These reasons don't all need to be in your research proposal. In fact, including too many questions and issues in your research proposal can detract from your central purpose, weakening the proposal. Save the minor issues for your research paper itself and cover only the major, key issues you aim to tackle in your proposal. 
Failing to make a strong argument for your research
This is perhaps the easiest way to undermine your proposal because it's far more subjective than the others. A research proposal is, in essence, a piece of persuasive writing. That means that although you're presenting your proposal in an objective, academic way, the goal is to get the reader to say "yes" to your work. 
This is true in every case, whether your reader is your supervisor, your department head, a graduate school admissions board, a private or government-backed funding provider, or the editor at a journal in which you'd like to publish your work. 
Polish your writing into a stellar proposal
When you're asking for approval to conduct research—especially when there's funding involved—you need to be nothing less than 100 percent confident in your proposal. If your research proposal has spelling or grammatical mistakes, an inconsistent or inappropriate tone, or even just awkward phrasing, those will undermine your credibility. 
Make sure your research proposal shines by using Grammarly to catch all of those issues. Even if you think you caught all of them while you were editing, it's critical to double-check your work. Your research deserves the best proposal possible, and Grammarly can help you make that happen.