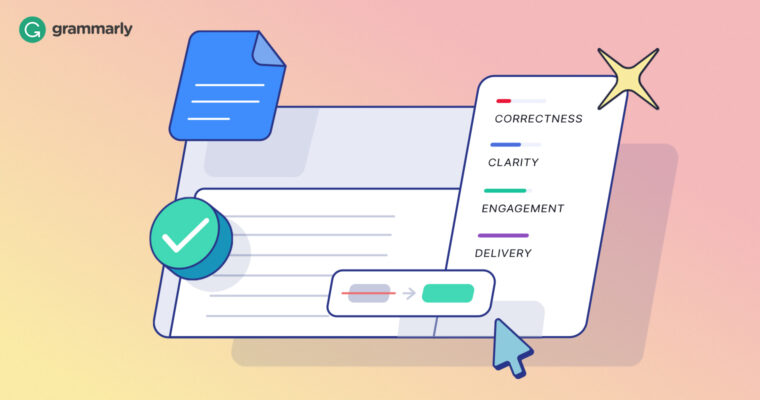 When we began beta testing the Grammarly browser extension in Google Docs back in 2018, we focused on delivering feedback about grammar, spelling, and punctuation. Today, we're delighted to tell you that we're bringing more of Grammarly's advanced writing feedback to Google Docs!
Now, when you write in Google Docs, Grammarly will make suggestions for improving clarity in addition to correctness. Grammarly Premium subscribers have access to additional suggestions related to engagement and delivery.
Your writing, at its best
Grammarly helps you communicate confidently
Review suggestions easily
Along with this expanded range of suggestions, which will be rolling out over the next few weeks, you'll also see a new Grammarly sidebar when you write with Grammarly in Google Docs. Navigating a lot of suggestions in a long document can be overwhelming, so we added this sidebar to help you review them quickly and efficiently. The sidebar appears on the right side of your document and allows you to easily scroll through all of Grammarly's suggestions. To open the sidebar, click the green G or red number that appears in the lower right corner of your window.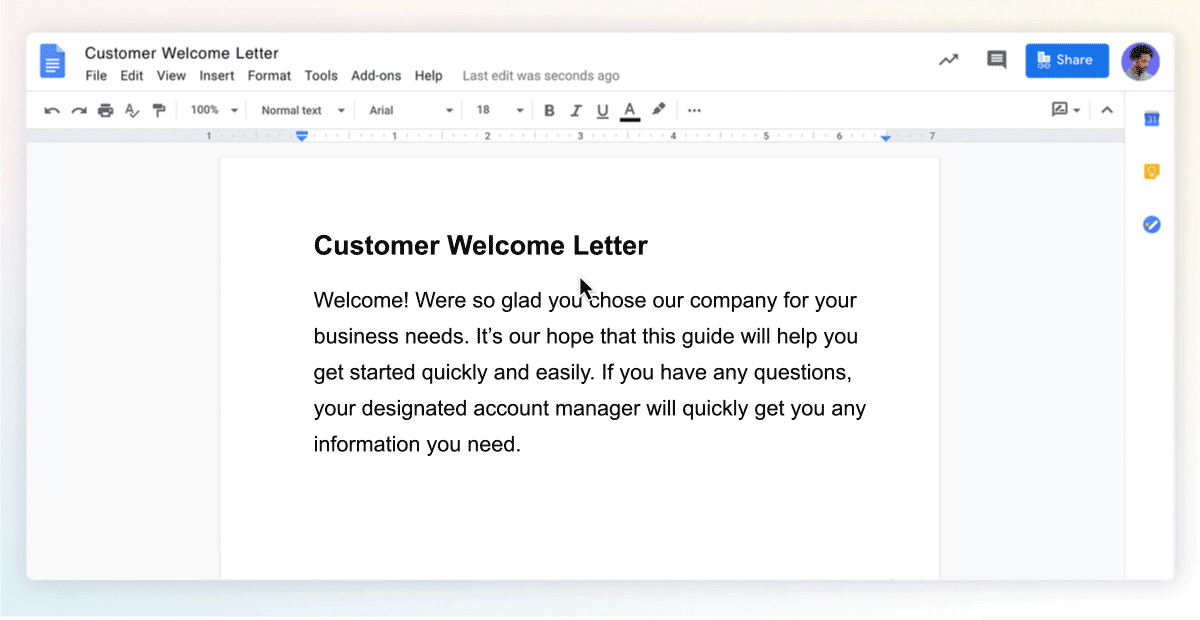 Set your project's goals and objectives
Also available in Google Docs for the first time is Grammarly's Set Goals panel. Access it by clicking the target icon in the sidebar. You can set goals related to your audience, formality level, and writing style to get more tailored writing feedback.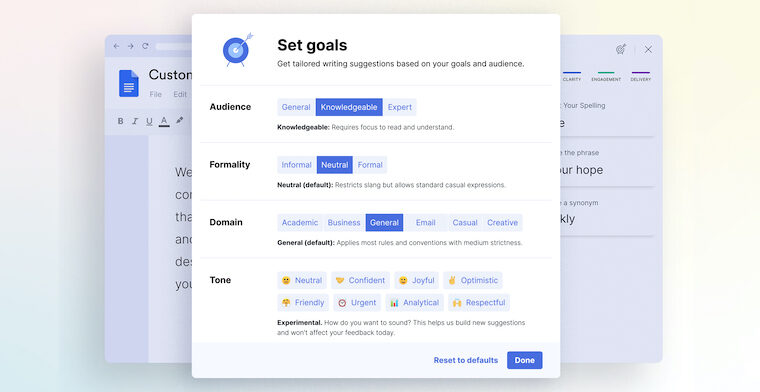 Whether you're working on an important document for a client, your boss, or even yourself, Grammarly is ready to help you communicate your ideas in the best way possible. 
If you've never used Grammarly in Google Docs, now is a terrific time to start. First, make sure to install Grammarly for Chrome. Then open up any Google Doc and follow the prompts for enabling Grammarly.
Note: All Grammarly users have access to extensive suggestions about correctness and clarity; suggestions related to engagement and delivery are available only to Grammarly Premium subscribers.
More from Grammarly: