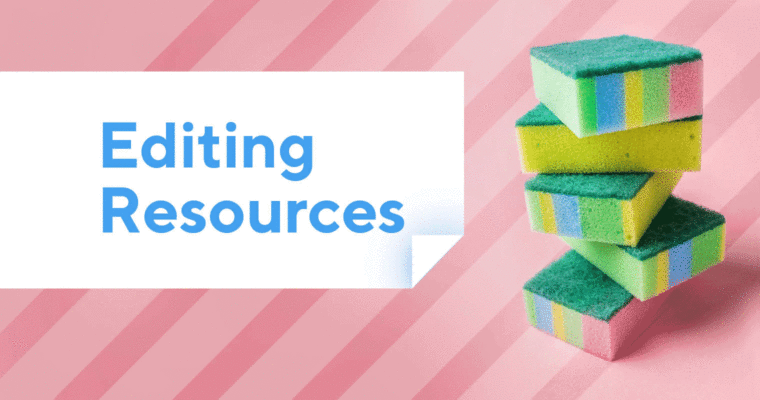 Writers draft, correct, connect, read, listen, and above all, write. To help you do all of the above, use these fourteen great resources to get your writing and editing on a roll.
Technology
The first rule of writing: write right.
1

Grammarly

How could we not start with a shameless plug? Grammarly helps you write correctly. With proofreading software that automatically catches grammar, spelling, punctuation, word choice, and style mistakes, Grammarly helps millions of students, job seekers, English learners, and professional writers worldwide produce their best writing.

Here's a tip:

Although humans make the best proofreaders, Grammarly makes an awesome second set of eyes to help you catch contextual spelling errors and avoid embarrassing mistakes.

Learn More 
Reading Material
These books are worth keeping on your desk.
2

Writing Tools: 55 Essential Strategies for Every Writer

"You need tools, not rules," says writing teacher and this book's author, Roy Peter Clark. His strategies help you write more effectively and smoothly with techniques you can keep in your writing toolkit, no matter what you write.
3

A Pocket Style Manual

Now you have the tools, so you can handle the rules. Now in its eighth edition, this manual answers all your grammar and punctuation questions, plus gives tons of tips for writing easy-to-read sentences.
4

Keys to Great Writing

This book helps you develop your writing voice. It focuses on writing mechanics and gives a framework for honing your craft. Its blend of mechanical and stylistic tips make it a great addition to your writing keychain.
Practice Makes Perfect
These online sources provide articles, tips, lessons, and groups to get your writing going.
5

The Write Life

This site is dedicated to the craft of writing—whether it's blogging, marketing, fiction-writing, or posting on Instagram. It has useful tidbits for all kinds of writers, but its specialty is writing for online audiences. For info and advice on self-publishing, marketing, and freelancing, this is your spot.
6

The Write Practice

This site includes lessons and exercises for you interactive writers out there, as well as prompts, a section on turning an idea into a book, and plenty of advice on publishing, finding inspiration, dealing with writer's block, and chasing good ideas. You can also find inspirational quotes, sales on writing aides, and more on their Instagram: @thewritepractice.
7

Writer's Digest

With creative writing prompts, publishing dos and don'ts, writing tools, and articles on making a writing career, this hub for all things writing covers both the creative side and the business of getting published.
Listen for Advice
More a listener than a reader? Lend an ear to these writing-focused podcasts.
8

The Writer Files

This podcast features interviews with famous writers about their habits, productivity tips, sources of creativity, and other tricks of the trade. Host Kelton Reid also adds a neuroscience component to give more insight into what it really means when you've got writing on the brain.
9

A Way With Words

This podcast will give you indirect inspiration with its focus on language, funny words, and the origins of idioms. Through the lens of history, culture, and family, the NPR program dives into linguistic oddities like "nitnoy," "zwer," "crusticles," "naked as a jaybird," and "the last straw." You're sure to learn something "brand spanking new" here.
10
I Should Be Writing
If you've ever said these words to yourself, this is the podcast for you. Hosted by author Mur Lafferty, episodes typically include interviews with writers (usually of genre fiction) and plenty of tips and encouragement for dealing with the "bumps" of a writing career. Bonus podcast: Lafferty also hosts Ditch Diggers, which is geared toward "the business of writing," while ISBW focuses more on the craft.
Connect with Peers
Need a network? No problem.
11

Facebook Writing Groups

That's right: Facebook isn't just for slacking off when you're supposed to be writing. There are a lot of Facebook groups for writers, no matter what your focus is. Try Journey Feed Blogging Community or Blogging Boost to connect with fellow bloggers, Write On! for setting goals, solving problems, and networking with other writers, Fiction Writers Global for, well, fiction writers globally, and Writers Write for prompts, news, contests, and more.
Focus on Your Tasks
Organize ideas, kill distractions, and stay timely.
12

Evernote

Never forget an idea. Capture it on any device, organize your entries, and share or search with ease. Evernote lets you capture ideas and curate searchable notebooks that sync between devices. You can also use it to collect interesting articles, write your grocery list, or draft a book.
13

Zen Pen

This tool removes all the distractions, included in most writing software. You can still add minimal formatting like bolding or italicizing words, quotes, and URLs, but if you need to hunker down and get your words onto the paper (or screen), this is a great way to get focused.
14

Tomato Timer

The Pomodoro technique suggests that folks work best in 25-minute spurts followed by short breaks. Try it out with the Tomato Timer. If you work best with a different time frame, you might prefer e.ggtimer. This option is also preferable for people who enjoy silly egg cartoons.

Use these resources to get the ball rolling, but don't forget: there's no substitute for sitting down with paper or keyboard and just letting the words flow.