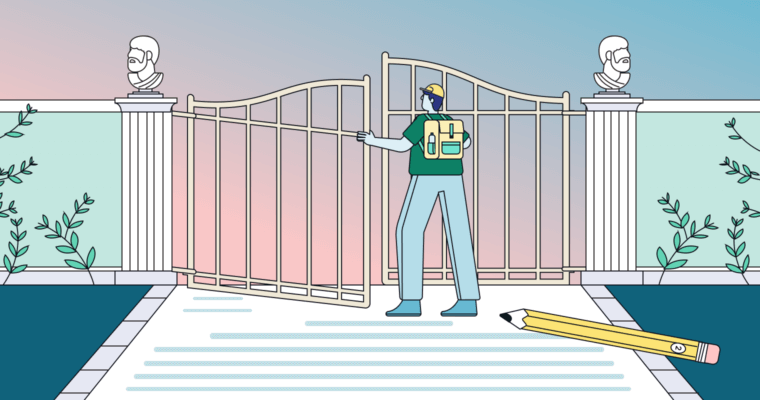 Writing about yourself seems easy—until you have to do it. An essential part of college applications is the essay, also referred to as the personal statement or personal essay. This is a great opportunity to set yourself apart from other applicants in a way that test scores and résumés can't.
About a quarter of all US colleges and universities accept applications through the Common Application site. Every year, Common App releases a set of seven essay prompts that applicants can choose from to write their essays. Even institutions that don't use the Common App often model their essay questions after its prompts, so it may be helpful for all college applicants to familiarize themselves with these personal essay prompts.
Below are the Common App essay prompts for 2023–24, along with some tips for writing the essay. For more in-depth advice about admissions essays, check out our application essay survival guide.
Give your essay extra polish
Grammarly helps you communicate confidently
What are the Common Application essay prompts?
The 2023–24 Common Application essay prompts include the following:
Some students have a background, identity, interest, or talent that is so meaningful they believe their application would be incomplete without it. If this sounds like you, then please share your story.
The lessons we take from obstacles we encounter can be fundamental to later success. Recount a time when you faced a challenge, setback, or failure. How did it affect you, and what did you learn from the experience?
Reflect on a time when you questioned or challenged a belief or idea. What prompted your thinking? What was the outcome?
Reflect on something that someone has done for you that has made you happy or thankful in a surprising way. How has this gratitude affected or motivated you?
Discuss an accomplishment, event, or realization that sparked a period of personal growth and a new understanding of yourself or others.
Describe a topic, idea, or concept you find so engaging that it makes you lose all track of time. Why does it captivate you? What or who do you turn to when you want to learn more?
Share an essay on any topic of your choice. It can be one you've already written, one that responds to a different prompt, or one of your own design.
6 Common App essay writing tips
It's up to you to choose which essay prompt to respond to. Pick whichever one feels most compelling to write about. Your enthusiasm for a subject may make the writing process more fun and less challenging. Keep in mind that many colleges and universities on Common App require a college-specific writing prompt in addition to the Common App essay. While it may seem like extra work, consider this another opportunity to let the admissions officer get to know you. It also relieves some pressure from trying to fit everything into the Common App essay.
College-specific prompts tend to ask about the ways you align with the college itself. They might state the college's values or history and ask you to think about how you would contribute to that culture.
No matter which prompt you choose, here are some helpful tips to consider.
1

Follow directions

Common App essays have a minimum word count of 250 and a maximum word count of 650. One of the simplest things you can do to ensure your application stays at the top of the proverbial pile is to double-check your word count. The college-specific prompts often have different word counts from the Common App essays, so double-check those word counts as well.
2

Use specific examples

It's a personal essay, so make it personal. If the prompt asks for an obstacle that you've overcome, talk about a specific obstacle. If it asks for an accomplishment, go all in on that accomplishment. Don't be vague; offer details about your thoughts, your feelings, and the events you're writing about—in other words, let the reader see the experience through your eyes.
3

Answer the prompt

Speaking of personal anecdotes, make sure that whatever you choose to write about directly responds to the prompt. You don't have a lot of space for your answer, so make sure you're not wasting any words on tangents or unnecessary information. If a story is interesting but has no clear connection to the prompt, reconsider including it.
4

Demonstrate your skills

Even if writing isn't your strong suit (don't worry, we're here to help), colleges still expect at least proficient writing skills. You're not required to write the next great American novel or use big, complicated words that you wouldn't use in other contexts, but your writing should still be clear, well ordered, proofread, and grammar-checked.
5

Write what you know

While some people have lived experiences that would make an amazing movie, most of us have pretty ordinary material to draw from. Don't be discouraged. You can imbue even the most mundane experiences with color and meaning if you put a little bit of thought into them. If the experience stood out to you, you can make it stand out to a college admissions officer.
6

Show your personality

The purpose of the essay is to let a group of strangers know who you are. This is the perfect opportunity to demonstrate your personality, background, and voice through your writing. Don't try to sound like someone you're not; use language, details, and descriptions that you would use in everyday life.
5 things to avoid in your Common App essay
1

Vagueness

Avoid using vague, generic, or clichéd language. The goal of the essay is to make you stand out by sharing a significant part of your life. When you use vague language (undetailed or nonspecific); for example, words like fun, interesting, bad, or sad), it makes it hard to get a feel for you as a person—like what kind of details you notice, how something made you feel, or how something changed you.
2

Exaggeration

Be authentic when you talk about your experiences. There's no need to use inflated language or go overboard with your descriptions; talking about something in depth and in a realistic way is the best way to convey who you are and what you've gone through, and those reading your essay will know and appreciate that.
3

Writing your transcript

Admissions committees already know how you did in school and what extracurricular activities you did in addition to school; the essay is a chance for you to tell them something about yourself that they wouldn't know by reading your transcript.
4

Relationship topics

While friendships and romantic relationships are important parts of many students' high school experiences, they may not be related to who the applicant is as a student and person in their community, which is what the readers are seeking to learn.
5

Ignoring the rules

Creativity is a prized quality, and this essay is a great place to demonstrate your unique personality and skills. However, you should still follow the rules of the essay—i.e., your essay should be structured, correctly formatted, and adhere to the word limit. Avoid answering the prompt with other forms of writing, such as songs, lyrics, or poems.
Common App prompts FAQs
What are Common App prompts?
Common App prompts are the set of seven essay prompts released each year by the college admissions site Common Application. Students are asked to submit one essay of 250 to 650 words in response to a prompt of their choice. About a quarter of US institutions accept Common Apps, and even those that don't use the site will often use essay prompts modeled after the Common App's.
What are the most popular prompts?
The prompts most students choose to respond to are "Share an essay on any topic of your choice" and "Discuss an accomplishment." That being said, write about whichever prompt feels the most compelling to you. An enthusiastic response to a less frequently answered prompt will outshine a lackluster response about a popular one.
What are 5 tips for writing a Common App essay?
Five tips for writing a Common App essay include these:
Follow the directions
Use specific examples
Answer the prompt
Show off your writing skills
Write what you know