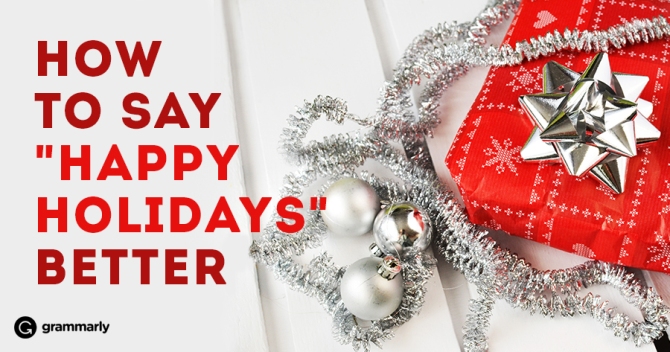 Holiday greeting cards are the underappreciated pick-me-up of the holiday season. It's a small thrill to receive a card among a pile of bills and junk mail. You may be in the holiday spirit and ready to create the perfect greeting card, but where do you start? Is "merry Christmas" acceptable, or should you use "happy holidays"? Here are some tips on how to create great holiday greetings.
1

Send it on time.

With ecards, you don't need to worry about delivery times, but some would argue the impact isn't as great. If you're mailing cards, aim to send them around the second week of December. Are you reading this and it's already too late? Make your card a New Year greeting and send it as soon as possible; you might still be on time for January 1.
2

Make it personal.

Write a personalized message on your card so the recipient knows you put some thought into it. Sending out a blanket greeting doesn't have the same impact as a handwritten or typed personal message addressed to the person or family. Include the names of each family member for extra special goodness.
3

Keep it concise.

It's tempting to want to update everyone about your year, but save the lengthy update for a select list of recipients. Make your greeting card reader friendly by being brief. The recipient will likely open your card along with a pile of other mail and spend a minute or two reading it before finding a place to hang it up. For the people who would appreciate a longer update, you can add it in as a separate piece and they can return to it at their leisure.
4

Use the greeting that feels right.

The national debate over whether to say "merry Christmas" or "happy holidays" is ongoing. You don't want to offend anyone, but you want to express the spirit of the season. So which should you choose? "Happy holidays" and "season's greetings" are safe choices. If these don't feel right, use the greeting that does, whether it represents what you or the recipient celebrates. You could also design your card to include several greetings on it so you can keep everyone happy.
5

Save photos for friends and family.

When sending a holiday greeting to work colleagues, ask yourself if you would expect to receive a family photo from your colleague. If not, he or she may not expect one from you. Create a photo-less version of your holiday greeting for business associates.
6

Check your spelling and grammar.

If you're prone to spelling and grammar errors but want to include a handwritten message, type it on a computer first so you can proofread it. Then double check the spelling of each person's name. Nothing ruins the sentiment quite like a name misspelled or "marry Christmas!"
7

Include a return address.

Make sure your return address is on the envelope so your recipients can send you a greeting or a thank you note as a reply. Sending holiday greeting cards is a simple way to spread holiday cheer. So turn on some music, get out your list of friends and family, and start writing.