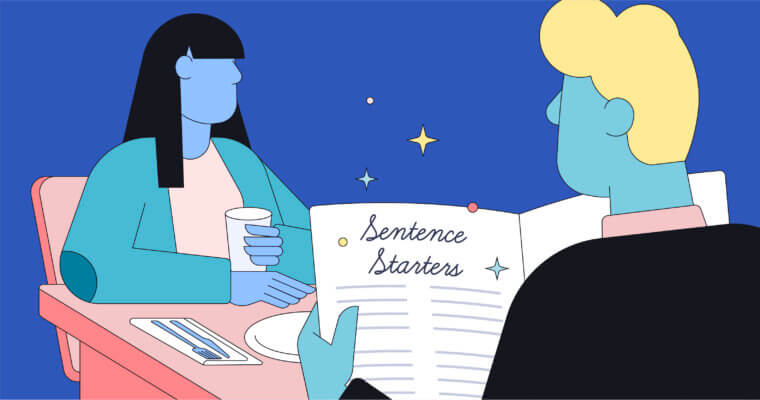 In general, a sentence starter is a quick word or phrase at the beginning of a sentence to help the reader transition, such as the phrase "in general." Without them, writing can be disorganized, disconnected, and therefore hard to read. But knowing which ones to add—and when—is not always obvious. 
In this article, we discuss sentence starters quite similar to "in this article." We explain a bit about when and how to use them, and then give specific examples of sentence starters you can use in your writing, divided into categories for quick reference like "topic sentence starters for essays" or "good sentence starters for emphasis." 
Your writing, at its best
Grammarly helps strengthen your academic writing
What is a sentence starter?
Sentence starters are the words or phrases that introduce the rest of the sentence, typically set apart by commas. The words that start a sentence are some of the most important in writing: They introduce what the sentence is about so the reader knows what to expect. 
In longer academic writing texts, sentence starters are essential for unifying the entire work. Because each sentence essentially has its own individual topic, these writings frequently jump from point to point, sometimes abruptly. Sentence starters help ease the process for the reader by smoothing over jarring transitions and preparing the reader for the next topic. 
That principle also applies to paragraphs, which jump from topic to topic. Paragraph starters fulfill that same role, typically providing an organizational signpost via introduction sentence starters to bridge the gap between the previous and current topics. 
Although they're common in fiction, sentence starters are most useful for nonfiction, in particular essay writing. While fiction unifies the writing through the narrative, nonfiction often incorporates a variety of facts, which sentence starters coalesce for the reader. In other words, if you think nonfiction is dry, imagine if it were merely a list of facts! 
When to use sentence starters
Sentence starters are not necessary for every sentence. In fact, using them too much can distract your reader. Here are some situations where a sentence starter works best: 
It's unclear how one sentence is connected to others.

You're introducing a new idea, such as at the beginning of an essay or of a paragraph

You're presenting a conclusion or summary, for instance at the end of an essay.

You want to add emphasis to a particular sentence or point.

You want to

write a hook

to captivate readers.

The sentence requires certain context, such as background information.
There's no hard rule for when to use sentence starters and when to avoid them. If you're having trouble deciding, try rereading your last few lines and see how they sound. If your sentences flow together nicely, you don't need sentence starters. If something seems off, jarring, or missing, try adding one to see if it helps. 
Below you'll find examples of sentence starters relevant to specific contexts.
Topic sentence starters for essays
Topic sentences are like the sentence starters of an entire essay—they introduce what the paragraph or entire text is about so the readers know what to expect. 
This paper discusses . . .

In this paper . . .

Here, we discuss . . .

Below, you will find . . .
Conclusion sentence starters for essays
Conclusions and summaries always act a little differently than other sentences and paragraphs because they don't present new information. When you're writing a conclusion, remember that sentence starters can cue the reader that you're about to "wrap things up" so they don't expect any new points or evidence. 
In summary . . .

To summarize . . . 

Putting it all together . . .

In conclusion . . .

To wrap things up . . .

To review . . .

In short . . . 

All in all . . .

All things considered . . .

By and large . . .

Overall . . .

On the whole . . .
Good sentence starters for sequences or lists
Sentence starters are quite useful for lists of instructions or explaining a series of events. These items aren't always related in obvious ways, but sentence starters link them together, and in the right order, so that your reader can organize them properly in their head. 
First . . ., Second . . ., Third . . ., etc. 

Next . . .

Then . . .

Subsequently . . .

After that . . .

Afterwards . . .

Eventually . . . 

Later . . .

Moving on . . .
Good sentence starters for comparisons
Use sentence starters to show that two things are related or alike. Although the topics may be similar to yours, your reader may not yet understand the connection. 
Similarly . . .

In the same way . . .

Along those lines . . .

Likewise . . .

Again . . .
Good sentence starters for elaboration or adding new points
For times when one sentence isn't enough to fully explain your point, adding sentence starters to the subsequent sentences can tie them all together. 
Additionally . . .

Moreover . . .

Furthermore . . .

Even more important . . .

Just as important . . .

Also .

. .
Good sentence starters for introducing examples
Especially for essays, you want to use evidence to support your claims. Sentence starters ease the transition from explaining the big picture to showing those same ideas at work in the real world. 
For example . . .

For instance . . .

To illustrate . . .

Specifically . . .

We can see this in . . .

This is evidenced by . . .

Consider the [case/example] of . . .
Good sentence starters for contrasts and abrupt transitions
Sentence starters work best at times when you must change topics abruptly. Without them, the text becomes jarring and scattered, so use them to keep your reader on the right path, especially when contrasting topics. 
However . . .

Although . . .

Otherwise . . .

On the other hand . . .

On the contrary . . .

Nevertheless . . .

Then again . . .

Conversely . . .

Notwithstanding . . .

In contrast . . .

Despite that . . .

Yet . . .

Rather . . .

Still . . .

Instead . . .
Good sentence starters to establish cause and effect
It's common to use two different sentences to discuss a cause-and-effect relationship, as in something making something else happen. Sentence starters can make this relationship clear and show which sentence is the cause and which is the effect. 
As a result . . .

Accordingly . . .

Consequently . . .

Due to . . .

For this reason . . .

Hence . . .

Therefore . . .

This means that . . .

That is why . . .
Good sentence starters for emphasis
In some situations, sentence starters aren't necessary, but they help make a point stand out. Save these for the sentences you really want your readers to remember above all else. 
Above all . . .

As usual . . .

Certainly . . .

Indeed . . .

Undoubtedly . . .

Of course . . .

Obviously . . .

Namely . . .

Generally speaking . . .
Good sentence starters for references
If you're citing an idea other than your own, like in research papers, it saves space to put the attribution in the words to start a sentence. Use these sentence starters before a quote or concept from another work. 
According to . . .

Based on the findings of . . .

As seen by . . .

As explained by . . .

With regards to . . .
Good sentence starters for historical or generally accepted concepts
Some sentences don't make sense without context. This could be a popular, mainstream idea that the reader is unaware of, or some historical background that is not common knowledge. In these instances, sentence starters can provide that context without becoming a tangent. 
Traditionally . . .

Historically . . .

Customarily . . .

In the past . . .

Conventionally . . .

Initially . . .

Recently . . .

Until now . . .
Good sentence starters to show uncertainty or doubt
If you're writing about facts, your reader will assume everything you write is a fact. In situations where something is unproven or uncertain, it helps to mention that there's room for doubt so as not to misinform the reader. 
Perhaps . . .

Although not proven . . .

It's possible that . . .

It may be that . . .

Arguably . . .

While debatable . . .
Ensure your sentences flow
In addition to using strong sentence starters, you want your entire essay to read smoothly and coherently. Grammarly can help. Our writing suggestions flag confusing sentences and provide feedback on how to make your writing clearer, helping you put your best ideas forward.