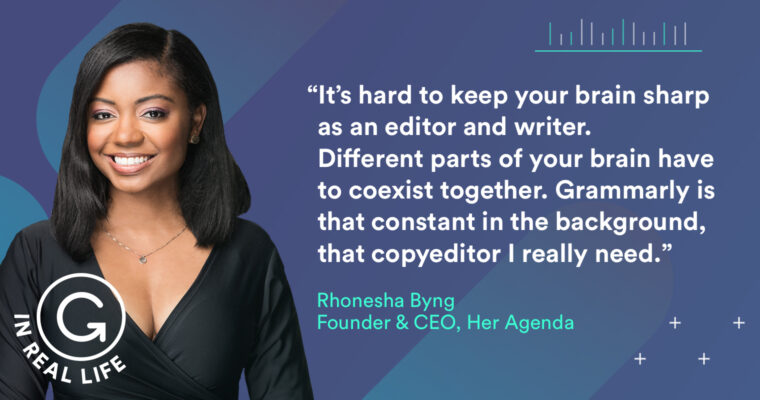 Rhonesha Byng, founder and CEO of Her Agenda, remembers exactly when she knew what she wanted to do with her life.
She chose a journalism class as her elective when she was in high school, at the age of sixteen. Everything clicked.
"This is what I'm meant to do with my life, this is my purpose, to tell stories," says Byng. 
Up until then, she'd only known that she wanted to do something big. 
"What I saw in my environment were adults who didn't have a choice in how they made a living. I wanted to make a living through something that was going to have an impact and change the world."
We talked to writer, editor, publisher, entrepreneur, and Grammarly user Rhonesha Byng to talk about how finding journalism helped her change the world for women like her.
Write more, write better.
Try Grammarly, it's free.
Becoming a reporter
Once Byng found her purpose, she dove in headfirst. She was part of the school newspaper as well as the online youth newspaper HarlemLIVE. And she took as many journalism workshops for high schoolers that she could take—including ones with the New York Association of Black Journalists and NYU's Arthur L. Carter Journalism Institute.
If that wasn't enough, she had a number of internships and jobs throughout college, including with NBC and AOL. She formed a network of mentors, including several powerful women in media. But after taking a gender studies class, she decided to use her journalism superpower to highlight powerful women.
"I was in this bubble of thinking that women ran the world. But I learned that less than five percent of Fortune 500 CEOs are women, that only 18 women in the world are heads of state . . . what is going on?"
She had to do something about it. From her college dorm room, she started Her Agenda. 
Showcasing women who run the world
Byng started Her Agenda based on what she saw as a gap between ambition and success: "There's something happening between that stage of when [women] are aspiring to become something and when they actually try to do it." 
By highlighting women who have overcome the gap to achieve their dreams, ambitious women can find examples to look up to.
"When people say there are no women leaders, when they say women are not in science, when they say women cannot make their own schools, there's a whole website that showcases every day that women are doing it. So there's no excuse."
She named it Her Agenda after an acronym based on her nickname, Nesha: Nobody Ever Stops Her Agenda. It's a mission, a personal statement, and a message.
Now, she's got a staff of four and a network of contributors, and Her Agenda puts out at least two posts per day. She's upgraded from journalism prodigy to a multi-hyphenate: writer, editor, publisher, entrepreneur. She made it to the Forbes 30 Under 30 list in 2017, she's been honored by the Associated Press, and even has an Emmy as part of a breaking news story she worked on with NBC New York. With that comes a lot more eyes on her work, and a lot more pressure.
Her Agenda's writing assistant
Though Byng makes it look easy, running a publication is no small job. In addition to regularly published content, Her Agenda puts out a weekly feature called "A Peek Inside Her Agenda," an in-depth profile of a successful woman, which Byng closely oversees. That's a lot of content for a four-person team to manage.
"Writing, even though it's something that I consider myself good at, is still hard," says Byng. On top of the sheer amount of written communication that it takes to manage her remote team of staff and freelancers, she contributes writing and editing to the blog, too. She taps Grammarly for further editing chops.
>> READ MORE: What Is Good Writing?
"It's hard to keep your brain sharp as an editor and as a writer—those are different parts of your brain that have to coexist together. Grammarly is that constant in the background, the copyeditor I need."
And though she's an entrepreneur, she still knows what it's like to be a writer: "You get so attached to the words, it's very vulnerable to put a draft out there."
"Grammarly gives you more confidence, so that when you are sending out that first draft that's supposed to be terrible to get better, that at least it makes sense, it's more cohesive."
So what's next for Her Agenda? As with the rest of Byng's endeavors, she's full of ambition.
"What's next is to grow the platform and our media footprint, eventually getting into other forms of media, like a podcast network, a TV segment, and more investigative reporting and producing. I see us winning Pulitzer Prizes for our work."
Catch up on Grammarly's "In Real Life" series:
How Casandra Lorentson Found Her Voice to Elevate Others
How Alex Berger Writes His Way Around the World
How Jeanette Stock Empowers the LGBTQIA+ Tech Community
How Matt Halfhill Made Kicks Nice to Write About
How Zain Ismail's Writing Helps Him Make a Difference