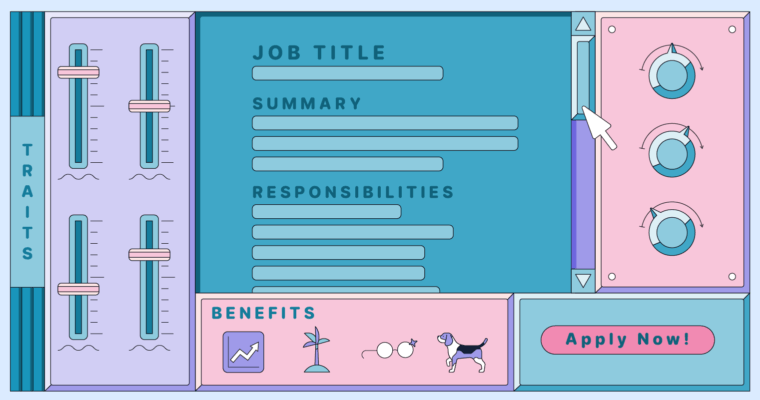 Job descriptions—we've all pored over them looking for a great match, but a lot of them can leave us with more questions than they answer. With over 25 million jobs currently listed on the career site Indeed alone, the structure and content of your job description are more important than ever.
Job descriptions are essential to the recruiting process. A well-written job description should attract qualified candidates, inform them about the company and the role they're applying for, and set expectations for the employee's first year.
Writing an accurate and effective job description might be time-consuming, but learning how to compose one properly is well worth the effort. In this article, we'll talk about how to write a strong job description that gives candidates a clear idea of what you're looking for in an employee.
Give your writing extra polish
Grammarly helps you communicate confidently
What is a job description?
A job description is a clear and concise outline of a job's required responsibilities, qualifications, and necessary skills. Essentially, a job description is a detailed advertisement for an open position. 
The purpose of a job description is to attract qualified candidates to your company or organization. A job description is meant to set clear expectations, guide interviews, and answer the question, What does a person in this role do?
What should a job description include?
Job descriptions should be brief enough to hold the candidate's attention but long enough to give a clear picture of the role and the expectations that come with it. Generally, job descriptions that fall between 300 to 660 words perform the best on most job board search engines. 
Your job description should be descriptive enough that candidates understand if they are qualified for your open role. It should include the specific type of work, how that work will be completed, the skills required for the work, and the purpose of the work as it relates to the organization's mission and goals.
Job description structure
Most employers use a standard job description template. Following this structure helps employment platforms index your job so that it shows up in searches. It also gives candidates the ability to quickly assess whether a job is a good fit for them. 
Title
The title is a brief, one- to four-word description of the job that reflects its content, purpose, and scope. It should adhere to industry-standard job titles of similar roles. 
Company
Provide one paragraph about your company's mission, culture, and benefits and what makes your company unique. This paragraph should include the title of the person the position reports to as well. 
Summary
The summary is a three- to four-sentence paragraph that provides a high-level overview of the role and its scope of responsibilities. You can also include location and job purpose in the summary. 
Responsibilities
Not to be confused with qualifications, this is a detailed but concise bulleted list of all duties for the open role. Any supervisory and financial functions can be listed here as well. 
Qualifications
Skill requirements and the expected level of proficiency required for the position make up the qualifications section. Requirements for hard skills, soft skills, education level, certifications, and previous job experiences can be listed in bullet points. 
Compensation and benefits
While it's not mandatory, candidates prefer when companies include a salary range and information about benefits in job descriptions. 
How to write a job description in 8 steps
Writing a job description can feel daunting. Follow this step-by-step process to keep it simple. Expect to write a first draft and revise it before you post it.  
1

Job title
Following standard nomenclature for job titles allows your job to be found in searches and reduces confusion among candidates. Instead of using internal jargon for job levels and job titles, stick to standard job levels and plain language. For example, "Level IV Software Developer" should be "Senior Software Developer," and "Level I Data Scientist" should be "Junior Data Scientist." Instead of "Genius," use "Technical Support Specialist." Rather than "Cast Members," use "Sales Associates." 
2

Company description
Candidates want to know as much about where they'll be working as how they'll be working. Describe your company's mission and culture, the size of your organization, and what makes your company unique. 
3

Summary paragraph
This paragraph is simply an overview of the job. Include a brief paragraph about daily responsibilities, how the role fits into your organization, growth opportunities, and who within the company this role will collaborate with. 
4

List of responsibilities
First, write down every responsibility you can think of for this role. Then cut the full list down to seven to ten key responsibilities, and add them to your job description in order of importance. For each responsibility write out why and how the tasks will be performed. 
Responsibilities to include:
Duties unique to your organization

Day-to-day activities of the position

Financial responsibilities, if any

Supervisory responsibilities 

Hiring and terminating

Disciplining

Assigning work

Training

Giving performance evaluations
5

List of job qualifications
Start by listing all of the qualifications your ideal candidate should have.
Qualifications may include:
Skill requirements, including

hard skills and soft skills

Education

Previous job experience

Certifications

Years of experience

Technical skills

Communication and problem-solving expectations

Personality traits that you hope for in a candidate
Then add the expected level of knowledge to any technical skill. 
Levels of knowledge are:
Working knowledge

means the candidate understands basic principles and terminology and can solve simple problems. 

General knowledge

means they can perform most work in typical situations and have a comprehensive understanding of standard situations. 

Thorough knowledge

involves having sufficient comprehension of the skill with the ability to solve unusual and typical problems and advise on technical matters. 

Comprehensive knowledge

is possessing complete mastery of the skill. 
Lastly, divide the skills into two categories: must-have and nice to have. Must-have skills are essential to the position. Nice-to-have skills would benefit the future employee but could either be taught on the job or aren't critical. 
6

Compensation and benefits
Including compensation and benefits is an optional part of a job description. However, more than half of the candidates in one survey stated they rarely saw job descriptions that included salary information. Salary ranges help your job stand out. According to the same survey, job seekers say that compensation is the most important part of a job description. 
Compensation can be a salary range. Some companies also indicate if the position is eligible for any bonuses. Perks and benefits should be written as a bulleted list.
Top perks and benefits:
Paid time off

Family leave

Childcare

401(k) or retirement planning

Wellness programs

Medical, dental, life, and vision insurance

Flexible hours

In office, remote, or hybrid

Home office set-up stipend

In-office snacks, breakfast, lunch, or coffee

Tuition reimbursement or student loan assistance program

Career development

Dog-friendly office
7

Other
You may want to include additional information above and beyond the standard outline. You can include these items at the end of your job description, but keep it brief. 
Optional items you may want to include:
Work environment, such as an office or outdoors

Potential hazard exposure like hazardous materials, loud noise, or extreme heat or cold

Essential physical requirements, such as climbing, standing, stooping, or typing

Physical effort requirements such as lifting and the specified maximum weight the employee is expected to lift 

Shift work or atypical schedule expectations such as working weekends, nights, or on-call shifts 

Travel requirements

Team-related details
8

Edit your job description 
Be sure to take the time to edit and proofread your job description before you post it. Check for grammatical errors and spelling errors, simplify sentences as much as possible, and double-check that you've included all necessary elements. 
6 things to avoid in a job description
If you want your job description to be viewed by qualified candidates, it helps to avoid these common mistakes. Try these tips to improve readability, clarity, and specificity. 
1

High-density job descriptions
A dense job description is difficult to read and may result in qualified candidates leaving the page before they even apply. Include only essential activities, and avoid mentioning tasks that are only occasional. Do not include duties that may be added in the future. Remaining concise will enhance candidates' understanding. 
2

Vague responsibilities
Avoid being ambiguous in your job description. If you use action verbs, describe how the position executes those verbs. Try following the verb with the word by and then detailing the operations performed to execute that task. 
For example, instead of writing "Assists marketing manager," write "Assists the marketing manager with content planning by researching keywords, monitoring blog performance, and scheduling topics." 
3

Redundancy
Save yourself and your candidates time by avoiding redundancy. Scan through your job description after you've written the first draft and look for any repeated words or responsibilities. If you can, try lumping related tasks together in the responsibilities or qualifications sections.
4

Jargon
When in doubt, always go with the simpler way of wording something. Additionally, make the language in your job description as inclusive as possible. To make your job description inclusive, avoid using gendered pronouns and refrain from including internal company lingo. 
5

Inaccurate qualifications
It's best to include only the minimum required skills for the position. Listing unreasonable expectations might provide you with an overqualified candidate who isn't the right long-term fit for the opening. 
6

Prohibited language
The US Equal Employment Opportunity Commission governs certain aspects of the employment process. Before posting your job description, brush up on these requirements. Avoid all statements referring to age, gender, religion, and marital status.
Job description examples
Example 1: Senior Technical Writer
Senior Technical Writer
Location: San Francisco
About the company:
We are a fast-growing e-commerce startup with headquarters in Seattle, San Francisco, and Boston. We believe that culture is the product of empathetic leadership and a shared sense of purpose. Our company is a place where all people feel they belong. We put diversity, autonomy, and support first as we scale.
About the job:
This position is full-time and requires working in our San Francisco office at least three days per week. As a Senior Technical Writer, you will write accurate, engaging, user-friendly documentation that adheres to our company's style guide. You'll also be responsible for documentation used by external developers. The Senior Technical Writer reports to the Developer Relations Engineer and works with the engineering, product management, quality assurance (QA), marketing, and user experience (UX) teams. 
Responsibilities:
Coordinate technical writing team collaboration with engineering, QA, product management, and other internal teams to plan, research, write, and revise documentation such as overviews, tutorials, installation and configuration instructions, training materials, and API instructions

Collaborate with other writers to document the company's suite of apps and e-commerce products

Write for multiple types of readers including nontechnical end users, programmers, system administrators, and integrators

Establish and enforce team policies, procedures, and style guides

Oversee peer editing and production reviews
Minimum qualifications:
Comprehensive technical writing and editing skills

Comprehensive analytical skills

Thorough ability to operate in a fast-paced environment with evolving project requirements and priorities

Bachelor's degree in technical communication, a related bachelor's degree, or at least five years of experience in writing documentation for web-based software

General communication and teamwork skills

Initiative in consulting with subject matter experts from engineering, support, and product management teams

Portfolio of work and/or writing samples
Preferred qualifications:
General experience with documentation for Ruby on Rails, MySQL, Memcached, and Redis

Attention to detail with a creative eye

Ability to graciously and efficiently respond to feedback on published work from customers and internal staff

Passion for learning new skills and growing with a team

Ability to thrive in a collaborative working environment

General knowledge of documentation publishing software
Compensation and Benefits
Compensation range: $68,000

–

$100,000

Employee assistance program (EAP)

Paid parental leave

Retirement benefits

Flexible vacation time

Commuter benefits

Lifestyle spending account

Life and AD&D insurance

Disability insurance

Comprehensive healthcare benefits
Your application should include the following:
A link to your portfolio and any work you have led a team through 

Your résumé or LinkedIn profile
Example 2: Data Scientist
Data Scientist
Location: Remote
About the company:
Five years ago, we founded a biotech company in New York. We built an AI technology for online early diagnosis of diseases. Our company has forty team members from ten countries. All communication is in English. We aim to foster a creative, innovative, and diverse ecosystem. 
Our data predict we can extend life by twenty years and slow aging by detecting diseases earlier. We've received three mobile app awards as one of the top twenty health startups. We've released a web app, an app for iOS, and are rolling out on Android soon. In one month, we received more than 10,000 mobile app downloads. 
Job responsibilities: 
Create predictive models for engineering by evaluating and developing computational methods decoding biophysical features from provided datasets 

Develop and apply complex machine and deep learning solutions to proprietary and public datasets

Optimize current workflow through data query and feature extraction including affinity modification, cross-reactivity engineering, multi-parametric optimization, liability risk prediction and mitigation, multi-specific antibody engineering, and de novo antibody design

Work with a team of data scientists and engineers to identify and mitigate problems while maintaining, optimizing, and growing mobile applications 
Minimum qualifications: 
Bachelor's degree in data science and biology, a related bachelor's degree, or five+ years of experience with machine learning and biotechnology

Thorough knowledge of Swift, Kotlin, HTML, Python 3.9, Django, scikit-learn, pandas, NumPy, and PyTorch

At least one year of experience with mobile app development and machine learning 
Preferred experience: 
General knowledge of RIBs, Scrapy, Bs4, XGBoost, LightGBM, Hyperopt, and CatBoost 

Working knowledge of back-end, front-end, data science, and computer vision
Compensation and benefits:
Salary range: $75,000

–

$120,000

Comprehensive health insurance

Home office set-up stipend

Company computer provided

Optional cryptocurrency bonuses

401(k) match program

US visa program for team members who have worked for more than a year