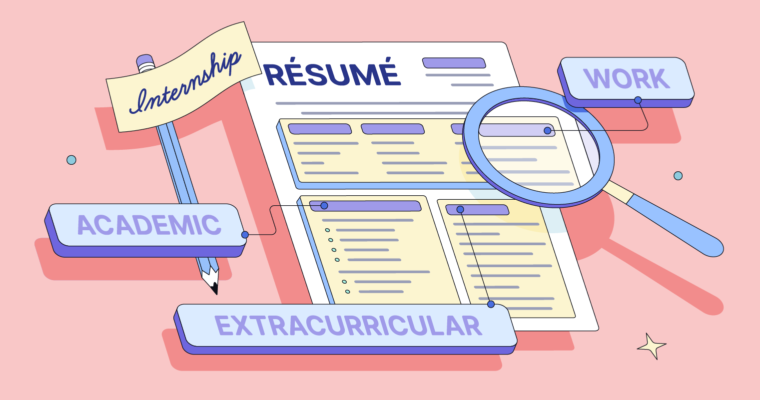 Searching for a job is hard, even for seasoned professionals. But for students with little to no experience, pulling together a résumé can feel especially daunting. Between your internship cover letter, your résumé, and the interview phase—it can seem like a lot of work!
Don't worry, we've got professional writing tips, internship résumé examples, and more to help with your internship applications. In this article, we'll talk about how students can use their academic achievements, extracurricular activities, and work experience to create a standout résumé for applying to internships. 
Give your writing extra polish
Grammarly helps you communicate confidently
Important elements of an internship résumé 
The first impression you make matters in your hunt for an internship. Regardless of your work history, your internship résumé should show employers that you're ready and excited to start an internship. 
We'll go over how to convey that in the next section. But first, let's take a brief look at your résumé checklist and what employers need to know about you. 
An internship résumé should include the following items: 
Your full name

A brief summary

Your location

Your email address and phone number

Your

LinkedIn profile

 

Your education history

Your academic achievements

Your extracurricular activities

Your work experience
Optionally, you could also include any languages you speak, and the soft skills or technical skills you're proficient in. 
Experience students can use on a résumé
Above all, you want your résumé to demonstrate that you're ready for and interested in an internship with the company. The intern coordinator or hiring manager will likely look at your résumé for only a few seconds. 
They're not looking to see massive achievements as most interns don't have much experience. Instead, they're looking for experience or demonstrated interest in their niche. That might be basic knowledge of a coding language, social media marketing experience, or an effort in your personal time to learn more about what you're applying for.
A résumé is a way for you to express what you've done so far and demonstrate that you're prepared to learn. Here are a few ways to show your achievements, willingness to learn, and past efforts to seize the opportunity. 
Academic achievements
If you've received any awards, you can label them as academic achievements on your résumé. You should also include any coursework that you feel is relevant to the internship you're applying for. Lastly, use this space to show any licenses or certifications you've earned. 
Academic achievements on your résumé could look like this: 
Relevant coursework: accounting and economic principles

Graduated cum laude 2021

Licensed practical nurse in the state of Maine
Extracurricular activities
The person reviewing your résumé will be looking for ways that you've been able to learn on your own, worked hard, or demonstrated leadership skills. Clubs, passion projects, and volunteer work in the appropriate niche are the most notable things you can add to your résumé. 
Here are some examples of extracurricular activities: 
Volunteer work

Teams

Clubs

Student newspaper

Passion projects
Work experience
Your work experience should demonstrate your ability to learn things on the job. Some internships also want to see that you can work in a fast-paced environment, meet deadlines, and practice communication skills on the job.  
You could include these types of work experiences on your internship résumé: 
Summer jobs

After-school jobs

Work-study jobs
How to format those experiences
Now that you know what to include, it's time to think about how you intend to write your résumé. Your résumé should be no more than one page long. Many hiring managers recommend you customize your résumé for each internship you're applying to so that it's as relevant as possible. 
It can help to create a version of your résumé that you'll start with for each application so that you don't have to start from scratch each time. Let's go over how to format that page, what you should include, and how to word it. 
Read the internship description thoroughly
Before you start your résumé, or alter the basic résumé you've already created, read the internship description thoroughly. Hunt for keywords and unique responsibilities. Find out what they're truly looking for and play to that. Curate your most relevant experience and include only that on your final résumé for that internship application. 
Word it effectively
When you start customizing your résumé for a specific internship, try to use keywords you found in the description of the opportunity. Those could be specific skills, technologies, certifications, or verbs that were included in the description. But include these keywords only if they relate to your skills. 
Format it properly
When writing a résumé, include a title, period, location, and description for every entry you list. For descriptions, it's best to use bullet points when possible. You can use italics and vertical bars—"|"—to distinguish between location and time frame if you want to include them on the same line. 
Internship résumé experience examples
You know what to look for, what to include, and how to format it. But without examples, it can sometimes feel like you have no idea what to say. Here are six examples you can use to start writing your internship résumé. 
Academic achievements
Your academic achievements might look like these: 
BA — English
Yale University, 4.0 GPA | 2019–Present
Critical writing and editing

Journalism

Publishing
Adobe Certified Associate (ACA)
2022
Graphic design skills

Photoshop, InDesign, After Effects, Illustrator
Extracurricular activities
Your extracurricular activities could be formatted like these: 
Editor in Chief, The Yale Daily News 
New Haven, CT | 2021–Present
Assign and edit features, beats, and other published work

Lay out copy

Compose editorials
President, Habitat for Humanity Club
Boston University | 2019–2022
Plan and execute 4 projects per semester

Lead weekly meetings

Coordinate with Habitat for Humanity Boston
Work experience
Your work experience could be formatted as follows: 
Small Business Writer, The Conway Daily Sun 
North Conway, NH | 2018–2019
Interview small businesses

Write small business spotlight vertical 

Photograph business locations and owners
Front Desk Clerk, Law Offices of Joe Schmoe
Columbus, OH | 2017–2018
Attend to clients, by writing emails, answering phones, and interfacing in person

File paperwork with local agencies

Coordinate lawyers' needs 
Hiring managers and internship coordinators appreciate applicants who demonstrate an interest in their company or their organization's area of work and are eager to learn more. Your internship résumé is just one part of the application process (in addition to your cover letter and interview) where you can show (rather than tell) your interest and efforts to learn more about the field and the company. Make sure your résumé uses correct grammar, spelling, and punctuation so you can put your best foot forward.