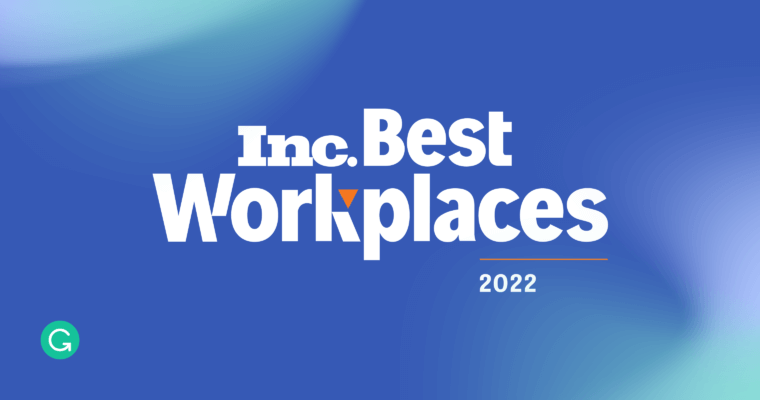 It's a privilege to hear from our Grammarly team members that our unique values and the inclusive, learning-oriented culture we foster set us apart. We're thrilled to have that recognized for the second year running as one of Inc.'s Best Workplaces of 2022! Inc. conducted surveys with US-based employees of thousands of companies. Grammarly rose to the top again this year thanks to our colleagues who live our values every day, cultivating a vibrant culture that makes our remote-first hybrid working model collaborative and rewarding. 
The recognition from Inc. follows our recent distinctions among Fast Company's Most Innovative Companies of 2022 and the Time100 Most Influential Companies of 2022 in the Innovation category. These lists honor the businesses making the biggest impact on their industries and society, and these accolades speak to the incredible dedication and ingenuity of our Grammarly team. As organizations worldwide rely more on asynchronous collaboration, our work to help people reach their goals with clear, effective digital communication is increasingly important. Grammarly's emphasis on empathy as a guiding principle blends intelligence with human connection, leading to innovations such as our tone detector and inclusive language support to help our customers adapt and thrive. I'm excited to see what our team members do next. 
Over the past year at Grammarly, I've seen the tremendous progress that's possible through Grammarlians' commitment to our EAGER values (ethical, adaptable, gritty, empathetic, and remarkable) and our customers. For example, we've expanded our service offerings with a Grammarly for Developers beta release and enhanced intelligent experiences across all digital platforms where people write. Through a new partnership with Samsung, we've integrated Grammarly writing suggestions directly into the Samsung native keyboard, making it easier to communicate clearly on mobile. And last fall, we announced a $200+ million funding round to accelerate our innovation to help people achieve more with personalized communication assistance. 
Join us!
Shape the way millions of people communicate
One reason Grammarlians love their jobs is that they have the opportunity to take on new challenges, follow where their curiosity leads, and have a meaningful impact. Our team members drive innovation across engineering, data science, linguistics, design, and more to achieve advances in NLP. Together we deliver real value for our customers including teams at businesses like Cisco, Expedia, and Zoom. 
Behind these recent achievements are the same EAGER values and creativity that afford Grammarly the strength and stability to provide support for our many Ukraine team members directly affected by the tragic and unprovoked war while maintaining service continuity for our customers, sustained business growth, and continued innovation. Our top priority has been the safety and well-being of our team members, and I'm inspired by the empathy, grace, and tenacity of Grammarlians around the world, especially those who call Ukraine home. 
While we've accomplished so much this past year, we have audacious goals ahead on our mission to improve lives by improving communication. We're looking for people who share our values—join our global team!