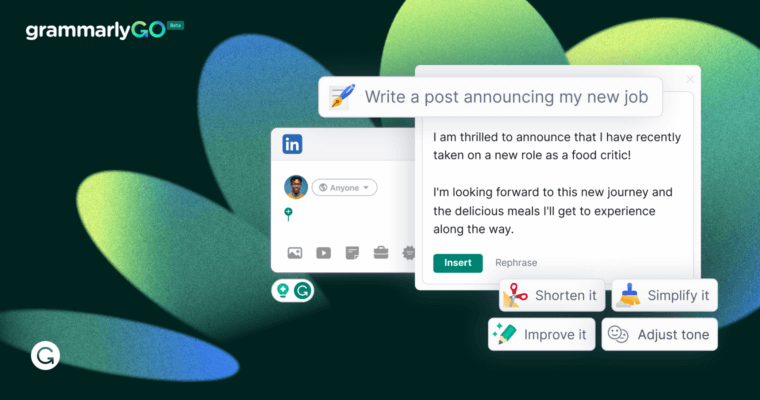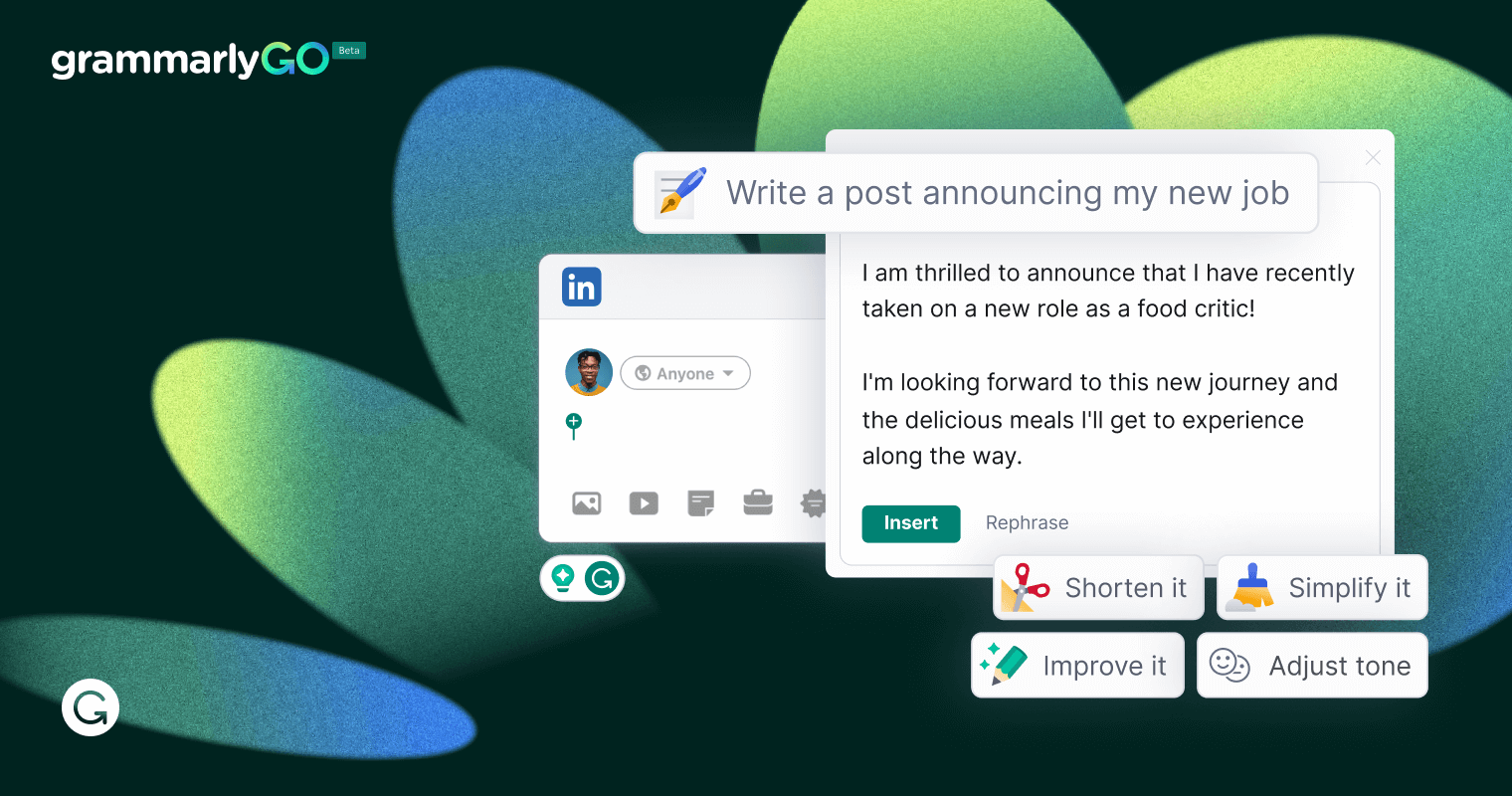 Imagine a writing journey that you never have to experience alone—from the first words on that blank page all the way to the finished product. With GrammarlyGO, you get end-to-end writing assistance that helps you generate text and provides revision suggestions until your work is at its best.
GrammarlyGO is available in beta today. You'll get access to contextually aware, personalized AI that helps you write drafts, rewrite for tone and length, ideate to unlock creativity, and generate email replies.
Start using GrammarlyGO today
Compose, rewrite, reply, and ideate with confidence
Grammarly now helps you compose and ideate—not just revise
For over 14 years, Grammarly has been on a mission to improve lives by improving communication. We've accomplished that at the revision stage of the writing process with suggestions that make your writing clearer and more concise, help you land your desired tone, polish your grammar, spelling, and punctuation, and more.
Improving communication also means making you more productive without sacrificing the quality of your work. It means breaking you out of writer's block and giving you confidence that your tone is on point. It means empowering your own unique voice to shine through. It means helping you build connections, unlock potential, and achieve results with your writing. That is the power of Grammarly. And now, with generative AI, we can go even further.
Generative AI enables us to support all stages of the communication process: ideation, composition, revision, and comprehension. GrammarlyGO is with you as you draft a cover letter, power through replies to emails clogging your inbox, outline a business plan, or spruce up a marketing blog post. You get on-demand help from GrammarlyGO, all while benefiting from Grammarly's classic AI writing suggestions and features, too. Now, whenever you use Grammarly, you'll also have GrammarlyGO right there with you when you need it.
How is GrammarlyGO different?
We've all read something that's technically free of mistakes . . . but somehow still falls short. When crafting writing that moves people, quality and context matter. Grammarly has a distinctive track record of using AI to help people communicate more effectively, with 14 years of expertise leveraging the latest advancements in AI and machine learning to solve our users' communication challenges. We've brought that same level of quality to our generative AI experience. Here are ways you can harness GrammarlyGO to generate high-quality, task-appropriate writing and revisions:
Create using your unique context
For text to be truly effective, it must take your communication context into account, considering the unique aspects of why you're writing. Writing an email is different from writing a social media post. Writing to a prospective customer is different from writing a message to your friend.
GrammarlyGO helps you create high-quality, relevant writing by understanding your unique context. It picks up on aspects like the task you're trying to accomplish, the app you're using, the email you're replying to, and more. Then, it uses that context to suggest relevant prompts, allowing you to refine your text until it's just right. You'll spend less time crafting your content or message so you can focus on high-value work.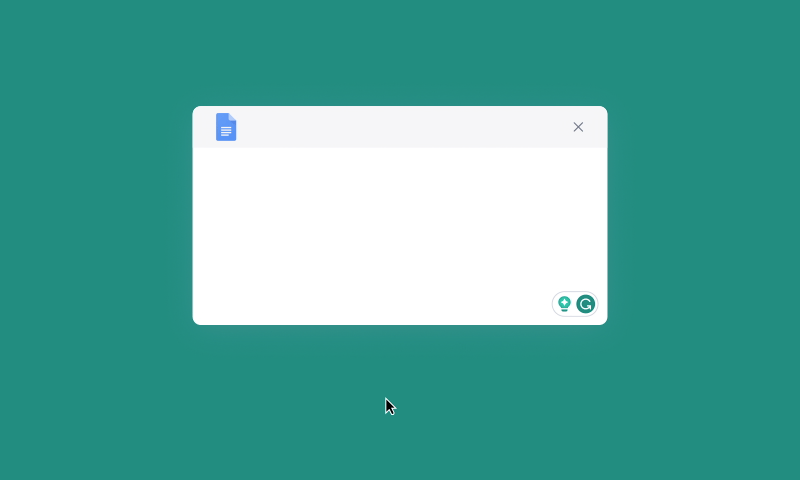 Personalize your voice
Communication style is a huge part of one's identity. Co-creating with generative AI should mean enhancing—not sacrificing—the nuances of your writing voice.
GrammarlyGO lets you set your voice, including your preferred tones and professional role, so your writing sounds like you. This voice is consistent as you write, bringing much-needed authenticity to tasks like sending emails, Slack messages, and more.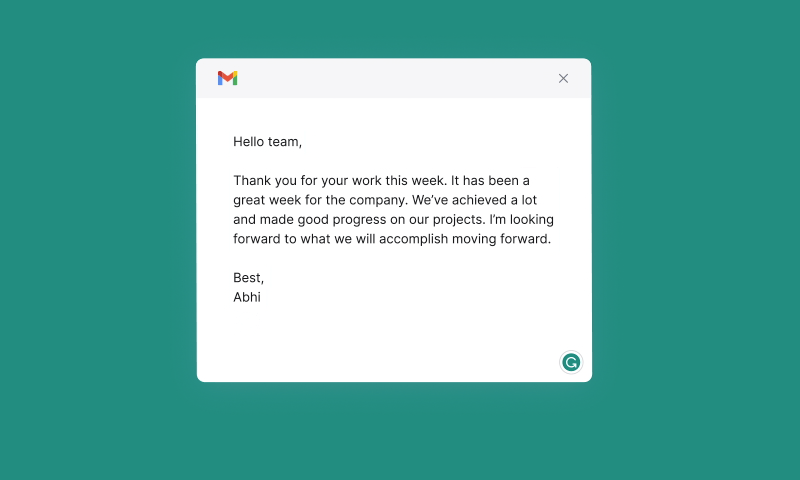 Use suggested prompts to guide you
Using generative AI can come with a learning curve. That's why GrammarlyGO suggests prompts for jumpstarting or improving your writing. Whenever you activate it, GrammarlyGO will use your unique context, like what you've written so far, to offer relevant prompts. Just choose a suggested prompt, and you're on your way. Open GrammarlyGO and see prompts like "Generate ideas for a blog post." Highlight some text, and GrammarlyGO suggests prompts like "Make it more engaging" or "Shorten it."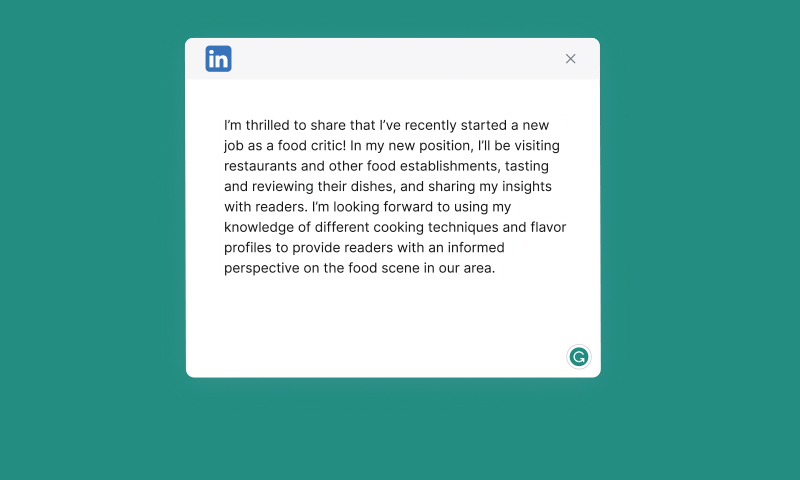 Work securely, with generative AI you can trust
GrammarlyGO upholds Grammarly's long-standing commitment to developing AI responsibly, with privacy and security top of mind. Our enterprise-grade practices put users first—we never sell data. With GrammarlyGO, you can confidently use generative AI that's built with high standards for enterprise data security, user privacy, and responsible AI.
You can learn more at Grammarly's Trust Center.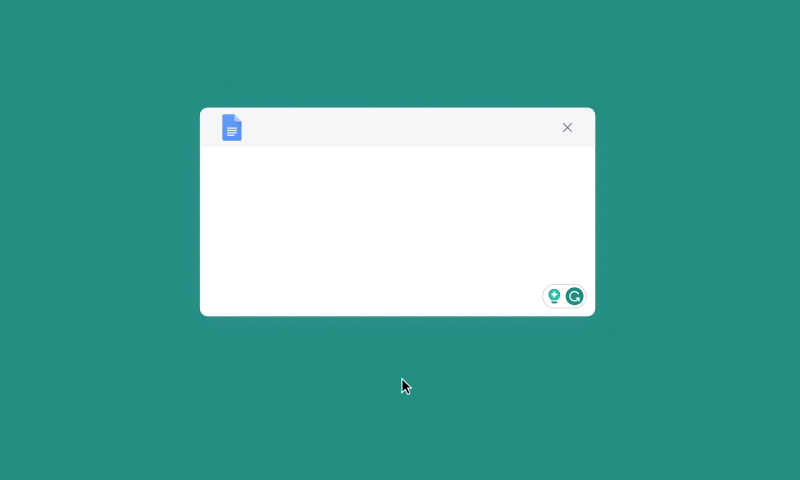 Write faster in the apps you already use
If your goal in using generative AI is to boost productivity, navigating away from your workspace to a generative AI app for help isn't going to cut it. Switching between apps breaks focus and slows you down.
But GrammarlyGO is different. You get one AI communication assistant across the apps and websites where you work. Rather than generating text in another app and migrating it over to where you're writing, GrammarlyGO lets you generate directly in Gmail, Microsoft Word, LinkedIn, Slack, and more of the apps you rely on to be productive. Over time, GrammarlyGO will be available everywhere Grammarly is available so you can get the full range of Grammarly's communication assistance in the apps you use the most.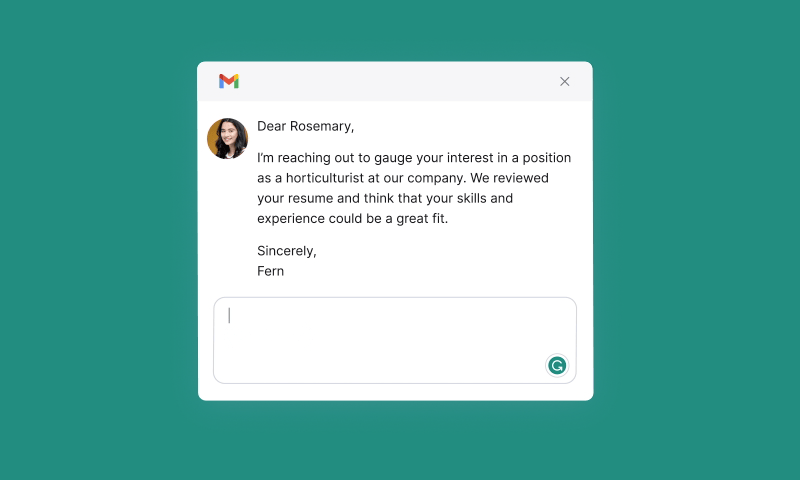 Writing, reimagined
GrammarlyGO understands you—your context, your voice, the apps where you work, and the security you expect when using the best of generative AI. When you compose, ideate, rewrite, and reply with GrammarlyGO, you redefine the possibilities of what you can create. You give yourself time back to focus on what's important. Imagine everything you can achieve with GrammarlyGO as your personalized generative AI co-creator. You'll be amazed at what you can do.
Download Grammarly today to try GrammarlyGO. GrammarlyGO is available to all Grammarly Premium, Grammarly Business, and Grammarly for Education (higher education) customers, as well as users of Grammarly's free plan in Australia, Canada, Germany, Japan, New Zealand, Poland, Ukraine, the UK, and the US.
GrammarlyGO is now available in Grammarly Editor, Grammarly for Chrome, Grammarly for Edge, Grammarly for Windows, and Grammarly for Mac.