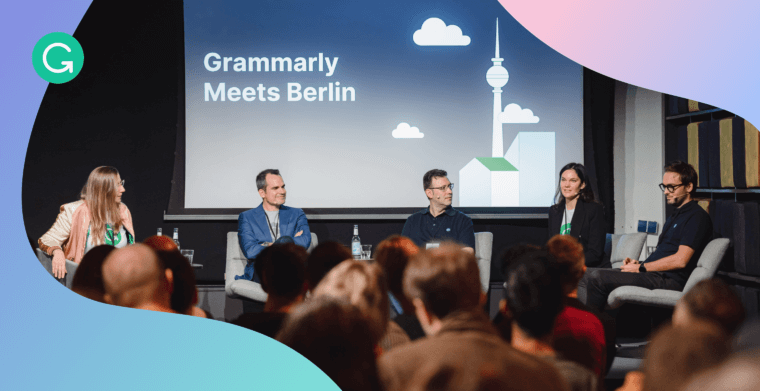 Are you curious about how Grammarly builds its popular communication assistance technology—and what's next for us? We brought together four of our engineering and product leaders for an interactive Ask Me Anything event in Berlin, answering these questions and many more. 
Our technical leaders shared the ins and outs of building our AI-powered product ecosystem to improve communication for more than 30 million users worldwide, including 50,000 professional teams. It was a fitting introduction to the vibrant tech community in Germany, home of our newest innovation hub. Read on to learn the top insights our panelists shared at our Berlin AMA, including details on our company culture and developer roadmap.
Join us!
Shape the way millions of people communicate
Innovative ideas start with a question
"Our flagship product offering, Grammarly for Windows and Mac, came to fruition as a proposal from one of my team members. In a meeting, he was struck with an idea to solve a complex problem: there's an extension for the browser, and there's our standalone Grammarly Editor, but if someone wanted to write a message in Slack or in Notes, there was no integrated Grammarly support. He proposed a simple yet brilliant solution for how we could bring Grammarly to the desktop. 

He started exploring his idea and an API for it, and within a couple of hours, he'd come up with an early prototype. My team stopped other work to focus on this for a few days to see where it worked and didn't. We showed it to our product manager and our CEO, who happened to be in the office that day. The idea got picked up, and right away, we created a small team to work on the project. Last year, we released it to our users!" —Kateryna Vynogradna, Engineering Manager 
Autonomy as an engineering principle 
"The word autonomy means a lot at Grammarly; it's a philosophy. We deliberately build a horizontal structure in our organization, avoiding hierarchy as much as possible and pushing autonomy to all levels of the engineering groups. We foster an ownership mindset in engineering, which means a combination of a high autonomy level with responsibility for every stage of product development—from idea generation and discussion of new features with designers up to testing, quality control, release, and post-launch support. 

At Grammarly, our engineers can raise a hand to signal that we need to focus on whatever big problem they're solving, whether it's perfecting a new feature or dealing with tech debt. Engineers are closest to that and know best what can be done and what the trade-offs are. They're trusted to make those decisions." —Andrew Derevyanko, Director of Engineering 
Iterative product and data strategies
"We start with user problems, not technology solutions. From there, we identify clear opportunities and apply natural language processing (NLP) and machine learning (ML) technology to them. We iterate to find solutions and carefully evaluate with our users in the loop. As we learn more about a problem, the solution space becomes more complex, and we may realize we need a net-new type of model. We try to identify the data we need to train that model. We often start with general corpora of text that's already annotated. 

It's inherently iterative: The technical and data needs evolve alongside how well we understand the user problem. Our foundation at Grammarly is in the revision stage of communication. And as everyone in ML knows, you're never done; we're constantly improving quality. We're also exploring how recent advances in NLP can be applied to other stages of communication, such as comprehension to understand writing and composition to get your thoughts on paper. " —Timo Mertens, Head of ML and NLP Products
New horizons with the developer community 
"We made the Grammarly Text Editor SDK generally available, bringing the power of Grammarly directly into any web or desktop app. During our closed beta, we received thousands of applications from developers. Their feedback helped ensure our first Grammarly for Developers API meets our high security, data protection, and quality standards. 

Our APIs are an integral part of our strategy. Our mission is to improve people's communication, and we approach it by bringing our communication assistance to the places people like to communicate rather than asking our users to come to a specific app. The SDK is a critical pillar of that strategy; it allows us to offer Grammarly in a much wider set of places." —Eyal Carmi, VP of Engineering, Grammarly Platforms 
Join us! 
Our team members in Germany drive key components of our product roadmap, with expertise in software engineering across the stack, data science, linguistics, design, and more. Fueled by our values-driven culture and intentional innovation philosophy, Grammarly has developed a whole ecosystem of AI-powered product offerings to improve communication for over 30 million people and 50,000 professional teams daily. ​​Our work to power effective communication through advanced natural language processing and machine learning has been recognized globally, earning us a spot on TIME's Most Influential Companies of 2022, among other honors.
We're expanding our Engineering, Product, and Design team in Germany and are looking for people who share our values, including ethics, empathy, and grit. Please visit our Jobs page to learn more about opportunities to join our team and grow with us.