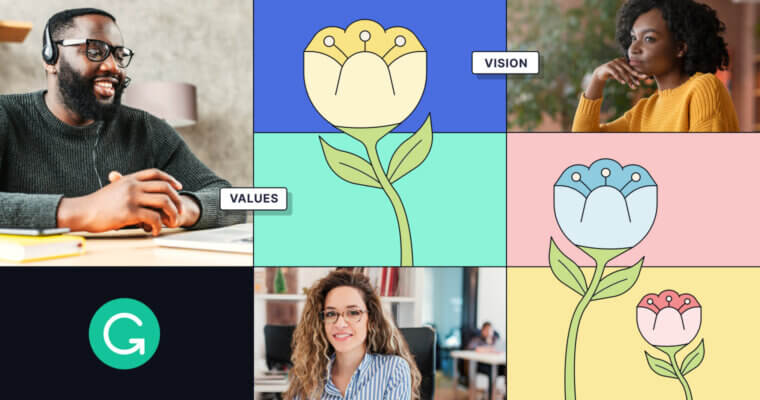 This Giving Tuesday, we're proud to announce that we're extending our free offering for nonprofits and NGOs worldwide through 2022. As the constraints of the pandemic continue to upend working models and operations, we recognize that nonprofits and NGOs are often disproportionately impacted and less-resourced in their ability to adapt. Overcoming these challenges is critical for them to successfully deliver their vital services and build long-term resilience in the new era of remote and hybrid work.
That's why we're continuing to help nonprofits clearly communicate their mission to their audiences. In the less than two years since we committed our support, we've helped over 7,000 nonprofits and NGOs from over 150 countries—a financial equivalent of over $9 million—adapt to new demands and deliver positive impact by communicating more effectively.
Organizations such as Blessings in a Backpack, the Washington Literacy Center, AIESEC, National Diversity Council, Cleveland Transformation Alliance, Black Girls Smile, and many more are using Grammarly Business to help increase their fundraising efforts, foster effective cross-cultural communication, and deliver better outcomes for employees, partners, and beneficiaries.
"Nearly two years ago, we set out to help nonprofits and NGOs rise to the challenges brought on by the global pandemic," said Dorian Stone, Head of Organizations Revenue, Grammarly. "Today, we're honored to help an increasing number of organizations embrace the shift to remote-first work and build support for their missions through effective communication. We're inspired every day by their valuable work and want to continue to be a partner in helping them reach their goals, whether accelerating funding efforts, connecting remote employees, or engaging with stakeholders."
With our tailored Grammarly Business offering, qualifying nonprofits and NGOs will continue to receive critical communication support wherever they write. The comprehensive solution provides all of our Premium-level advanced writing suggestions and administrative controls. It also includes our team features released this year—brand tones (company tone profiles), snippets (preset response templates), and multiple style guides (up to 50 for a single organization)—which help entire teams and organizations stay on-brand with consistent communication. 
The impact of more effective communication
AIESEC, a global organization supporting young people with leadership development opportunities, uses Grammarly Business to empower cross-cultural teams to communicate confidently in English. With access to Grammarly's features that improve vocabulary, passive voice, and tone, AIESEC is creating more meaningful connections across its network of members and partner organizations.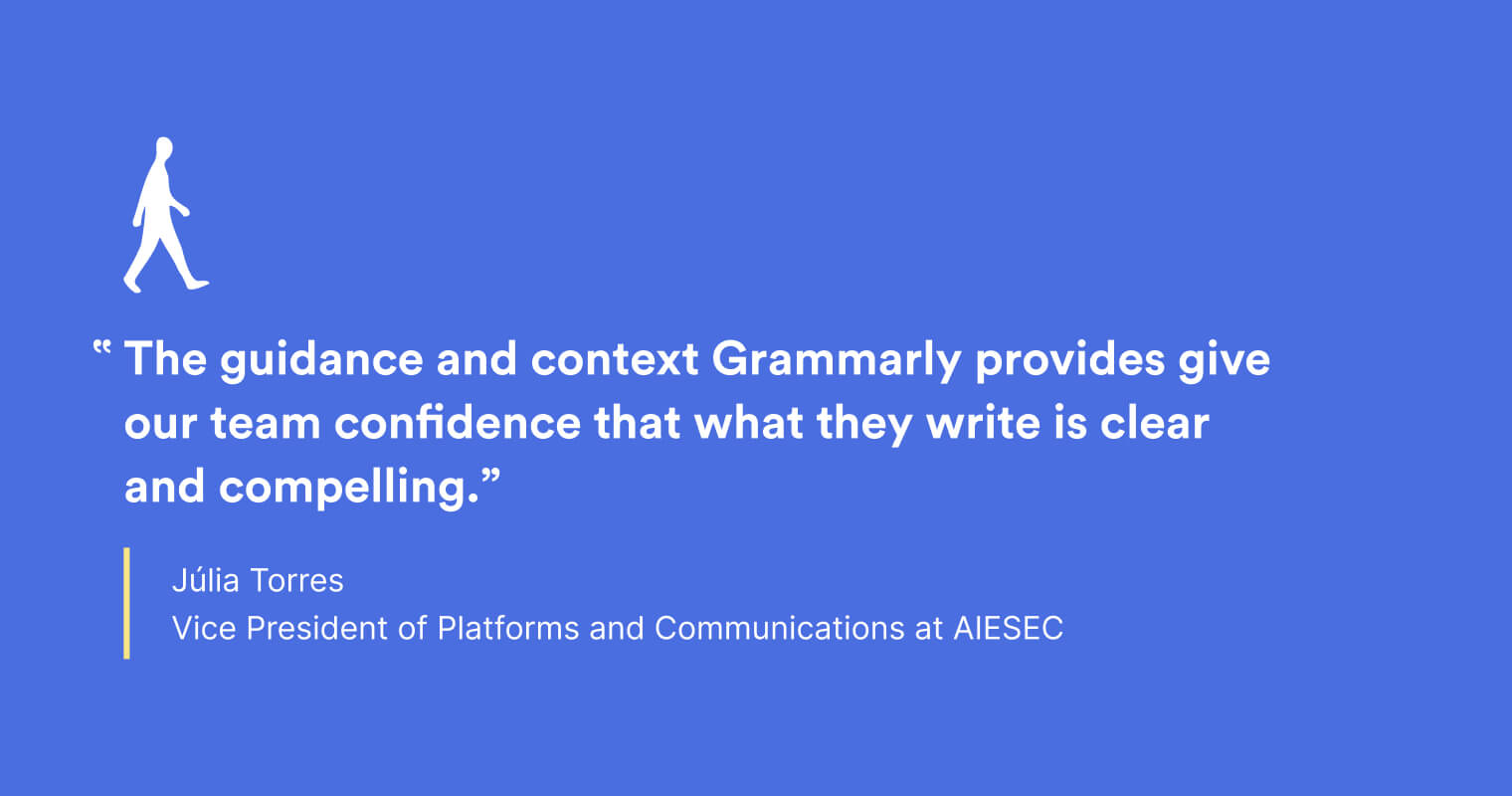 "Especially with the constraints of the pandemic, Grammarly has been essential in helping our team members—most of whom are not primary English speakers—better connect and engage with our global network," said Júlia Torres, Vice President of Platforms and Communications at AIESEC. "The guidance and context Grammarly provides give our team confidence that what they write is clear and compelling while helping develop their own English-language skills and save time in the process. That's made a real difference for our organization in terms of both productivity and engagement, helping us serve even more youth."
Based on an internal survey conducted by AIESEC, 97% of team members said using Grammarly increases their confidence in communicating effectively, 98% said it helps them produce higher-quality work, and 96% said it saves them time on writing and editing.
The Washington Literacy Center (WLC), a Washington, DC-based nonprofit helping adults learn to read and write, uses Grammarly Business to ensure its messages land with stakeholders. By improving the quality and efficiency of written reports and communications, the WLC team can more effectively engage donors and supporters while freeing up time to spend on critical projects.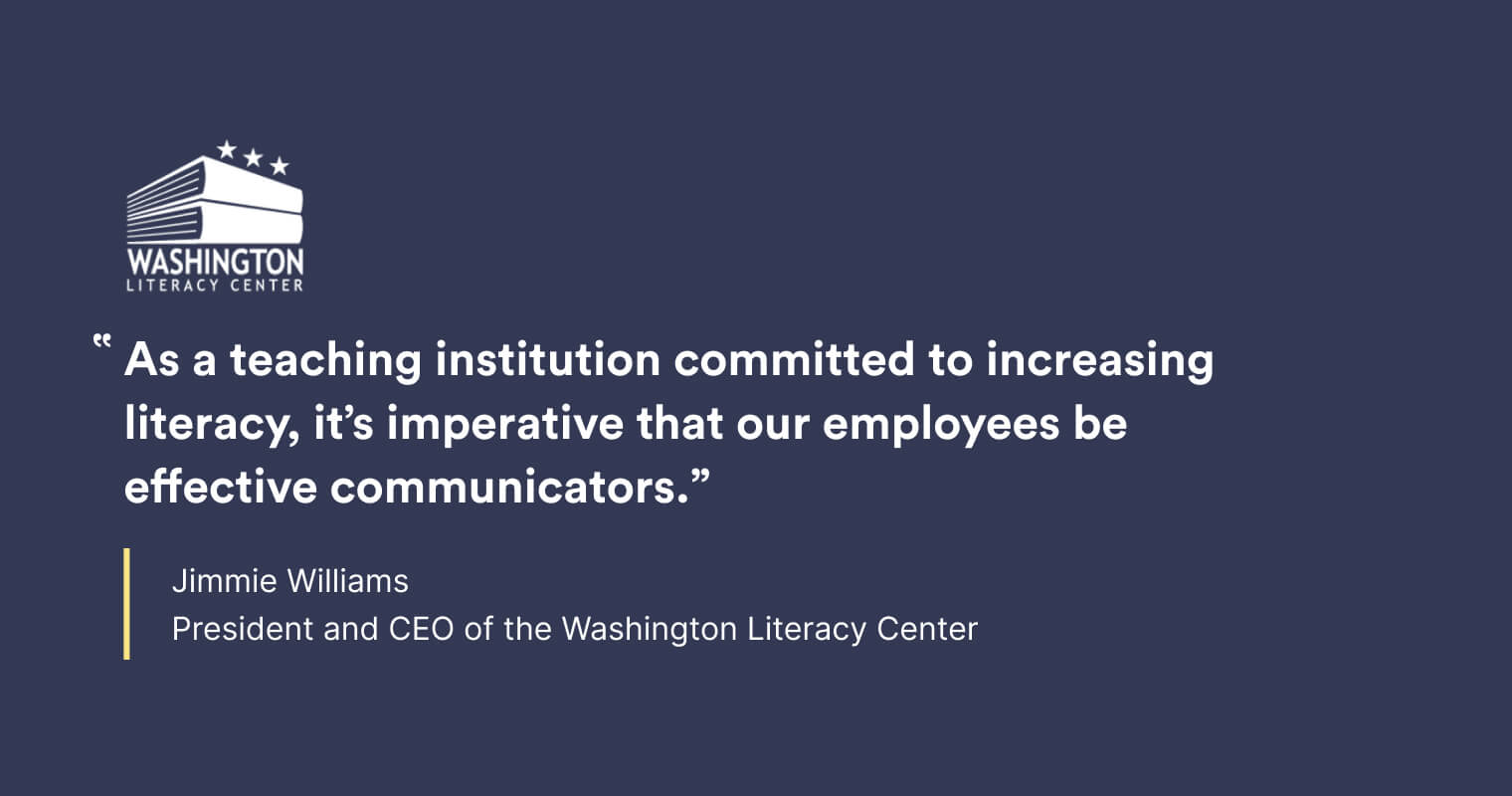 "As a teaching institution committed to increasing literacy, it's imperative that our employees be effective communicators," said Jimmie Williams, President and CEO of the WLC. "Grammarly helps ensure that all of our communications are not only grammatically correct but also compelling and efficient to produce. This means more time we can devote to higher-impact work to meet the needs of more students and other participants in specific programs."
Blessings in a Backpack, a national organization spanning seven regional chapters and over 1,000 program locations, provides food on the weekends for school-aged children who might otherwise go hungry. With Grammarly's vocabulary suggestions, style guides, and tone detection, the team is creating more impactful, consistent marketing and fundraising communications that inspire support for its mission.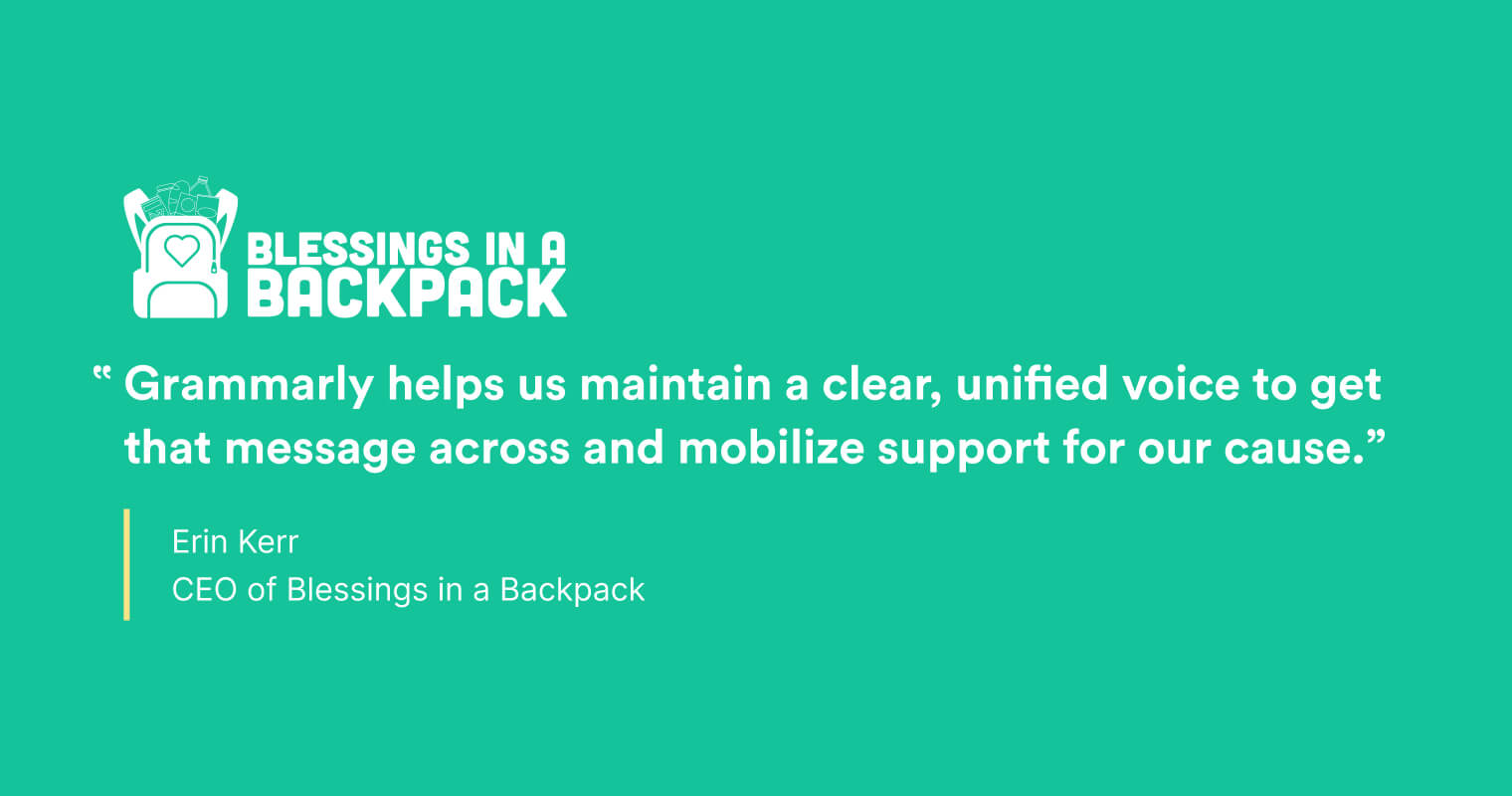 "We're committed to addressing childhood hunger—a problem exacerbated over the past twenty-one months as the pandemic increased unemployment, closed schools, and threatened food insecurity for one in four children across America," said Erin Kerr, CEO of Blessings in a Backpack. "Our goal is not just to provide nutrition but also a sense of community that shows we care. Grammarly helps us maintain a clear, unified voice to get that message across and mobilize support for our cause."
As nonprofits and NGOs continue to adapt and overcome new challenges in the year ahead, we're honored to continue supporting the critical work they do. To apply for this free offering, visit grammarly.com/nonprofits-ngos.
In need of writing support but not affiliated with a qualifying organization? Grammarly continues to offer free access to fundamental writing assistance, including grammar, spelling, punctuation, and conciseness suggestions, along with tone detection.