With snippets, brand tones, multiple style guides, and analytics, Grammarly is the first and only writing assistant to help entire teams and organizations stay on-brand with consistent communication.
Today's business leaders are caught in a catch-22. They must innovate at record speeds to keep pace with customer demands and looming competition. But in doing so, they create communication breakdowns, sacrificing quality and consistency that affects their ability to remain competitive. What if leaders didn't have to make this trade-off?
At Grammarly, we believe that effective communication is at the core of high-performing teams and propels businesses forward to achieve their goals. When customer support teams improve their written communication, they reduce customer misunderstandings, complaints, and long response times. When sales teams feel confident in their writing skills, they accelerate sales motions and spend more time closing deals. And when marketers produce high-quality content that's consistent across channels, they increase brand loyalty, reputation, and equity.
Achieving these outcomes is why 30,000 teams at leading brands like Cisco, Expedia, and HackerOne are already using Grammarly Business to communicate more effectively. With our AI-powered writing assistant, customers increase efficiency by 20% on average and improve customer satisfaction by up to 30%.
Get hands-on with Grammarly Business
To empower your team with effective and efficient communication
New features to power efficiency, consistency, and continuous communication improvement
We're proud to further our enterprise commitment with new features that help companies turn communication into a competitive advantage—because business leaders shouldn't have to choose between the quality and efficiency of their communications. 
We listened to our customers and built new features focused on ease, efficiency, consistency, and customization. These new features enable leaders to improve business outcomes and measure the impact of Grammarly Business with greater controls and insights:
Snippets: Preset response templates for quick communication with the ability to insert commonly used messages and content in just a few keystrokes.
Brand tones: First-of-their-kind tone profiles that specify which tones team members should use and which they should avoid.
Multiple style guides:

The ability for large teams to create and customize up to 50 different style guides within a single organization.

Analytics:

New analytics dashboard metrics that make it easier for leaders to identify communication trends, strengths, and metrics for continuous improvement.
Improve productivity with snippets
Teams and individuals can use snippets to increase efficiency and reduce writing time. Leaders and contributors can create and manage a library of frequently used phrases, sentences, or paragraphs, while individual team members can access brand-approved snippets and create their own.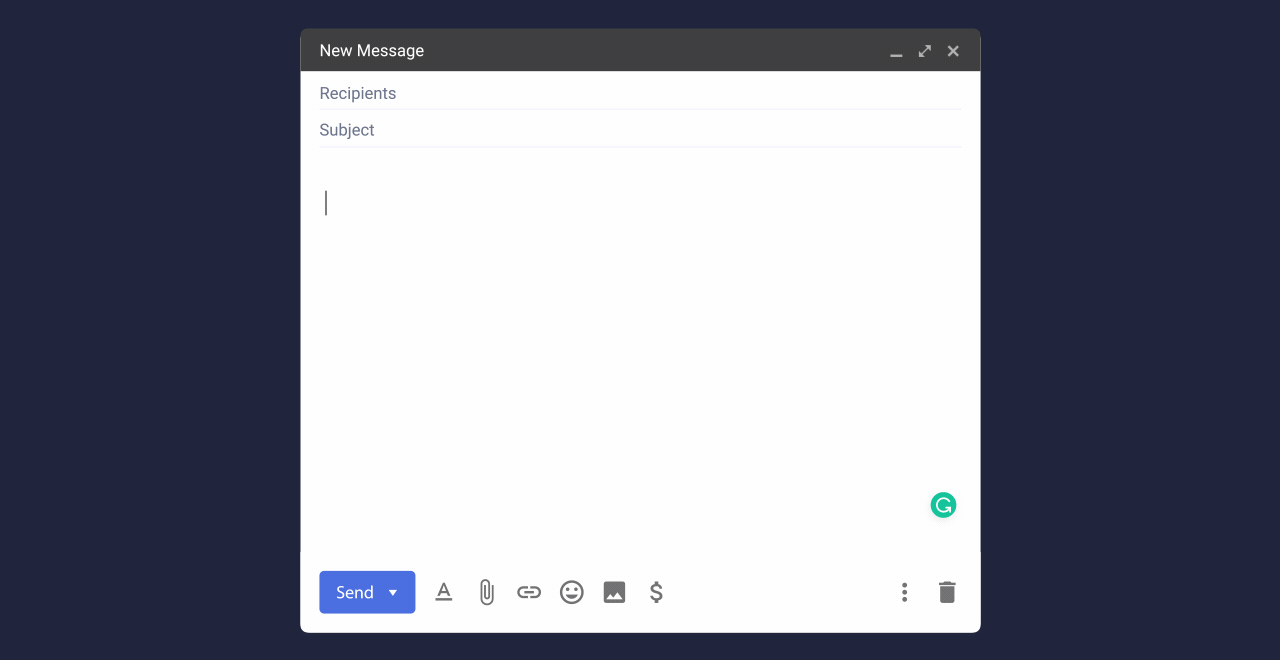 Snippets empower teams to respond to customers faster while crafting on-brand messages that boost customer satisfaction. Our customers have already started seeing strong results since implementing snippets from Grammarly Business.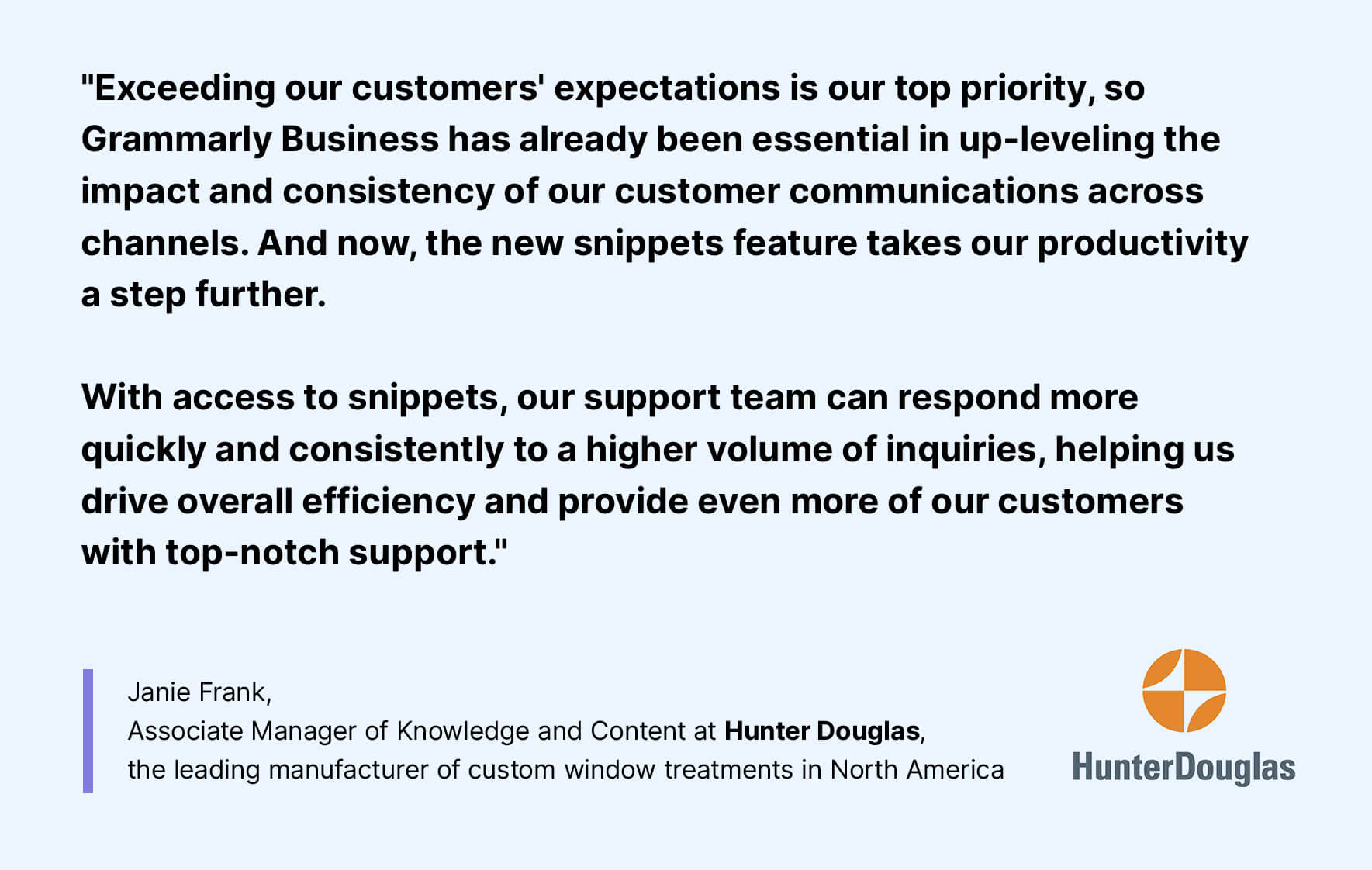 Deliver a consistent customer experience with brand tones and multiple style guides
Brand tones and multiple style guides ensure teams make the right impression on customers by aligning tone and writing style with their brand.
Brand Tones
Grammarly's tone detector has been instrumental in helping individuals communicate as intended, from confident to informative to optimistic. Now, companies and teams can turn their brand voice into a customized tone profile and receive feedback on whether teams' writing aligns with approved tones.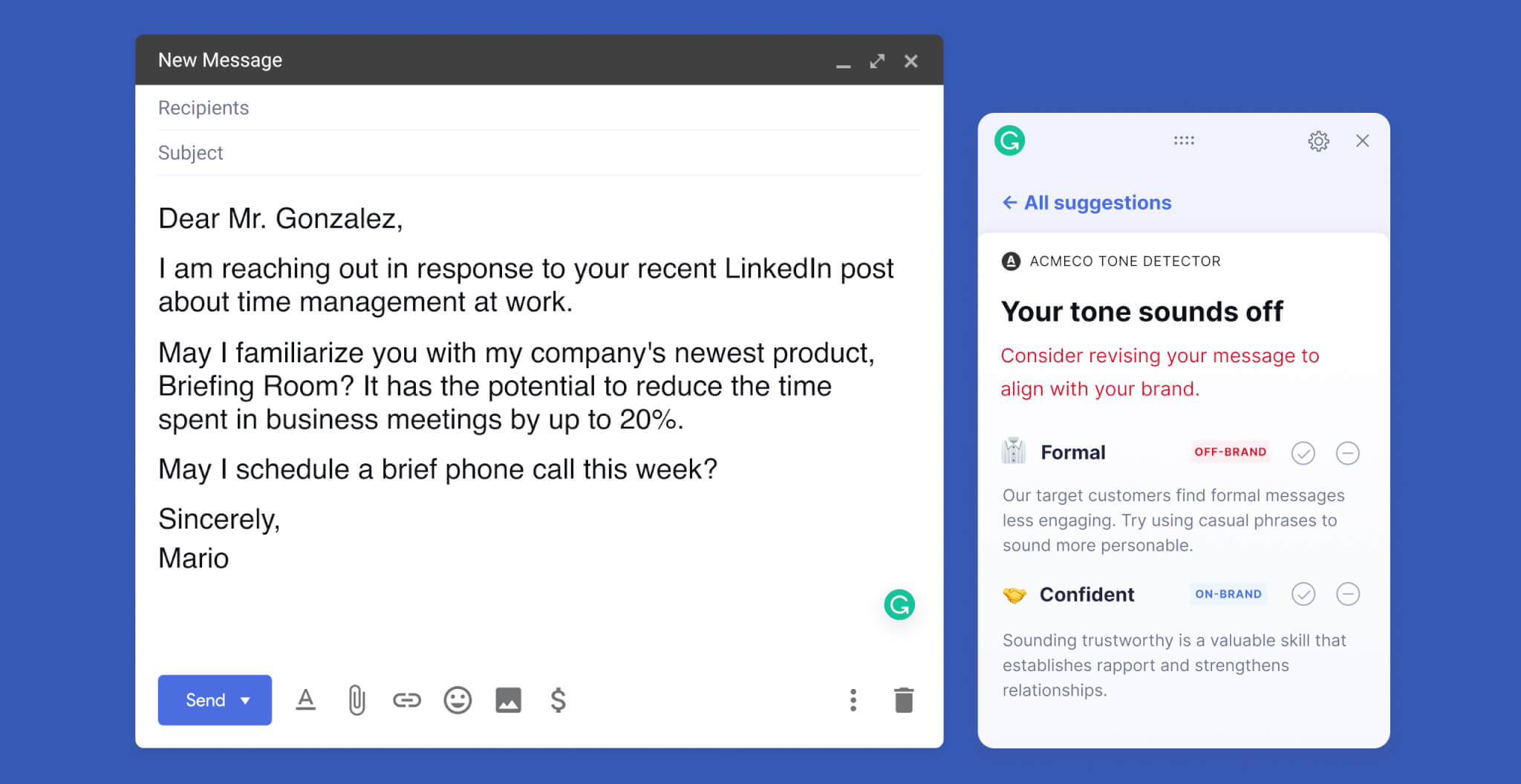 Customers using the new brand tones feature in beta saw an average 40% increase in the usage of on-brand tones among team members.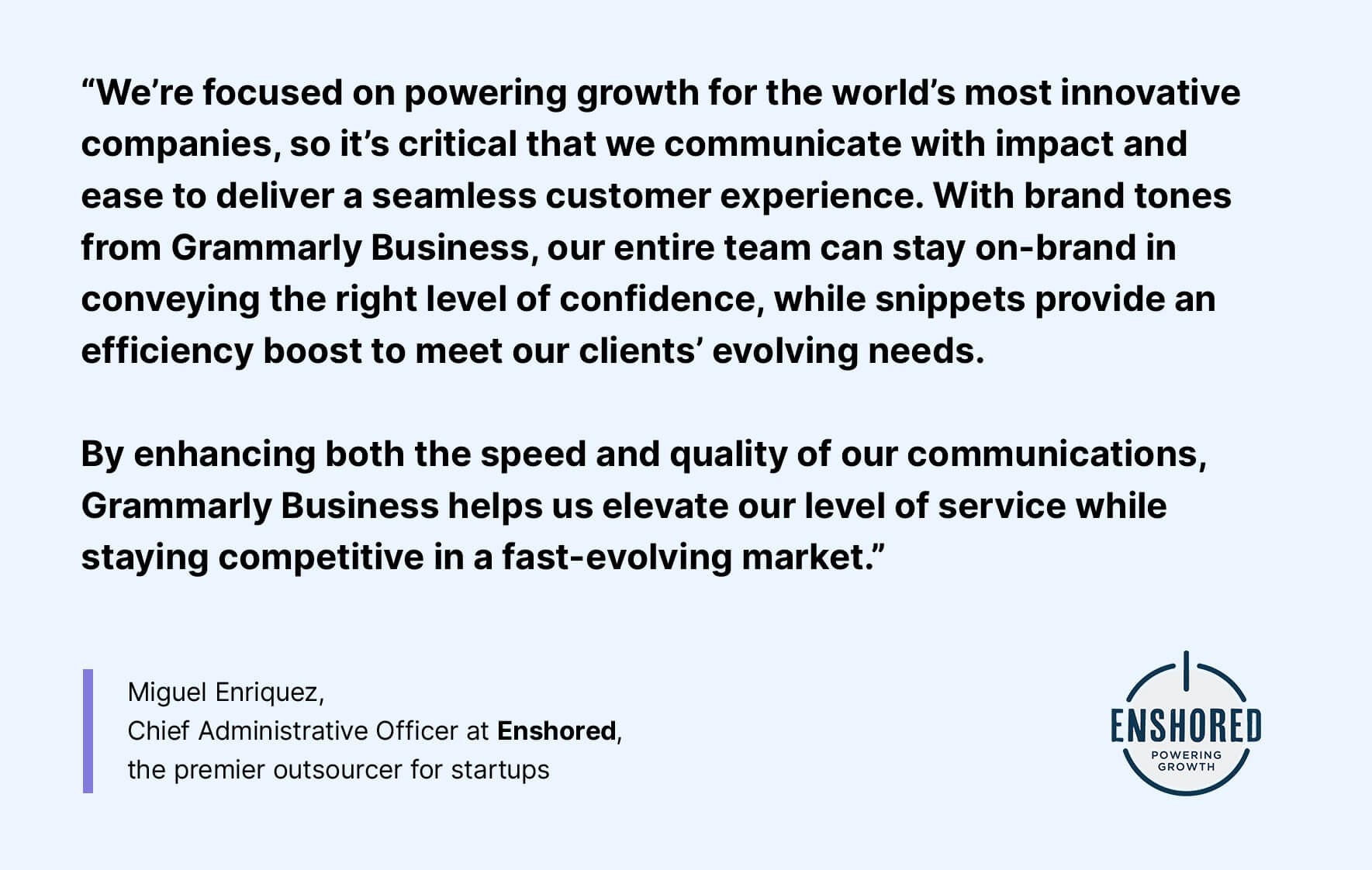 Multiple Style Guides
We recognize that teams across an organization have different needs. For instance, customer support teams use a different writing style than marketing teams, and US-based teams use different terms than UK-based teams. Multiple style guides allow each team to create consistent guidelines for various audiences. And with new account permissions, leaders can easily set up and manage all of their style guides by assigning contributor roles. 
Along with brand tones, multiple style guides empower businesses to deliver a five-star customer experience with consistent, on-brand communications. 
Drive continuous improvement with analytics
Businesses need actionable insights to drive decisions and scale their success. Our robust analytics dashboard allows leaders to make a greater connection between better communication and business efficiency.
New metrics in the analytics dashboard provide leaders with aggregated statistics to understand how many team members actively use Grammarly Business and optimize the allocation of account licenses. They can also see how often their team applies Grammarly's suggestions to show improvements over time, view the top tones detected in teams' writing, and better gauge the impact on overall productivity.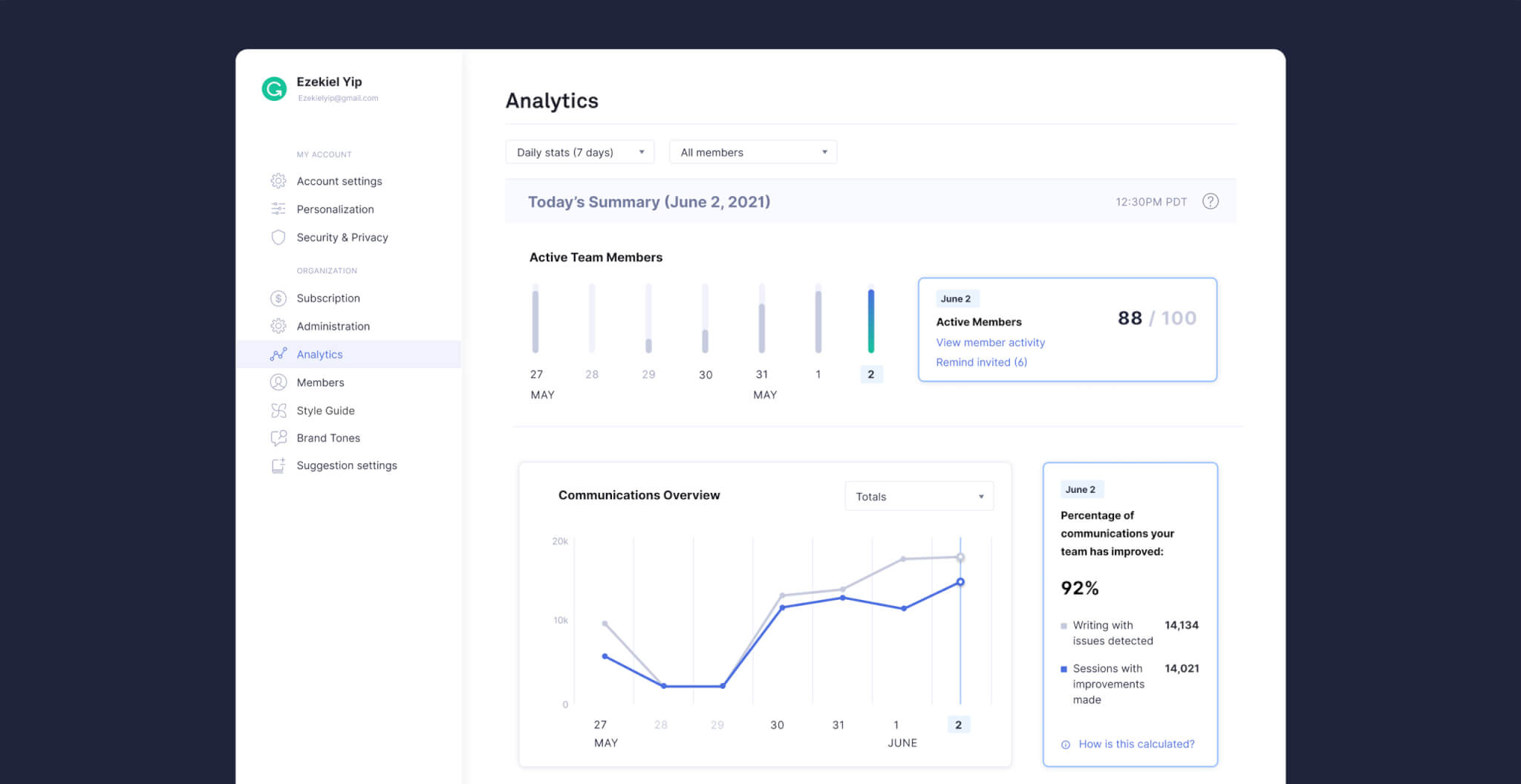 Our commitment to the enterprise
With this launch, Grammarly is doubling down on delivering an enterprise-grade communication assistant. These features, underpinned by our steadfast commitment to security and privacy, demonstrate Grammarly's evolution into a business-critical company delivering impact for organizations of all sizes.
As businesses adjust to a future of work that is ever-evolving and more reliant on digital collaboration, effective communication will be the catalyst for meeting new business demands. We're excited by how Grammarly's AI-powered capabilities contribute to a business culture of effective digital communication that delivers real results.
Snippets, brand tones, style guides, and analytics from Grammarly Business are available today. Learn more about how Grammarly Business helps companies succeed with efficient, consistent communication. Contact us to request a demo or upgrade your team today.