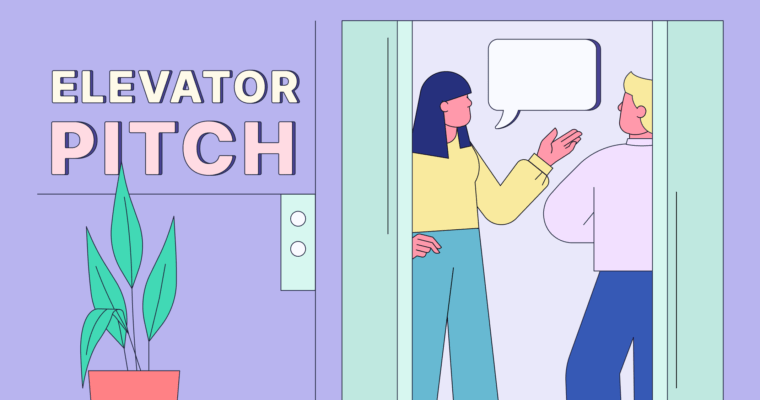 When someone asks you, "What do you do?" or "What are you working on?" do you turn into one long run-on sentence? It's OK—it can be hard to come up with a concise, insightful answer when you're unprepared. That's where the elevator pitch comes in.
This short, prepared pitch will have you explaining your work or your project with confidence in no time. When it's well written, an elevator pitch can help you ace an interview, network with key professionals in your industry, or share your passion project without rambling.
In this article, we cover how to write an elevator pitch, job interview tips, and examples of stellar elevator pitches.
Give your writing extra polish
Grammarly helps you communicate confidently
What is an elevator pitch?
An elevator pitch, sometimes called an elevator speech, is a memorable, succinct summary of who you are, what you do, what you want to do, or what you sell. Elevator pitches can be about you or about your business.
The term elevator pitch came from the idea that you should be able to explain your work or project in 30–60 seconds—about the amount of time you'd be riding in a theoretical elevator with a potential investor, editor, lawmaker, or hiring manager on their way to work or a meeting.
An elevator pitch can be a conversation starter, an interview introduction, or a sales pitch. The goal of the elevator pitch is to act as a professional introduction and a way to get a second conversation with people who can help your mission.
You might use an elevator pitch during job interviews, trade shows, sales calls, or fundraising campaigns. An elevator pitch is not a way to get hired or sell your product. Elevator speeches are a way to introduce yourself or your product that's convincing enough to win you a more persuasive conversation later.
When should you use an elevator pitch?
An elevator pitch can be used in person or online. At networking events and mixers, it's a way to quickly start a conversation professionally. You can use an elevator pitch at industry conventions or trade shows to reel in prospective clients or partners.
During job interviews, your elevator pitch is your answer when you're asked to "tell us a little bit about yourself." For fundraising campaigns, the elevator pitch can serve as a succinct mission statement to get donors' attention before they hang up.
Online, your elevator pitch can be a handy way to start letters of introduction or cold pitches. Another great place for it is in your profile on LinkedIn, Twitter, Instagram, or other social media as a polished introduction to you or your brand.
When should you not use an elevator pitch?
Selling yourself in an elevator pitch isn't right for every situation. You may find that some scenarios will require the information you share to be more nuanced. If you find yourself in an environment where formally pitching yourself is too uncomfortable or inappropriate, you might find that asking questions and casually introducing yourself will make more sense.
You also don't need to use an elevator pitch in an informal interview or at a meal. If someone in these situations wants your pitch, they'll ask you for it. These are generally casual, get-to-know-you situations.
What are the benefits of using an elevator pitch?
If you've ever been nervous at any of the events we mentioned above, preparing an elevator pitch can bring you peace of mind and confidence. When you write a strong elevator pitch and practice it, you won't have to worry about rambling on or making sure you're perceived the way you intend.
An elevator pitch can remove self-conscious feelings because you know you've prepared exactly the information your audience wants. Plus, a great elevator speech can open new opportunities for you!
What to include in an elevator pitch
Your elevator pitch should contain four critical pieces of information: an introduction, your goals, your value, and a hook. Using these four elements, you'll be able to craft a compelling and memorable elevator pitch.
Here's a brief elevator pitch outline.
 Introduction: Who you are and what you do.
Goals: Your mission or goals.
Value: What sets you apart? Where do you provide value?
Hook: One fun fact, statistic, result, or valuable nugget to pique your audience's interest.
How to craft an elevator pitch in 6 steps
The easiest way to compose an elevator pitch is to free-write your ideas first and edit them later. You can condense your concepts and cut out unnecessary words once you have a good start.
Each portion of your elevator speech should be one or two sentences. Your pitch should be able to be read out loud in just 60 seconds or less. Here's our six-step process for writing an elevator pitch.
1

Brainstorm

First, get all of your ideas for your elevator pitch down on paper. Write down a few sentences or ideas for each of the four elements listed above: introduction, goals, value, and hook. Identify your goals or mission and write out what you do in long form.

Consider these questions when you brainstorm.
Where do you bring value to the table?
If you're pitching your business or product, who's your ideal customer? What can you do for them?
What exciting statistics can you include?
What problem do you solve?
What results or benefits does your product bring to your customers?
What are your goals? What is your mission?
2

Introduction

In your introduction, explain who you are and what you do. Go through your brainstorm and cut this segment into one or two sentences.
3

 Goals and challenges

State your mission or goals. Alternatively, you can include challenges you or your industry faces. Why do you do what you do? Who do you help? What do you want to do if you're not already doing it?
4

 Value

How do you solve challenges or problems? What sets you apart? How do you help your customers or company? What makes you unique?
5

Hook

Here's where you'll reel your audience in. Add in one fun fact, statistic, or useful tidbit of information that will pique the listener's interest. Whether it's a potential customer, hiring manager, investor, or peer, you want them to be asking for more when you complete your elevator pitch.

You can use the hook at the pitch's beginning or end. Your hook might interest your audience if you're cold-pitching and use it at the beginning. If you're using your speech at a networking event or job interview, putting your hook at the end will spark a longer conversation.
6

 Edit

Now's the time to condense your speech. Your speech needs to be 60 seconds or less. Thirty seconds is preferable. Practice your speech out loud and continue removing anything unnecessary or unconvincing.
Things to avoid in an elevator pitch
Here are five things you should avoid when you write your elevator speech.
1  Don't use too much jargon. Some people will be impressed by jargon, but it confuses many others.
2  Don't speak too fast.
3  Don't focus too much on remembering the exact words; it'll sound canned. Keep your tone conversational and remain present.
4  Don't give your elevator pitch to someone who doesn't want to hear it or who is in a hurry. Save it for more formal situations.
5  Don't use a one-size-fits all approach. Update your pitch if your situation changes.
Types of elevator pitches for different scenarios
You'll likely find yourself using your elevator pitch in many different scenarios. It can be helpful to develop an elevator pitch tailored to each situation you'll encounter.
Here are six common types of elevator pitches you might use. Some can be used in many scenarios, while others are situation-specific.
Interview: Your elevator pitch should be about you and your goals for a job interview. Use it at the beginning of the interview, when you're asked to introduce yourself.
Persuasive: Start by asking a question that points out a problem, empathize with their problem, present your solution, and show the value of your product or expertise.
Business pitch: Pitch your business. What you do, why you do it, how you do it.
Statistical: Start or end with a standout statistic to reel the audience in.
Origin story: Share your company's or your story in a few sentences, along with a fact or statistic that sets you apart.
Client meeting: Use an elevator pitch to introduce a new idea, rebrand, or product in a client meeting.
Elevator pitch examples
Here are three examples of effective elevator pitches.
Persuasive elevator pitch
Did you know the average office worker spends an average of one and a half hours each week just on scheduling meetings? In the US, that's $1.8 billion a week in wasted productivity. That's why One Meet is a game changer. You'll only spend 3 minutes syncing our scheduling app with your preferred calendar app. Then, people can schedule a meeting with you on their own!
Origin story elevator pitch
Anna and I went on a backpacking trip in 1979. Back then, ultralight backpacking, especially for women, was unheard of. We wanted a way to get women outside without breaking their backs or their bank accounts. That's why we developed Weightless Gear. We've designed comfortable, lightweight backpacks specifically for women backpackers. Nothing makes us happier than seeing women get outside comfortably and affordably.
Job interview elevator pitch
I graduated from college in May with a degree in journalism, and I've always been passionate about journalism as a public service. I was the editor-in-chief of my college's newspaper, and I grew our paper from a monthly publication to a weekly one with help from donors, student reporters, and our staff supervisor. I'm on the hunt for a fast-paced job that will utilize my journalism skills and give me a chance to learn from editors and correspondents in the field.
Elevator pitch FAQs
What is an elevator pitch?
An elevator pitch is a memorable, succinct summary of who you are, what you do, what you want to do, or what you sell. Elevator pitches are also called elevator speeches.
Why should you use an elevator pitch?
Elevator speeches are a compelling way to introduce yourself or your product. Using an elevator pitch can give you confidence and peace of mind if you get nervous about introducing yourself or your business.
When should you use an elevator pitch?
You should use an elevator pitch during job interviews, trade shows, sales calls, or fundraising campaigns. Online, you can use your elevator speech to start cold pitches or show who you are on social media.