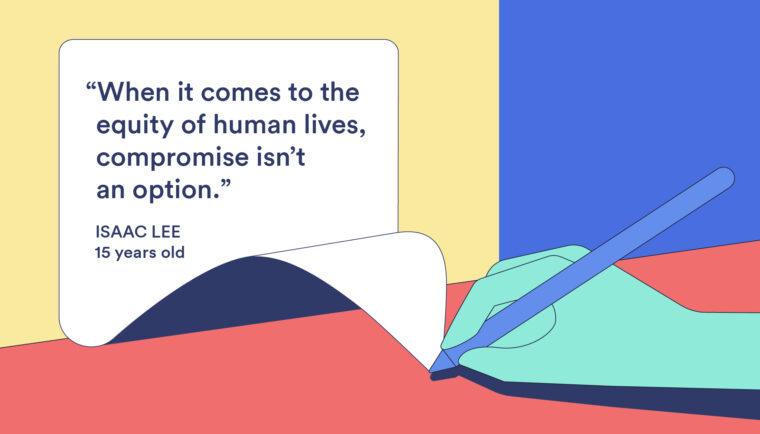 At Grammarly, we believe that writing has the power to connect and inspire—to express our deepest convictions and give shape to powerful, necessary ideas. That's why this summer we were so proud to partner with Frederick Douglass Family Initiatives on the Remedies Blog Contest.
FDFI, an anti-racist organization founded by direct descendants of abolitionist Frederick Douglass and educator Booker T. Washington, asked young people across the United States to write essays about how to address racial prejudice today.
The contest prompt was inspired by Douglass himself, who wrote in his 1881 essay "The Color Line" that racism is a "moral disorder" and argued elsewhere that the disease may only be cured "by the right use of remedies." While each contest finalist brought a distinct, valuable perspective to the issue, there were some themes that emerged. Many saw a relationship between the invasiveness of the COVID-19 pandemic and of systemic racism; many pointed to the need to reform education in both structure and in curriculum.
All the finalists' essays are incitements to action and meditations on racism from which we all—adults and children of all ages, from all backgrounds—can learn. Winners, who were announced during a July 4 webcast, each received a cash prize and a free yearlong subscription to Grammarly Premium. (You can read every winner's essay in full at the FDFI site.)
In the spirit of the contest, which asked these young writers to seek a cure, we're offering excerpts from their essays in sections that follow medical evaluation: from assessment to diagnosis—and finally into treatment. 
Assessing the symptoms
The Remedies Blog Contest grand prize winner is Isaac L., a 15-year-old from Irvine, California. His essay "A Letter to the Schools Who Taught Us Otherwise" examines the failures he has perceived in his own education and builds into a poignant and nuanced indictment. Here is the searing middle section of his essay:
When I was 8, Black students made up 16% of students. It didn't matter that they also made up 34% of expulsions; ​we were too busy celebrating a madman's colonial explorations of genocide. Or, as you called it, ​Columbus Day.

When I was 9, you brought in police officers. It didn't matter that they shoved a child to the ground; ​we were too busy learning about the enslavement of the Asian-immigrant population​. Or, as you taught it, ​the Transcontinental Railroad. 

When I was 13, you told me slavery was illegal. It didn't matter that slavery lived on through the prison complex system; ​we were too busy learning how lawmakers paved the way for legal slavery. Or, as you put it, the ​13th Amendment​. 

You did what you thought was best for us, and I applaud you for trying. But there is no middle ground. When it comes to the equity of human lives, compromise isn't an option. But you didn't care. Columbus slaughtered for European expansion; you made him an "honorable explorer." Slavery continued for 400 years; you said it was "outlawed." Martin Luther King was a provocative protestor; you rebranded him as a mild motivator. 

At every step, you racially suppressed our history. You whitewashed our textbooks, glorifying the white man. Like a disease, you attacked us at our roots, conditioning us to become as ignorant as the ones who oppressed our ancestors. And like a virus, racial prejudice is embedded in all of us.
The failure of history class to address racism also comes up as a symptom in "Redefining History: A Remedy for Racism" by 15-year-old finalist Xuan-Anh L. B.:
When I was in first grade, we made paper plate versions of Christopher Columbus' face. And every year of elementary school we did the same thing. Christopher Columbus out of toilet paper rolls, Christopher Columbus out of popsicle sticks. Not once did they ever teach us that this man we were immortalizing in sloppy cardboard crafts was a racist, who oppressed the Native people. We were told he founded our country and we celebrated him…Why is it taboo to talk about racism directly, but it clearly exists?
And it's not just history education that's a problem, writes 14-year-old contest winner Tasneem G. of Lexington, MA. In "Educate, Participate, and Be Heard!" she points to an alarming lack of civic knowledge, leading to passivity in the face of racist policies.
As a daughter of immigrants, I never understood how the government in my town worked. What was the difference between a city council and a board of selectmen? Between a ward and precinct? Who assigns how much funding schools get? How do pieces of legislation get introduced in Town Hall?…

If we don't even know how to affect change in the most basic level—local government—how do we expect there to be change in the federal government? If we are passive bystanders to our communities enacting racist policies, it is only expected that when the federal government enacts racist policies they will go unchecked.
Another important symptom to note—about the persistence of enslavement in the United States—comes from 19-year-old contest winner Konttessa C. In her essay "Incarceration, A Symptom of Racism," she writes: 
Slavery was never abolished in the United States. It was reformed in the thirteenth amendment and renamed "incarceration."…The thirteenth amendment itself states that slavery and involuntary servitude may exist as punishment for crime. While many organizations and court cases have advanced prisoners' rights, the purpose of the incarceration system remains the same. To punish, dehumanize, and deprive one's liberty, rather than rehabilitate.
As 18-year-old finalist Sabrina Y. writes, the signs of a racist society are not only bound to school and education. She sees them in subtle but devastating everyday actions of those around her. Her poetic essay "The Pandemic" includes a catalog of harmful influences.
Racial prejudice is a complex disease to cure. One that'll take variable time and infinite patience to nurture away. Because that's where it all began. Not by genetics, not by birth, but by nurture…

Some recent symptoms I've logged include:

• An easily angered father, bitter to strangers you've never met. Peculiar, until you start to see a pattern.

• A prim-lipped mother who casually remarks on the concrete "nature" of others.

• Slurs scattered in the media you uphold.

• Laughs, shared across like-minded friends.
Diagnosing the disorder
Once assessed, the symptoms of racism require full identification and diagnosis—for which many of the Remedies writers used powerful medical metaphors. 
In "When Reparations are Medicine," 14-year-old finalist Leo P. examines how racism has mutated as a cancer through American history:
Intergenerational trauma is a disease, and the lived experience of generations of Black Americans whose ancestors first arrived, enslaved, in 1619. Slavery is the cancer-causing mutation in the American DNA, and the genetic determinant of the nation's racist psychology: a poisonous, psychotic disorder borne out of violence that imagined a race of people as contagion. Like any cancer, there have been moments in American history when racism seemed to go into remission. But it always returned, and with the recurrence of an aging sickness older than the nation itself came amnesia.
In "Towards a Cure," contest winner Bakari W., a 21-year-old from Washington, DC, sees a similar pattern—as well as a need to address the collective context for racism's insidious perseverance.
We can conceptualize the disease of American racism in two ways: as a pandemic affecting a population of individuals, or as a sickness infecting the collective body of the country. These two lenses call for two self-administered treatments, both of them necessary, distinct, and intertwined…

The white supremacist ideas currently causing the most visible symptoms of this country's illness don't exist in a vacuum. There are pre-existing conditions in America which ensure that even if one form of racism goes into remission, another has already metastasized. That even once we've developed antibodies for one instance, another has already evolved.
Giovan M., an 18-year-old contest winner from West Henrietta, NY, builds on this idea in "A Contagious Virus" to examine why the viral nature of the problem means small measures won't lead to a cure.
Once we realize that racism is like a contagious, viral disease, it becomes obvious why current measures to restore justice aren't working…All of these remedies are akin to mere antibacterials attempting to kill a virus; they sound advantageous, but they're the wrong type of remedy…The problem is that there is an inequitable bias against people of color deeply entrenched inside all of us. Yes, we are all infected, and we need more than just good-intentioned antibacterials to ameliorate this pandemic.
In the soaring section that opens her essay "A Strong Immune Response to Oppression," 18-year-old finalist Arianna M. of New Salisbury, IN, crystallizes the diagnosis of our collective national body—and makes a forceful case for why treatment can't wait.
We can't breathe, as a nation, when the disease of racism is killing any one of us. Every time an individual dies the entire body is hurt, and, despite the moments when the weight of oppression seems to lighten, racism has always survived our attempts to expel it from our country.

It is too late for a vaccine, the disease is already ravaging our body, but that doesn't mean that all hope is lost. Like any disease, it can be overcome, and perhaps the current protests are a sign of our immune system fighting back. Most diseases can be defeated given enough time, but time means more Breonna Taylors, George Floyds, Ahmaud Arberys, and too many others to list. We don't have time, so we need treatments and cures.
Treatment options
With such a complex diagnosis, it's not surprising that the cures offered by the young writers of the Remedies contest are varied in subject and scope. 
In "How To Cure the Disease of Racism," 22-year-old finalist Aaliyah W. of Lithonia, GA, suggests a business idea with a detailed plan: "a Black-led organization that specializes in diversity and inclusion training." The training system she outlines is particularly thought-provoking, given how many organizations and companies across the United States—including Grammarly—are taking necessary steps to reflect on these issues to better promote diversity, equity, and inclusion.
The training company will strive to accomplish the following: training organizations on how to properly integrate diversity into their employment opportunities, setting a requirement for a base level percentage of diversity, and maintaining connections with each organization that passes the offered certification as potential employment for Black qualified workers. The staffing department will ultimately increase cultural integration and serve as the physical application of abolishing systematic racism.
In her essay "Imagine," 18-year-old finalist Amanda L. makes specific recommendations for adding Black history in curricula across the country.   
It is time we learn about Charles Drew (inventor of the blood bank which saved countless lives), Garret Morgan (inventor of traffic lights and gas masks, which saved countless lives), Sojourner Truth, and Harriet Tubman, (strong, powerful women; leaders for the world). It's time we read more Toni Morrison, more MLK, more Frederick Douglass, more Maya Angelou.
Alana Inez K., a 20-year-old finalist, extends the call to education and argues for "incremental, localized, community-driven change" to ensure that "all young people have equal access to educational opportunities that mold the systematic, multiscalar, eclectic thinkers of our future."
13-year-old contest winner Eamon C. agrees—he argues that it's important to level the educational playing field, reflecting on his own experience in "Remedies for Racism Essay":
As a white person in a majority African-American school, I understand how integration is a very important part of fighting racism. I'm somewhere where I can see what's going on. Being in a diverse community means I can learn and work better because I see everyone is different, and I see what that adds to our community. The diversity means everyone has different ideas based on their background and experiences. Unfortunately, many schools are not as diverse as they should be, and this is based on the history of racist housing and city planning.
In her striking essay "A Plan for Change," Gladys G., an 18-year-old contest winner from Oklahoma City, OK, ties together needs for reform in education curriculum, funding, and responsibility. She acknowledges that even after "white slave owners prevented the enslaved from reading and writing," education for the Black community was suppressed by schools being given a "fraction of the funding as white schools." From her penetrating analysis to her heartbreaking yet hopeful last sentence, she leaves us all with crucial ideas to consider—and reminds us that powerful words can incite action and change.
For so long, we have fought back with peace, violence, and our words, but the most powerful tool is education. America has used the power of indoctrination to keep racism alive. Our history is not being told to the extent that it needs to be. Children are not aware of how this country was built on the backs of Black and Native people. I believe implementing changes in the education system and its curriculum will change everything…

I believe I have found the solution, but it is not on the Black community to cure racism. We can express our demands and point our oppressors in the right direction, but it is on them. When people become educated on our issues and our history, we will finally see change. When people understand the history of lynching and the terror on our communities and they don't automatically deem those murders a suicide, we will see change. When people stop indoctrinating their children to hate Black people, we will see change. When the education system decides to do its job, we will see change. I hope I am alive to see the change come.