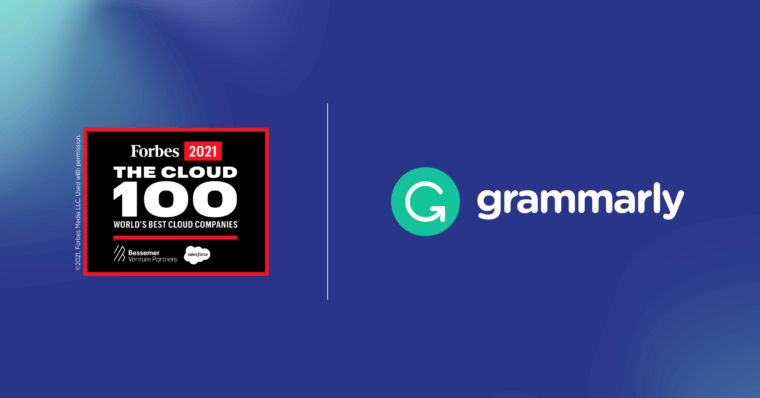 For more than a decade, Grammarly has been in the business of helping people communicate clearly and effectively. The need for strong communication has been especially acute over the past year and a half as individuals and companies seek to stay connected while working remotely. Grammarly aims to meet that need by harnessing the power of natural language processing and machine learning to help people communicate with confidence. Today we're proud to share that Grammarly has made the 2021 Forbes Cloud 100 list for the second year in a row! 
"The Forbes Cloud 100 is a roundup of smart, innovative companies breaking new ground in cloud computing, and we're honored to be included on such a formidable list," said Grammarly's Global Head of Product Rahul Roy-Chowdury. 
Forbes compiles the list by reviewing submissions from hundreds of cloud startups and private enterprises and evaluating them in four areas: market leadership, estimated valuation, operating metrics, and people & culture. The vetting is also by a judging panel of thirty-four public cloud company CEOs who assess and rank their private company peers. 
Join us!
Shape the way millions of people communicate
"The companies of the Cloud 100 list represent the best and brightest emerging companies in the cloud sector," said Alex Konrad, senior editor at Forbes. "Every year, it gets more difficult to make this list—meaning even more elite company for those who do." 
Being listed among the Cloud 100 signifies not just what we've achieved, but where we're going as we continue to break new ground. Our team has been honing the way we deliver sophisticated technology to millions of people with one mission in mind: to improve lives by improving communication. For instance, our latest offerings through Grammarly Business include new features focused on ease, efficiency, consistency, and customization so companies can improve outcomes by turning effective communication into a competitive advantage.
Every day, we're helping 30 million people and 30,000 professional teams better understand one another. We're pushing the limits of AI-powered writing assistance today so that tomorrow people can communicate as intended, wherever they type.