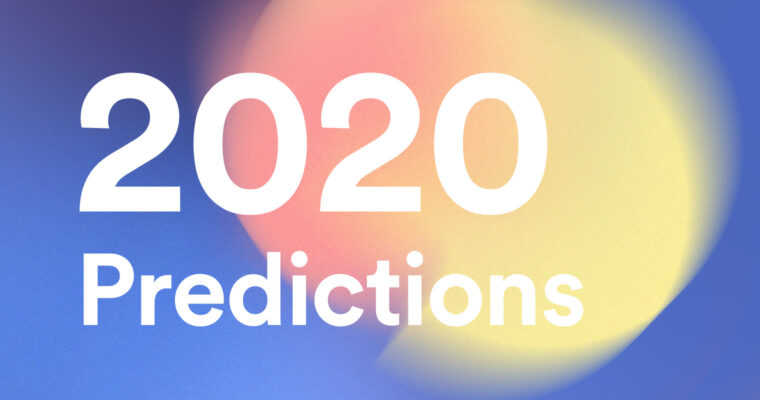 In 2019, writing assistant technology grew smarter, more popular, and more widely recognized as a valuable tool for novice and professional writers alike. 
This year, artificial intelligence will continue to power more innovation in communication tech, helping everyone from overworked college students to teams of hard-working support agents achieve their goals. We chatted with a few of Grammarly's experts in the space to understand exactly how artificial intelligence, professional communication, and the tech industry as a whole will change in 2020. Here's what they said.
1

Writing will continue to be a valuable professional skill.

Dorian Stone, Grammarly Business General Manager, has bright predictions for the value of writing at work in 2020. According to Stone, "Written communication will become increasingly valuable, and the ability to communicate ideas and rationale clearly and effectively will become critical to making the right decision quickly, the first time."

Recent data supports Stone's claim. According to a recent study, three out of five people have been embarrassed by an email they've sent in the workplace, and three out of four are worried about being misunderstood. Nailing the wording of a work email could be the difference between a quick and easy decision and a professional misstep.
2

Artificial intelligence should help humans—not replace them.

Much has been said about automation replacing jobs, ranging from the ever-vigilant telemarketer to a beloved neighborhood bartender. Some analysts have estimated that artificially intelligent machines could replace up to forty percent of jobs, and many posit that the workforce will look very different in as soon as fifteen years.

Because of this, many professionals—and even students as young as eighteen—are concerned about being automated out of a job.

But Brad Hoover, Grammarly CEO, thinks AI should aim to help people, not replace them. According to Hoover, "The biggest gift technology can give is not automation but coaching, and tech companies should take this seriously when innovating."

Hoover cites Grammarly's own product as an example. "Grammarly's writing assistant aims to help our users learn to be better, more empathetic communicators, rather than communicating for them," Hoover said. "At the end of the day, technology shouldn't think for you—it should help you think better."

Write better in 2020.

Grammarly helps you learn while you write.
3

Machine learning will enable more inclusive language.

Courtney Napoles, Language Data Manager at Grammarly, cites interpretability as an exciting area of machine learning that will help writing technology grow and develop. According to Napoles, "Interpretability has significant implications for improving machine learning model quality by allowing better debugging, but what I'm most excited about is its applications for identifying bias in the models so we can improve the models and make them more inclusive."

Bias in both language and AI are not new topics, and significant research has been done on both in previous years. But in 2020, there is an opportunity for machine learning to be a part of the solution, rather than the problem. "One trend I'm really excited about is instilling more human intelligence into AI," Napoles said.
4

Responsible innovation will focus on helping people.

In November 2019, the World Wide Web Foundation created its Contract for the Web—a set of nine principles to help governments and other regulatory bodies ensure the internet is bettering humanity. Although this publication was a milestone in its own right, it's also a part of a larger shift in the technology landscape to focus not just on building new algorithms, platforms, and apps, but ethical innovation.

According to Brad Hoover, there is only one way for tech companies to remain ethical:
"Responsible innovation begins with a simple question: Does our technology aim to empower people—or replace them?"