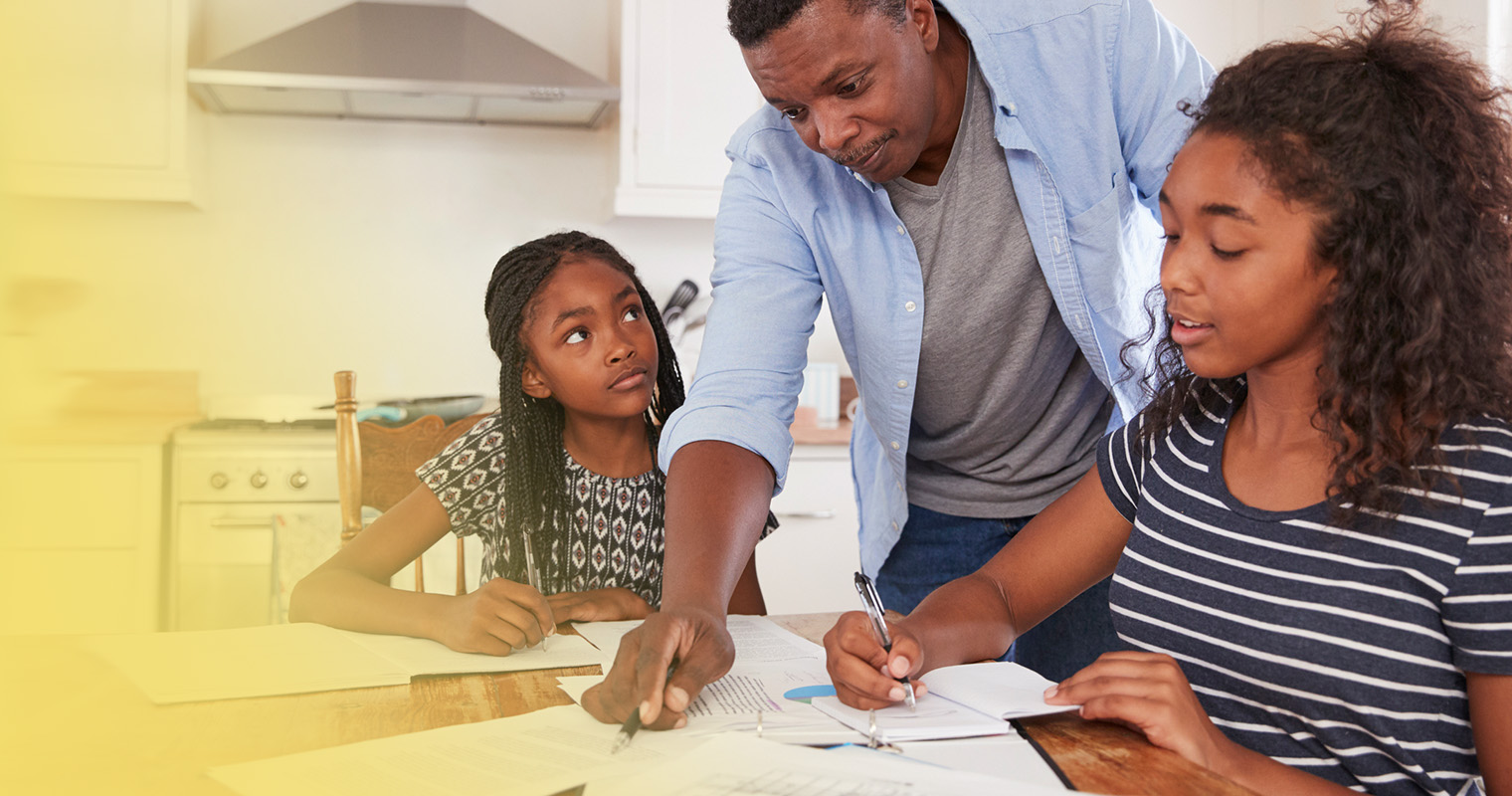 Teaching is a tough gig. And with a new distance learning school year upon us due to the COVID-19 pandemic, many parents are feeling the pressure to provide that kind of support to their children, often on top of a full-time job. That's no easy feat, especially when it comes to helping them refine their writing skills, and parents are looking for ways to best facilitate their children's learning.
It's tough to help your student write their best.
Grammarly makes it easier.
Laura Brief, CEO of 826 National, a nonprofit which is the largest youth writing network in the country, notes four common obstacles young writers face in these times:
1 Making space for writing and creativity
2 Keeping writing organized
3 Maintaining the desire to work on their writing
4 Getting the same kind of community and feedback they used to get when they were in a more social environment
Brief says that parents can do some simple things to address these challenges, like dedicating a space—whether a desk or a comfy seat—for their child to sit and write, giving their kid a journal or folder for their written work, and providing individualized feedback, praise, and encouragement.
We can also reframe the above challenges as opportunities, with parents now being in a unique position to help their kids maintain a positive attitude toward the act of writing. "We know writing changes the course of lives. It shifts professional trajectories, academic trajectories, and it shifts communities," says Brief, who is a parent. "Writing is not an equitably distributed tool. And whether or not you have access to it is very much dependent on the classroom you sit in, or now, the house you live in."
There are many digital tools that parents can use to help their kids refine their writing skills. Here are six resources for parents to consider:
1

Best idea generator: Scholastic "Story Starters"

This generator provides innovative prompts for sci-fi, fantasy, adventure, and "scrambler" genres and it caters to kindergarten through sixth grade (you can set the grade level to get the most developmentally-appropriate prompts). It's an interactive tool that's disguised as a game, which can be a definite plus for engaging younger kids. The Mad Libs-esque nature of the generator makes the prompts extremely creative. For example, one prompt might say, "Write an invitation to a birthday party for a glowing miner who controls a fleet of starships." Or another might read, "Write a postcard from an Arctic inventor who rides a giant sloth to work."
2

Best self-publishing resource: My Story School eBook Maker

Primarily aimed at children ages five to 12, this app lets users create illustrated digital books that can incorporate audio recordings. Kids can easily navigate the simple interface, rearranging pages as needed, and using the in-app sticker packs to elevate their work. It also allows for multiple authors, which can bring in an element of teamwork to the writing and publishing processes. Be aware, however, that it's only available on the iOS App Store for iPhone or iPad and it costs $4.99.
3

Best collaboration tool: WriteAbout.com

WriteAbout.com can help fill the gap that's been left by the switch from in-person classes to online learning. It has teacher-monitored communities for members which also give young writers a built-in audience of readers, whether they're writing creatively or not. On the flip side, this community feature can also serve as a source of inspiration for their personal and school projects.

Another interesting and useful part of the site is the fact that the site focuses on helping young writers learn how to be a writer in the current digital landscape, covering topics like writing for your audience and getting engagement. Those are vital skills for those looking to pursue a career in writing.
4

Best organizer: Bubble-up Classroom's Outline Generator

Creating structure is a basic yet vital part of the writing process. For students, that often means outlining an essay. This generator simplifies the process, and through repeated use, it can help kids increasingly understand what their main points are and how to stick to them. That means better, more cohesive writing can occur over time. Students can work on aspects of the writing process ranging from the general, like the topic at hand, to the specific, like their position and supporting evidence, to help them craft strong essays.
5

Best writing process guide: Time4Learning's Odyssey Writer

Getting a young writer to learn how to edit their own writing is a challenge in itself. Odyssey Writer helps with that by guiding students through the process of writing, including making revisions. Students can use the self-assessment rubric to help them understand how their first draft is looking, check for common errors, and see what changes might need to be made to improve it. There are also interactive lessons, printable worksheets, quizzes, and tests available through the tool. Be aware, however, that this resource is a paid option.
6

Best all-around writing resource: 826 National

826 National works with students ages six to eighteen on their writing, and offers 826 Digital, their online platform, as a valuable resource for writing curriculum for teachers and parents. Not only is it helpful to students, but also it can bring parents into the writing process and allow them to collaborate in a helpful and supportive way. 826 Digital operates on a pay-as-you-wish model. While going into its nationwide physical chapters isn't an option during this time of social distancing, 826 National's digital platform provides resources, making it an ultra-inclusive support option.

Another interesting aspect of 826 National is its emphasis on publishing, which is a fantastic way to boost students' confidence in their writing skills. Having that physical representation of their work and all of the time and effort that went into creating it can help keep them interested and engaged in their writing for years to come.