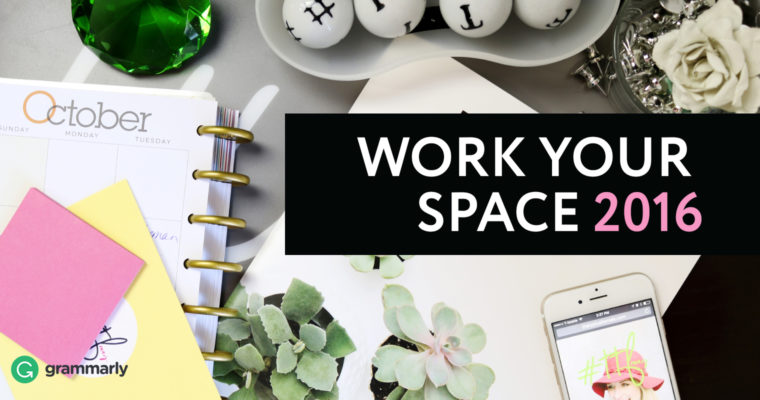 Imagine you're sitting at your desk, trying to pound out that essay, report, slide deck, or novel, and at the last second a thought comes to you. At first, you think it's just the alluring voice of procrastination, but then you have a realization—your desk is beautiful. No, not beautiful: gorgeous.
At Grammarly, we love an attractive workspace, and we know that many of our users have some downright handsome desks. So why not show off a little?
That's why we're hosting Work Your Space 2016, a contest to determine the best bureau, the champion cabinet, the study spot to end all study spots.
How It Works
Send us your workstations! DM us your desks! Cable us your escritoires! You can enter Work Your Space 2016 by adding the hashtag #WYSContest to a picture of your workspace on Twitter, Instagram, Tumblr, or in this very comment section. Our panel of desk-loving writers will look through your submissions and pick three finalists. After that, it's up to you, dear workspace nerds, to choose the Work Your Space 2016 Champion. The owner of the chosen workspace will get one free year of Grammarly Premium as well as eternal bragging rights.
Need inspiration for you productivity-inspiring pics? Check out this board of desks we love.
How to Win
1. Take a picture of your desk at its best. 2. Go on Twitter, Instagram, or Tumblr. (Or scroll to the comments section below.) 3. Post your fine-looking photo with the hashtag #WYSContest. 4. Cross your fingers. 5. Check back here in a week for the three Work Your Space finalists and vote for your favorite!
GRAMMARLY PHOTO CONTEST OFFICIAL RULES
NO PURCHASE NECESSARY TO ENTER OR WIN. A PURCHASE DOES NOT IMPROVE YOUR CHANCES OF WINNING.
THESE OFFICIAL RULES CONTAIN AN ARBITRATION AGREEMENT, WHICH WILL, WITH LIMITED EXCEPTION, REQUIRE YOU TO SUBMIT CLAIMS YOU HAVE AGAINST GRAMMARLY TO BINDING AND FINAL ARBITRATION. UNDER THE ARBITRATION AGREEMENT, (1) YOU WILL ONLY BE PERMITTED TO PURSUE CLAIMS AGAINST GRAMMARLY ON AN INDIVIDUAL BASIS, NOT AS A PLAINTIFF OR CLASS MEMBER IN ANY CLASS OR REPRESENTATIVE ACTION OR PROCEEDING, AND (2) YOU WILL ONLY BE PERMITTED TO SEEK RELIEF (INCLUDING MONETARY, INJUNCTIVE, AND DECLARATORY RELIEF) ON AN INDIVIDUAL BASIS.
By participating in Grammarly Photo Contest (the "Promotion"), each entrant unconditionally accepts and agrees to comply with and abide by these Official Rules and the decisions of Grammarly, Inc. ("Grammarly"), which are final and binding in all respects. Grammarly is responsible for the collection and selection of entries and the Promotion's overall administration. Entrants should look solely to Grammarly with any questions, comments or problems related to the Promotion. The Promotion is in no way sponsored, endorsed or administered by, or associated with Twitter, Instagram or Facebook. You are providing your information to Grammarly, and not to Twitter, Instagram or Facebook.
1. ELIGIBILITY: The Promotion is open only to legal residents of the United States who are 18 years of age or older. VOID WHERE PROHIBITED OR RESTRICTED BY LAW.
Entries are limited to individuals only; commercial enterprises and business entities are not eligible. By participating in the Promotion, each entrant accepts the terms and conditions stated in these Official Rules, agrees to be bound by the decisions of Grammarly and warrants that s/he is eligible to participate in the Promotion. Failure to comply with the terms and conditions in these Official Rules shall result in disqualification, and will allow Grammarly to select an alternate winner. Employees, independent contractors, officers, and directors of Grammarly, its affiliates and subsidiaries, and its and their respective advertising, promotion, and fulfillment agencies, and their immediate family members and persons living in the same household, are not eligible to participate in the Promotion.
2. TIMING: Promotional period begins on October 17, 2016 at 8 a.m. PT, and ends October 23, 2016 at 11:59 p.m. PT ("Promotional Period"). To be eligible to win, your entry must be submitted online and received by no later than 11:59 p.m. PT October 23, 2016 (the "Promotion Closing Date").
3. HOW TO ENTER: To enter the Promotion, you must: Log into your Twitter account (www.twitter.com), Facebook account (www.facebook.com) or Instagram account (www.instagram.com). If you are not already a member of any of these social media sites, visit the applicable site and register for a free account; Follow Grammarly on the social media channel through which you are entering the Promotion; and Post or tweet on one of these social media sites a picture of the place where you work or study by the Promotion Closing Date. Include the hashtag #WYSContest.
By entering the Promotion, you agree that you have read and will abide by these Official Rules. Limit to one (1) entry per person during the Promotion Period, regardless of method of entry. Participation in the Promotion is voluntary and does not require you to purchase anything from Grammarly. No automatically or mechanically produced entries will be accepted. To be valid, entries must be received by Grammarly by 11:59 p.m. PT on the Promotion Closing Date. Proof of submission of an entry does not constitute proof of receipt by Grammarly.
Entries that are submitted in connection with the Promotion will only be eligible if such entries do not contain content that is unlawful, hateful or obscene, in Grammarly's sole discretion, and do not include any other identifiable individual other than the individual participant unless prior express consent is obtained from such individual. Grammarly will allow only those entries that meet all of these criteria, in the sole discretion of Grammarly, to be posted.
4. ENTRY CONDITIONS: The authorized account holder of the email address associated with the social media account used to enter the Promotion is deemed to be the entrant. The "authorized account holder" is the natural person assigned to an email address by an internet access provider, online service provider or other organization responsible for assigning email addresses for the domain associated with the submitted address. Each potential winner may be required to show proof of being the authorized account holder.
5. WINNER SELECTION: Grammarly will choose the three (3) entries with the highest score among all eligible entries received by the Promotion Closing Date based on the following criteria: Organization of the work or study space (40%); Aesthetic of the work or study space (30%); and Creativity (30%). . These three (3) entries will be posted on Grammarly's blog located at grammarly.com/blog between 6 a.m. October 23, 2016 and 11:59 p.m. October 23, 2016 (the "Voting Period"), during which time Grammarly's followers will vote for the entry such follower deems the highest-scoring entry based on the criteria set forth above.
In the event of a tie between two or more entrants, the entrant whose entry received the highest score for Organization of the work or study space, as determined by Grammarly, will be deemed the winner among the tied entrants. At 6 A.M. October 24, 2016 (the "Selection Date"), Grammarly will announce the entry with the most votes. The potential winner will be contacted by direct message through the social media channel used to submit the entry. If, after making such efforts as Grammarly in its sole discretion deems reasonable, a winner cannot be contacted through direct message within three (3) business days of the Selection Date, or if Grammarly determines a winner is ineligible to win a prize, the photo entry will be disqualified and the entry with the next highest score will be contacted.
6. PRIZE AND ODDS OF WINNING: One (1) winner will receive one (1) year of Grammarly Premium for free (approximate retail value ("ARV"): $139.95). Prizes cannot be transferred, redeemed for cash or substituted by winner(s). The prizes must be accepted as awarded. Grammarly reserves the right in its sole and absolute discretion to award a substitute prize of equal or greater value if a prize described in these Official Rules is unavailable or cannot be awarded, in whole or in part, for any reason. Restrictions, conditions, and limitations may apply. Grammarly will not replace any lost or stolen prize items. Odds of winning depend on the total number of entries received and the voting choices of Grammarly social media followers during the Voting Period.
7. PUBLICITY: By posting and/or submitting any content in connection with the Promotion, you automatically represent and warrant that you have the right to grant, and do hereby grant, to Grammarly the paid-up, royalty-free, perpetual, irrevocable, sublicensable, non-exclusive right and license to (a) use, reproduce, modify, adapt, publish, translate, create derivative works from, distribute, perform and display any such content (in whole or in part) worldwide and/or to incorporate all or any portion of it in other works in any form, media or technology now known or later developed for the full term of any patent, trademark, trade secret, copyright or other proprietary rights of any party that may exist in such content; and (b) use the content, including without limitation, the right and license to make, use, sell, offer for sale, and import any products and/or services which practice or embody, or are configured for use in practicing, all or any portion of the content and the right to practice. You warrant that the content has not been copied from any third party and its use by Grammarly will not infringe or involve the misappropriation of any third party rights and agree to indemnify and hold harmless Grammarly and all other third parties licensed above from and against any breach of this warranty. Under no circumstances will Grammarly be required to treat such content as confidential. Grammarly will be entitled to use the content in accordance with this Section without permission from or compensation to you or any other person. For the avoidance of doubt, Grammarly will not be liable to you or any other person for any ideas for Grammarly's business (including, without limitation, product designs or ideas) derived from the content and will not incur any liability as a result of any similarities to the content that may appear in any future products or services of Grammarly.
8. GENERAL CONDITIONS: Potential winning entrants are subject to Grammarly's verification. Grammarly's decisions are final and binding in all matters related to the Promotion. Potential winners must comply with the Official Rules, and receipt of a prize is contingent upon fulfilling all requirements. Grammarly is not responsible for technical, hardware or software failures, malfunctions, lost or unavailable network connections or failed, incomplete, garbled or delayed computer transmissions or unforeseen schedule changes that may limit an entrant's ability to participate in the Promotion, even if caused by Grammarly's negligence. Entries generated by script, macro or other automated means or with the intent to impair the integrity of the Promotion will be void. Grammarly has the sole discretion to modify, cancel or suspend this Promotion should viruses, bugs, unauthorized human intervention or other causes beyond Grammarly's control affect the administration, security or proper conduct of the Promotion or Grammarly otherwise becomes incapable of running the Promotion as planned. Grammarly is not responsible for changes to entrant's contact information. Any individual who attempts or otherwise encourages, directly or indirectly, the submission of false entries, as determined by Grammarly, will be disqualified. Grammarly has the sole discretion to disqualify any entrant who tampers with the entry process. Grammarly has the sole discretion to disqualify entrants who violate these Official Rules, tamper with the operation of the Promotion or engage in any conduct that is deemed detrimental or unfair to Grammarly, the Promotion or any other entrant. Grammarly has no obligation to return any entry consideration, if applicable, submitted by a disqualified entrant.
9. RELEASE: Grammarly, Twitter, Facebook, Instagram and their affiliates, subsidiaries, parent corporations, advertising and promotional agencies, and all of their officers, directors, shareholders, members, employees, and agents (collectively, the "Promotion Entities") are not responsible for, shall not be liable for, and hereby disclaim (to the fullest extent permitted by law), all liability arising from or relating to: (i) late, lost, stolen, delayed, damaged, misdirected, misaddressed, incomplete, unintelligible or postage-due entries; (ii) telephone, electronic, hardware or software program, network, Internet, computer or other malfunctions, failures, or difficulties of any kind, whether human or technical; (iii) failed, incomplete, garbled, or delayed computer or e-mail transmissions; (iv) any condition caused by events beyond the control of Grammarly; (v) any printing or typographical errors in any materials associated with the Promotion; (vi) any loss, harm, damage, injury, cost or expense whatsoever including property damage, personal injury and death that may occur in connection with, preparation for, travel to, or participation in the Promotion, or possession, acceptance or use of any prize or participation in any Promotion-related activity; and (vii) publicity rights, copyright or trademark infringement, defamation or invasion of privacy.
11. COLLECTION OF INFORMATION: Information collected in connection with the Promotion will be collected in accordance with Grammarly's Privacy Policy, available at https://www.grammarly.com/privacy-policy. By participating in the Promotion, each entrant agrees to the terms of Grammarly's Privacy Policy.
12. GOVERNING LAW: All issues and questions concerning the construction, validity, interpretation and enforceability of these Official Rules or the rights and obligations of entrants or Grammarly in connection with this Promotion are governed by and construed in accordance with the laws of the State of California without giving effect to any choice of law or conflict of law rules (whether of the State of California or any other jurisdiction) that would cause the application of any other state's laws.
13. ARBITRATION AGREEMENT: PLEASE READ THIS SECTION CAREFULLY AS IT AFFECTS YOUR RIGHTS. Agreement to Arbitrate. This Section is referred to in these Official Rules as the "Arbitration Agreement." You agree that any and all disputes or claims that have arisen or may arise between you and Sponsor, whether arising out of or relating to these Official Rules (including any alleged breach thereof), any advertising, any aspect of the relationship or transactions between us, shall be resolved exclusively through final and binding arbitration, rather than a court, in accordance with the terms of this Arbitration Agreement, except that you may assert individual claims in small claims court, if your claims qualify. Further, this Arbitration Agreement does not preclude you from bringing issues to the attention of federal, state, or local agencies, and such agencies can, if the law allows, seek relief against us on your behalf. You agree that, by entering into these Official Rules, you and Sponsor are each waiving the right to a trial by jury or to participate in a class action. Your rights will be determined by a neutral arbitrator, not a judge or jury. The Federal Arbitration Act governs the interpretation and enforcement of this Arbitration Agreement. Prohibition of Class and Representative Actions and Non-Individualized Relief. YOU AND SPONSOR AGREE THAT EACH OF US MAY BRING CLAIMS AGAINST THE OTHER ONLY ON AN INDIVIDUAL BASIS AND NOT AS A PLAINTIFF OR CLASS MEMBER IN ANY PURPORTED CLASS OR REPRESENTATIVE ACTION OR PROCEEDING. UNLESS BOTH YOU AND SPONSOR AGREE OTHERWISE, THE ARBITRATOR MAY NOT CONSOLIDATE OR JOIN MORE THAN ONE PERSON'S OR PARTY'S CLAIMS AND MAY NOT OTHERWISE PRESIDE OVER ANY FORM OF A CONSOLIDATED, REPRESENTATIVE, OR CLASS PROCEEDING. ALSO, THE ARBITRATOR MAY AWARD RELIEF (INCLUDING MONETARY, INJUNCTIVE, AND DECLARATORY RELIEF) ONLY IN FAVOR OF THE INDIVIDUAL PARTY SEEKING RELIEF AND ONLY TO THE EXTENT NECESSARY TO PROVIDE RELIEF NECESSITATED BY THAT PARTY'S INDIVIDUAL CLAIM(S). Pre-Arbitration Dispute Resolution. Sponsor is always interested in resolving disputes amicably and efficiently, and most customer concerns can be resolved quickly and to the customer's satisfaction by emailing customer support at support@grammarly.com. If such efforts prove unsuccessful, a party who intends to seek arbitration must first send to the other, by certified mail, a written Notice of Dispute ("Notice"). The Notice to Sponsor should be sent to Grammarly, Inc., 548 Market Street, #35410, San Francisco, CA 94104 ("Notice Address"). The Notice must (i) describe the nature and basis of the claim or dispute and (ii) set forth the specific relief sought. If Sponsor and you do not resolve the claim within sixty (60) calendar days after the Notice is received, you or Sponsor may commence an arbitration proceeding. During the arbitration, the amount of any settlement offer made by Sponsor or you shall not be disclosed to the arbitrator until after the arbitrator determines the amount, if any, to which you or Sponsor is entitled. Arbitration Procedures. Arbitration will be conducted by a neutral arbitrator in accordance with the American Arbitration Association's ("AAA") rules and procedures, including the AAA's Supplementary Procedures for Consumer-Related Disputes (collectively, the "AAA Rules"), as modified by this Arbitration Agreement. For information on the AAA, please visit its website, http://www.adr.org. Information about the AAA Rules and fees for consumer disputes can be found at the AAA's consumer arbitration page, http://www.adr.org/consumer_arbitration. If there is any inconsistency between any term of the AAA Rules and any term of this Arbitration Agreement, the applicable terms of this Arbitration Agreement will control unless the arbitrator determines that the application of the inconsistent Arbitration Agreement terms would not result in a fundamentally fair arbitration. The arbitrator must also follow the provisions of these Official Rules as a court would. All issues are for the arbitrator to decide, including, but not limited to, issues relating to the scope, enforceability, and arbitrability of this Arbitration Agreement. Although arbitration proceedings are usually simpler and more streamlined than trials and other judicial proceedings, the arbitrator can award the same damages and relief on an individual basis that a court can award to an individual under these Official Rules and applicable law. Decisions by the arbitrator are enforceable in court and may be overturned by a court only for very limited reasons. Unless Sponsor and you agree otherwise, any arbitration hearings will take place in a reasonably convenient location for both parties with due consideration of their ability to travel and other pertinent circumstances. If the parties are unable to agree on a location, the determination shall be made by AAA. If your claim is for $10,000 or less, Sponsor agrees that you may choose whether the arbitration will be conducted solely on the basis of documents submitted to the arbitrator, through a telephonic hearing, or by an in-person hearing as established by the AAA Rules. If your claim exceeds $10,000, the right to a hearing will be determined by the AAA Rules. Regardless of the manner in which the arbitration is conducted, the arbitrator shall issue a reasoned written decision sufficient to explain the essential findings and conclusions on which the award is based. Costs of Arbitration. Payment of all filing, administration, and arbitrator fees (collectively, the "Arbitration Fees") will be governed by the AAA Rules, unless otherwise provided in this Arbitration Agreement. If the value of the relief sought is $75,000 or less, at your request, Sponsor will pay all Arbitration Fees. If the value of relief sought is more than $75,000 and you are able to demonstrate to the arbitrator that you are economically unable to pay your portion of the Arbitration Fees or if the arbitrator otherwise determines for any reason that you should not be required to pay your portion of the Arbitration Fees, Sponsor will pay your portion of such fees. In addition, if you demonstrate to the arbitrator that the costs of arbitration will be prohibitive as compared to the costs of litigation, Sponsor will pay as much of the Arbitration Fees as the arbitrator deems necessary to prevent the arbitration from being cost-prohibitive. Finally, if the value of the relief sought is $75,000 or less, Sponsor will pay reasonable attorneys' fees should you prevail. Sponsor will not seek attorneys' fees from you. But, if you initiate an arbitration in which you seek more than $75,000 in relief, the payment of attorneys' fees will be governed by the AAA Rules. Confidentiality. All aspects of the arbitration proceeding, and any ruling, decision, or award by the arbitrator, will be strictly confidential for the benefit of all parties. Severability. Without limiting the severability provision in Section of the these Official Rules, if a court or the arbitrator decides that any term or provision of this Arbitration Agreement other than Section 13(b) above is invalid or unenforceable, the parties agree to replace such term or provision with a term or provision that is valid and enforceable and that comes closest to expressing the intention of the invalid or unenforceable term or provision, and this Arbitration Agreement shall be enforceable as so modified. If a court decides that any of the provisions of Section 13(b) is invalid or unenforceable, then the entirety of this Arbitration Agreement shall be null and void. The remainder of these Official Rules will continue to apply. Future Changes to Arbitration Agreement. Notwithstanding any provision in these Official Rules to the contrary, Sponsor agrees that if it makes any future change to this Arbitration Agreement (other than a change to the Notice Address) while you are a user of the Services, you may reject any such change by sending Sponsor written notice within thirty (30) calendar days of the change to the Notice Address provided above. By rejecting any future change, you are agreeing that you will arbitrate any dispute between us in accordance with the language of this Arbitration Agreement.
14. WINNERS LIST: For the name of the winner(s), please send a self-addressed stamped envelope to Grammarly within ninety (90) days of the Selection Date (residents of Vermont and Washington may exclude postage).
15. PROMOTION SPONSOR: Grammarly, Inc. 548 Market Street, #35410 San Francisco, CA 94104
16. NOTICE: Grammarly reserves the right to prosecute and seek damages against any individual who attempts to deliberately undermine the proper operation of the Promotion in violation of these Official Rules and/or criminal and/or civil law.
17. Copyright © 2016 Grammarly, Inc. All rights reserved. Grammarly and its associated logo(s) are trademarks of Grammarly, Inc. Any other trademarks in these Official Rules are used for prize identification purposes ONLY and are the properties of their respective owners.