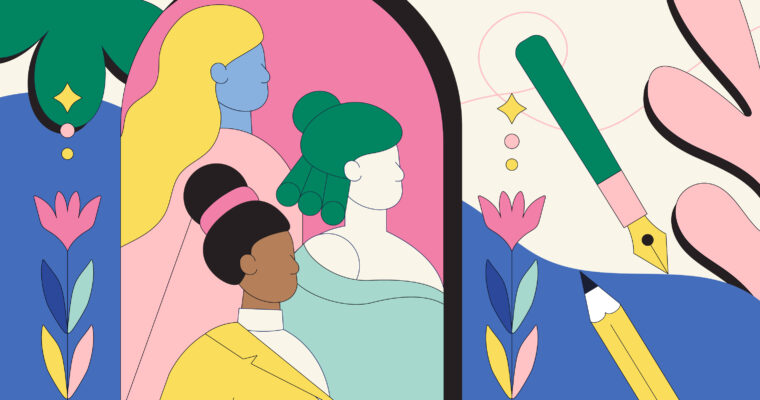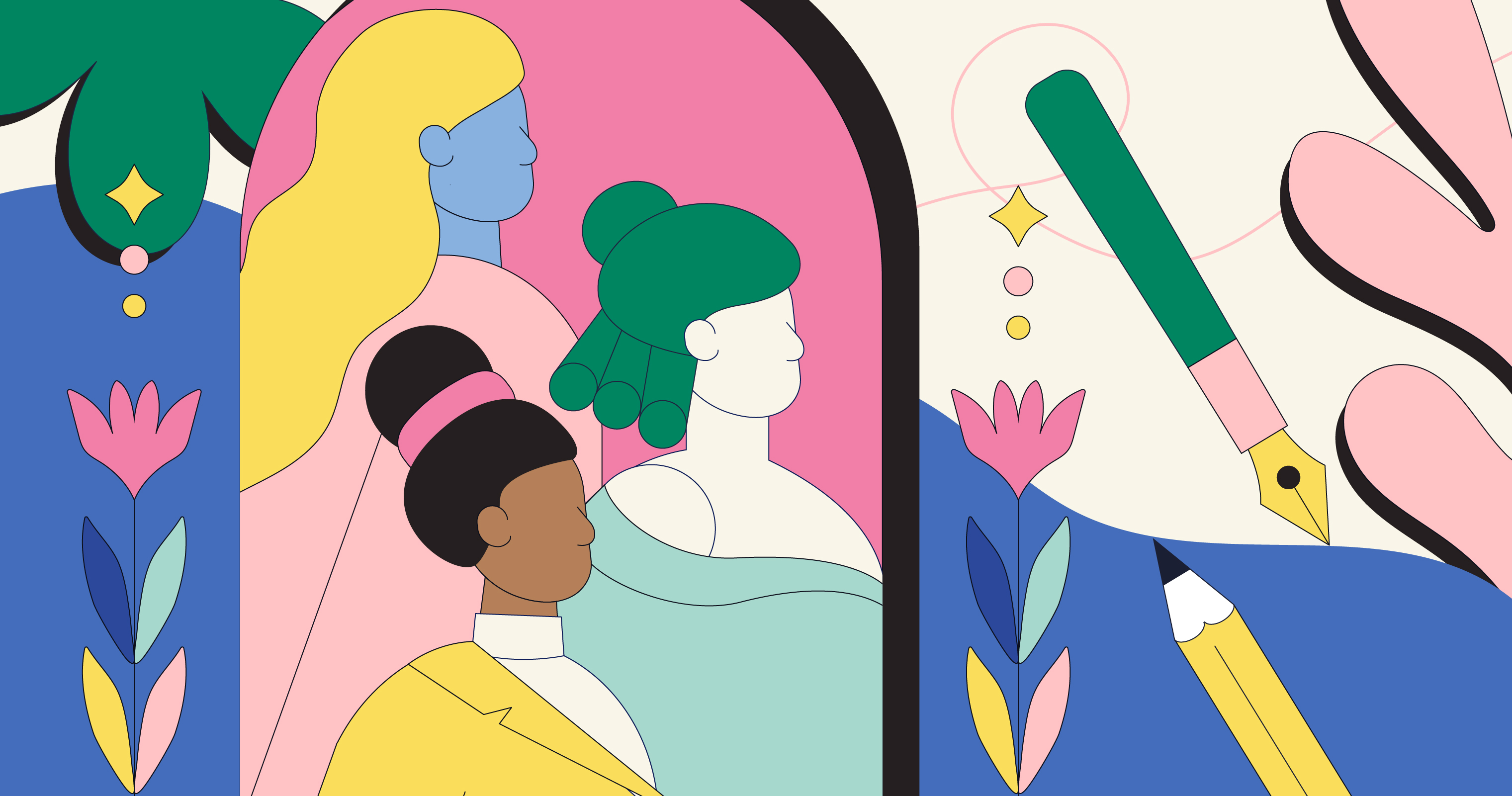 ​​Every female writer picking up her pen or opening her laptop today to write—whether her métier be fact or fiction—builds upon a powerful legacy of struggle for recognition and respect. The storied catalog of women's writings, from Virginia Woolf's A Room of One's Own to Amanda Gorman's The Hill We Climb And Other Poems bears witness to a simple desire to tell a story despite societal odds.
The women listed below aren't just writers—they're powerful boundary breakers who helped pave the way for today's writers. Consider this: Each woman below not only had to face society's expectations of her as a woman, a person of color, a member of the LGBTQIA+ community, or all, but also as a screenwriter, novelist, poet, or science fiction writer. Whether a century ago or a year ago, these women persisted—and today, as writers, we stand on their shoulders.
Your writing, at its best
Grammarly helps you communicate confidently
Mary Shelley (1797–1851)
It's no wonder London-born writer Mary Shelley is considered one of the original cool goth kids—she was a little . . . morbid. Tragedy consumed the visionary writer's life, from the suicide of her sister to the deaths of three of her children. 
Shelley conceived of her Gothic horror novel Frankenstein; or, The Modern Prometheus on a dare: One rainy evening, her and Lord Byron's occult-obsessed clique gathered to tell ghost stories. Byron proposed a dare: to challenge the writers to pen a ghost story superior to the ones they had just read. It inspired quiet nineteen-year-old Shelley, who seldom took center stage at these intellectual salons, to write Frankenstein, the story of Victor Frankenstein, a scientist who creates a murderous, existential angst-ridden monster. 
Shelley published the iconic, critically praised work anonymously in 1818. Its true power, however, echoes throughout an entire genre of pop culture that the novel spawned. Many literature scholars consider Frankenstein to be the first work of science fiction ever written, with Shelley launching the genre. It might be unsurprising that innovative thinking came naturally—Shelley's mother was Mary Wollstonecraft, who authored the seminal A Vindication of the Rights of Woman, one of the first texts on feminist philosophy. 
Virginia Woolf (1882–1941)
Though beautifully memorialized by Nicole Kidman in the film The Hours, modernist writer Virginia Woolf's life was far more layered than a cinematic slice of life could portray. Her story also encompasses mental illness, a staggering impact on twentieth-century modernism, and her feminist oeuvre, namely the oft-quoted extended essay A Room of One's Own. In it, she declares, "A woman must have money and a room of her own if she is to write fiction." 
Her most read works include Mrs. Dalloway, Orlando, and To the Lighthouse, wherein which her visionary imagination, nonlinear plots, and stream-of-consciousness literary style shone through.
Tragedies also marked Woolf's life: The death of her mother to rheumatic fever in 1895 when Woolf was thirteen led to her first breakdown, which was exacerbated once her father died later in 1904. Her novels, namely Mrs. Dalloway, contemplated suicide—which sadly was the cause of Woolf's death in 1941.
Emily Dickinson (1830–1886)
Brilliant nineteenth-century American poet Emily Dickinson was a phenom, writing almost 1,800 poems, of which only ten were published while she was alive. Her lyrical, rhythmic poems are bold and unconventional, employing iambic trimeter and tetrameter and punctuated by dashes. The subject matter spanned everything from nature to metaphysics, and her work was at turns imaginative and clever ("Because I could not stop for Death"), haunted and mocking ("I'm Nobody! Who are you?"), or impassioned and longing ("Wild nights – Wild nights!"). 
She's now regarded as one of two most important American poets of the nineteenth century, alongside Walt Whitman. 
Amanda Gorman (1998–)
Former first-ever National Youth Poet Laureate Amanda Gorman examines issues of racism, national unity, diversity, feminism, and the future in her optimistic, hopeful poems. Gorman read the poem heard 'round the world at the inauguration of President Biden: "The Hill We Climb." Gorman followed her historic recitation—as the youngest poet in inauguration history—with a performance of her new original poem "Chorus of the Captains" at Super Bowl LV in 2021. She became the first poet to perform at the Super Bowl. 
Gorman, born in Los Angeles, has said she's struggled with speech articulation and was diagnosed with an auditory processing disorder that challenged her to become a stronger reader and writer. She attended Harvard College and studied sociology. In 2015, her first book of poems, The One for Whom Food Is Not Enough, was published. A collection called The Hill We Climb And Other Poems and a picture book featuring Gorman's poems titled Change Sings will both be published in September 2021, sure to inspire youth poets to pick up their pens.  
bell hooks (1952–2021)
Activist, professor, poet, and theorist bell hooks was renowned for her writing on the theory of intersectionality, particularly in regard to race, gender, and capitalism. Born Gloria Jean Watkins and writing under a pen name inspired by her grandmother, hooks homed in on issues facing Black women in Black Looks: Race and Representation and Ain't I a Woman?: Black Women and Feminism. 
Throughout her work, hooks critiques capitalist systems for reinforcing sexism, misogyny, and racism. There's a staggering breadth to hooks's creative output—from her expounding on engaged pedagogy (in Teaching to Transgress: Education as the Practice of Freedom) to  media theory (in Reel to Real: Race, class and sex at the movies), to poetry books and memoirs. In 2014, the legendary thinker helped found Berea College's The bell hooks Institute in her native Kentucky in order to protect the legacy of Black female writers and provide an accessible, class-inclusive community discussion space.
Roxane Gay (1974–)
Incisive, thoughtful, and humorous feminist writer Roxane Gay burst onto The New York Times bestseller list in 2014 with her pop culture-obsessed book of essays, Bad Feminist, wherein she extolled the virtues of the color pink despite its stereotypes and pondered the people's power inherent in Twitter. Since, she's inspected society's deeper intersections of identity and culture through poignant, forthright prose.
Gay is a true veteran of the early internet age, having published abbreviated versions of her essays on Tumblr in its nascent days. Gay also published two collections of short stories entitled Ayiti and Difficult Women, the novel An Untamed State, and the memoir Hunger: A Memoir of (My) Body. The latter, a bracing account of Gay's trauma after sexual assault and her struggle in her relationship to her body, also became a New York Times bestseller. 
Gay has taught as an English professor at Yale University, Eastern Illinois University, and Purdue University and is a contributing opinion writer for The New York Times.
Nora Ephron (1941–2012)
Responsible for writing some of the most heartwarming rom-coms of the nineties, filmmaker, playwright, writer, and journalist Nora Ephron succeeded in Hollywood in an era when few women sat in director or screenwriter chairs. 
Ephron was born in New York and raised in Los Angeles—two cities that she would continue to call home throughout her bicoastal life. Both informed her work; she often captured the charm of New York for the sets of Hollywood. Ephron's scripts were hilariously acerbic, energizing, and ultimately redeeming of their female protagonists' romantic foibles and philosophical crises, from You've Got Mail's Kathleen Kelly to Sleepless in Seattle's Annie Reed (both iconically portrayed by actress Meg Ryan). 
A polymath of the pen, Ephron's career spanned five decades, from her days as a New York Post reporter and Esquire columnist, to her heyday in the nineties as a director and screenwriter, to her work as a playwright in the early aughts.
Janet Mock (1983–)
If you've seen Pose, the FX television show about 1980s New York ballroom culture, you've witnessed the ascendant work of trans icon, screenwriter, director, and journalist Janet Mock. Mock, a graduate of the NYU Journalism Masters program and former editor at People and Marie Claire, broke boundaries as the first out trans woman of color hired as a television writer for a major series. 
In 2014, she published her first memoir, Redefining Realness. In 2017, she released her second memoir, Surpassing Certainty. Mock's memoirs provide not only a retrospective into her life in her twenties and in childhood, but insight into the work of a budding trans activist. In 2019, Mock became the first out trans woman of color to sign a Netflix production deal for a future TV series and potential feature film projects.  
Malala Yousafzai (1997–)
Malala Yousafzai is the youngest-ever recipient of the Nobel Peace Prize, awarded in 2014 for her activism for female education. The daughter of a teacher at a girls school in Pakistan, she wrote about the importance of girls' education for BBC Urdu. The Taliban targeted her for this activism—in October 2012, a masked gunman shot her in the head on her school bus. But after she awoke ten days later in a hospital in Birmingham, England, she continued to advocate for girls' education rights. She wrote her memoir, I Am Malala: The Story of the Girl Who Stood Up for Education and Was Shot by the Taliban. 
Her first book was soon followed by two children's picture books entitled I Am Malala: How One Girl Stood Up for Education and Changed the World and Malala's Magic Pencil. Placing other refugees' voices center stage became her goal with the story collection We Are Displaced: My Journey and Stories from Refugee Girls Around the World, wherein Malala and nine other displaced girls spoke to their plight with candor and courage.
Sandra Cisneros (1954–)
Revered Chicana writer Sandra Cisneros's first novel, The House on Mango Street, a classic tale of a young girl coming of age in Chicago, won the National Book Award in 1985. It has become a definitive bildungsroman, taught in classrooms across the country as an essential view into an American upbringing. Cisneros's fiction rings with realism, engaging with plotlines containing domestic violence, sexual harassment, racism, poverty, and characters young women can relate to. 
Noted for her bilingualism in her writing, Cisneros is also a poet and essayist. One of the United States's and Mexico's most important writers, Cisneros has received the National Medal of Arts, National Endowment for the Arts, the Texas Medal of the Arts, a MacArthur Fellowship, the PEN Center USA Literary Award, the Fairfax Prize, the National Medal of the Arts, and the Ford Foundation's Art of Change Fellowship.
Toni Morrison (1931–2019)
Toni Morrison, winner of the Nobel Prize for Literature in 1993, was a preeminent literary figure chronicling the Black experience and Black identity in America—whose death in 2019 felt to many like the end of an era. Imaginative and immensely powerful in her writing, Toni Morrison is best known for her Pulitzer Prize-winning novel Beloved, which was based on the life of Margaret Garner, a Black woman who escaped slavery but was enslaved again under the Fugitive Slave Act of 1850. 
Also known for Song of Solomon, winner of the National Book Critics Circle Award, and for her debut novel The Bluest Eye, Morrison was a prolific writer who also produced plays, poetry, children's books, short stories, and even a libretto for an opera about Margaret Garner.
Amy Tan (1952–)
Oakland native Amy Tan's novel The Joy Luck Club had a monumental effect on Asian American literature and culture, both as a publishing success and as a rich representation of the interlinked lives of four Chinese American families living in San Francisco. Tan, who has openly spoken about mental illness, depicts this within the complexities of Asian American mother-daughter relationships, from the vantage point of both mothers and daughters. The novel acknowledged both sides of an immigrant culture conundrum, with tension between an obedience to family and culture and a desire for individualism and freedom. Tan also went on to co-write the screenplay for the novel's film adaptation directed by Wayne Wang.
Tan has published many books, including The Kitchen God's Wife, The Bonesetter's Daughter, The Hundred Secret Senses, two children's books, and a memoir titled Where The Past Begins: A Writer's Memoir.
Audre Lorde (1934–1992)
Poet, novelist, essayist, academic, and LGBTQIA+ icon Audre Lorde was raised in New York as the daughter of strict immigrants from Grenada and Barbados. An accomplished poet and teacher, she wrote several books of poetry—but it wasn't until Coal, her first major collection published in 1976, that she declared her identity as "Black, lesbian, mother, warrior, poet" and achieved wider recognition. 
In the eighties, Lorde's work took on a new tone, examining the nature of illness as she reflected on her battle with breast cancer. Lorde discussed her lesbian identity in many of her works, including Sister Outsider: Essays and Speeches, and Zami: A New Spelling of My Name —A Biomythography. She wrote one of her most important essays in 1984, "The Master's Tools Will Not Dismantle the Master's House," which criticized racism within feminism and has been canonized as a foundational text in feminist and gender studies courses across the United States. Both the Callen-Lorde Community Health Center and The Audre Lorde Project, are named for the activist. Lorde died of breast cancer in 1992.
Leslie Marmon Silko (1948–)
Leslie Marmon Silko is a key figure to the Native American literary and artistic renaissance, from the late 1960s onward. She is most celebrated for her novel Ceremony, but she has also composed a wealth of poetry, short stories, and essays. Of Laguna Pueblo and Mexican descent, Silko grew up on the edge of a reservation and channeled the stories of her people into her work. Her widely lauded novel, Ceremony—widely read in school literature curricula as a significant work by one of America's preeminent contemporary Native American authors—was written in Ketchikan, Alaska, where Silko moved to in 1973. The novel details the life of an injured World War II veteran who conquers alcoholism and trauma by rediscovering his Native American roots. 
Silko won the Pushcart Prize for Poetry for Laguna Woman: Poems and is a recipient of the MacArthur "Genius Grant." 
Sappho (c. 630 BCE–c. 570 BCE)
We know more legend than actual facts about the life of Sappho, a Greek poet from the island of Lesbos. Much adored during her time, she was named "The Tenth Muse" by Plato and the Greeks honored her as "the Poetess" to match Homer's "the Poet." She composed in a dialect called Aeolic Greek, and her poems were meant to be sung with a lyre as an accompaniment. 
Her style was direct and vivid, employing emotion and description in equal parts. She often wrote about women in the context of her women's community, called a thiasos, depicting her—or society's—adoration of women. This resonates especially in works like "Fragment 31", her best-known poem. Her adulation for women, muses, and goddesses is clear, even in the fragmented pieces of her gorgeous poetry that have survived.
Joy Harjo (1951–)
Incumbent US Poet Laureate Joy Harjo is a dynamic poet, performer, playwright, and musician. A member of the Muscogee (Creek) Nation, Harjo preserves the oral tradition of her nation in live storytelling and performance. Her first volume of poetry, The Last Song, was published in 1975 as a chapbook, followed by What Moon Drove Me to This?, her first full-length volume of poetry published in 1980. 
Harjo weaves nature, spirituality, and Native traditions and myths into her work. Her 1990 book In Mad Love and War won a Before Columbus American Book Award for her voicing of "a stolen people in a stolen land." 
Also an accomplished performing artist, Harjo has released four music albums and played the alto saxophone with the band Poetic Justice. She composed a one-woman show, Wings of Night Sky, Wings of Morning Light, and a musical play, We Were There When Jazz Was Invented. Harjo was honored with the Native Writers' Circle of the Americas Lifetime Achievement Award in 1995.
Gertrude Stein (1874–1946)
Gertrude Stein's witty quotation has been invoked by many an American in Paris: "America is my country and Paris is my hometown and it is as it has come to be." But this writer central to the modernist movement—who wrote novels, plays, stories, and poems—was far more important as a progenitor of experimental and playful stream-of-consciousness writing than as a devoted Francophile. 
Her writing has been held up as a literary answer to cubism; in fact, Stein's star-studded Paris salon often hosted luminaries like Pablo Picasso and she hung his paintings on her walls. Her most famous book is The Autobiography of Alice B. Toklas, considered a quasi-memoir penned from the perspective of Toklas, her romantic partner. She also realized numerous works centering her lesbian identity, including books Q.E.D. and Tender Buttons.
Lorraine Hansberry (1930–1965)
Chicago playwright Lorraine Hansberry became the first Black female playwright to have a play produced on Broadway with her 1959 work A Raisin in the Sun, the story of a Black South Chicagoan family and its struggle against racist housing policies. The title of the play draws its name from a line in the poem "Harlem" by Langston Hughes. The play was a smashing success, nominated for four Tony Awards and drawing large Black audiences to the theater. The heartbreaking verisimilitude to Hansberry's own life is witnessed in a lawsuit her family brought regarding racially motivated housing segregations. 
Hansberry died of pancreatic cancer in 1965 at the age of 34 but left a writing legacy behind: Hansberry was the first Black dramatist, fifth woman, and youngest playwright to win a New York Drama Critics' Circle Award. Before her playwright career, Hansberry published poetry and was a journalist and activist.  
Arundhati Roy (1961–)
Arundhati Roy is best known for her 1997 runaway hit The God of Small Things, which won the Man Booker Prize for Fiction and made her the bestselling non-expatriate Indian writer. Though Roy penned a work of fiction, she drew from her childhood experiences in Aymanam in Kerala, India. Focusing on the lives of fraternal twins, the story details how "small things" affect human existence. 
Roy started her career as a screenwriter for television and film, and later wrote the television serial "The Banyan Tree." In 2019, her ardent political advocacy found an outlet in her book of essays, My Seditious Heart. Roy has critiqued American capitalism and its war in Afghanistan, as well as supported Kasmiri separatism. Her second novel, The Ministry of Utmost Happiness, was published in June 2017 and chosen for the Man Booker Prize 2017 longlist and nominated for the National Book Critics Circle Award for fiction.
Maxine Hong Kingston (1940–)
Maxine Hong Kingston is an illustrious foremother of Asian American literature. Kingston's literary strength lies in her genre-defying mashups of fiction and nonfiction, folktales, and autobiography, which resonate as both earthly and magical.
She's esteemed for her memoir The Woman Warrior, which intertwines her autobiography with Chinese folk tales. Winner of the National Book Critics Circle Award, The Woman Warrior tells stories of Kingston's life—many of which involving her mother—by employing folk plots and other storytelling elements. 
Influenced by Walt Whitman, she wrote poetry as well as the novel Tripmaster Monkey: His Fake Book, a tale of Wittman Ah Sing, a Berkeley grad living in San Francisco during the Beat period. In 1980, she published China Men, a sequel to The Woman Warrior, which details the settlement of the Kingston men in America and blends elements of truth and fiction. The book won the National Book Award for Nonfiction the next year. 
> Read More: 5 Authors Who You May Not Know Were Women