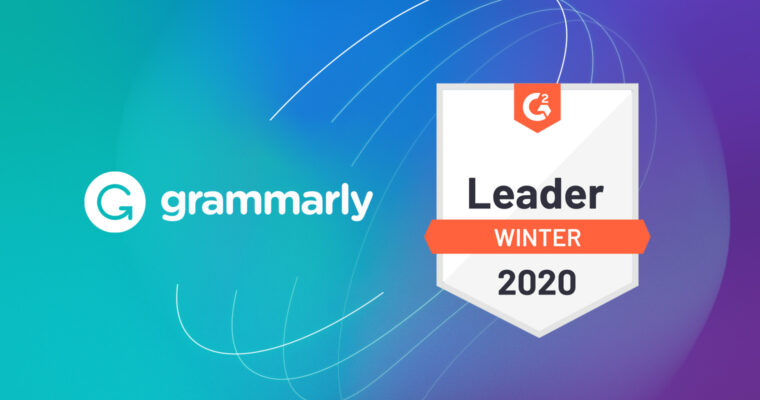 Businesses need clear and consistent communication across teams and with customers if they hope to stay nimble and competitive. Miscommunication has a price—with estimated costs of $6,000 per year per worker in the US.  
That's why I'm excited to share that Grammarly Business achieved a top leader position from G2.com, Inc. in the AI Writing Assistant Software category (Winter 2020 Grid Report). G2 named Grammarly Business the leader of its category based on reviews from real users, showing how easy it is to use Grammarly Business to achieve results. We're excited that professionals using Grammarly Business at work gave our product exceptionally high scores in utility, ease of use for businesses, and customer support.
Here's a tip:
Grammarly Business
 is an integrated writing assistant that helps your team members convey their message and collaborate across common platforms such as Zendesk, Salesforce, and WordPress.
We believe that the value of Grammarly Business to companies will only grow. With more distributed workforces, growing digital collaboration, and increased pressure on businesses to deliver better, faster results, we are building Grammarly Business to make internal and external communications succeed at scale.
And Grammarly knows that effective written communication involves more than flawless spelling and grammar. That's why Grammarly Business goes beyond writing mechanics, giving real-time suggestions for tone, readability, writing style, and much more. We also recognize that today's workforce needs tools that work where they do, which is why Grammarly Business integrates seamlessly across common platforms such as Zendesk, Salesforce, and WordPress. 
This recognition from G2 is incredibly exciting for the Grammarly Business team, as it further validates the development of our product, as well as Grammarly's leadership position in AI-powered writing assistant technology.
Want to learn more about the Winter 2020 Grid Report? G2 is the world's leading business solutions review website, and you can find out more about their methodology for the Winter 2020 Grid Report here.