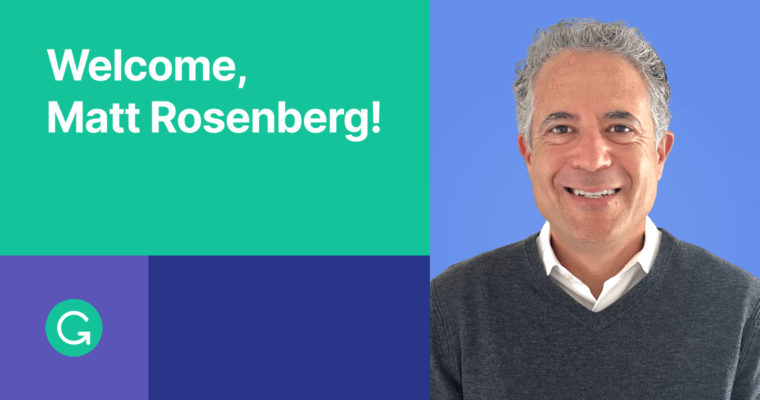 We are thrilled to welcome Matt Rosenberg to Grammarly as our first-ever Chief Revenue Officer! In his role, Matt will expand Grammarly's reach in the enterprise space with Grammarly Business. Today, more than 50,000 professional teams at organizations including Atlassian, Expedia, and Zoom trust Grammarly Business to help them drive faster, better results through effective communication. That number has doubled in the past 18 months, fueled by the growing demand for communication assistance as hybrid workplaces and asynchronous collaboration continue. 
Matt will also oversee Grammarly for Education and Partner Sales, bringing the value of communication assistance to even more people in more places. In addition to leading all aspects of B2B revenue, operations, and growth, Matt will work closely with product, engineering, and marketing teams to ensure our customers' business outcomes remain at the center of our development roadmap. 
Keeping your writing safe at Grammarly.
Find out about our enterprise-grade security and privacy.
Matt brings deep experience in growing global businesses, having built, scaled, and operated multiple revenue organizations across varied business models and industries. Most recently, Matt served as the CRO of Compass, contributing to the business's growth from $700 million in revenue to more than $6 billion. Before taking Compass into the Fortune 500, Matt was the CRO of Eventbrite. Matt is adept at developing growth strategies by clearly defining a value proposition for buyers and ensuring that value prop guides prioritization throughout an organization.
Matt shared why he's joining Grammarly and the opportunity he sees ahead. "Grammarly is solving one of the most costly problems businesses face today: ineffective communication," he said. "The company has achieved incredible growth with Grammarly Business by putting customers first to address their most pressing challenges. I'm excited to build on this momentum to bring Grammarly's trusted AI-enhanced communication assistance to even more organizations, people, and partners."
Matt will help lead Grammarly into its next chapter of growth as we deliver on the rising need for communication support among organizations worldwide. We're thrilled to have Matt join our leadership team and are grateful to benefit from his expertise and vision to accelerate Grammarly's growth. 
Welcome, Matt!