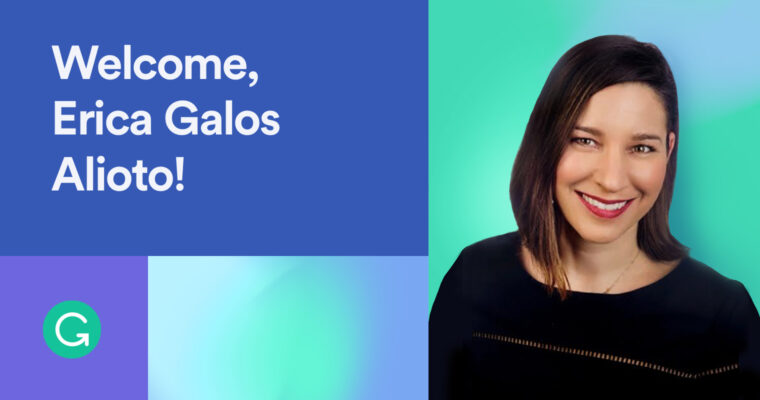 Grammarly improves lives by improving communication. We've built an AI writing assistant that helps 30 million people every day—and our ability to continually improve our product and help more people around the world depends on every member of our team being set up for incredible success. This starts with ensuring each Grammarlian is in a role that plays to their strengths and aspirations, with strong management as a catalyst to unlock their full potential. It also requires a values-driven, inclusive culture enabling and fostering collaboration and innovation. We expect our team to grow significantly in the years ahead, and today I'm excited to welcome Erica Galos Alioto as our Global Head of People!
Erica brings a wealth of knowledge about scaling teams and culture, with deep expertise running a people function. Before joining Grammarly, Erica was Chief People Officer at Opendoor, where she oversaw several areas, including human resources, recruiting, learning and development, and workplace experience. Erica also brings broad expertise as a leader and business builder. As Senior VP of Local Sales at Yelp, Erica built and led a team of 2,200 over her 11-year tenure. She has also served as an adviser to early-stage start-ups, an angel investor, and a scout for Sequoia Capital. Erica started her career as a lawyer. She holds a bachelor's degree from UC Santa Barbara and a JD from UC Berkeley.
Shape the way millions of people communicate!
Erica cites Grammarly's positive and meaningful impact on people's communication—and the strength of our executive team—as central reasons she's excited to join. We're thrilled to have Erica aboard, and we look forward to benefiting from her leadership and learning from her coaching as we grow to help even more people in the years ahead. 
Welcome, Erica!