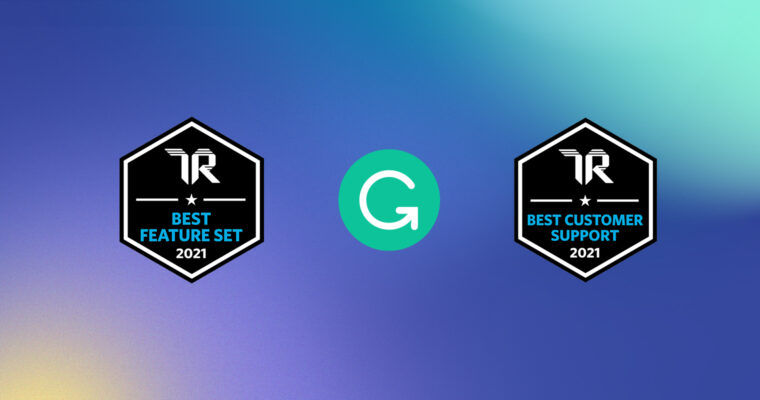 At Grammarly, we've seen firsthand the value of effective communication in helping businesses achieve their goals. This is especially true among customer service and support teams, who are tasked with communicating directly with customers to deliver exceptional experiences. Varying language backgrounds, communication styles, and levels of context create complexity and inconsistencies that impact brand reputation and business results.
Our AI-powered writing assistant addresses these challenges to help organizations overcome the cost of ineffective communication. Now, we're proud to announce that TrustRadius has recognized our efforts with two 2021 awards: for Best Customer Support and Best Feature Set. These awards highlight companies that have gone above and beyond to provide outstanding customer service and tailored features to address unique challenges.
Make your team's writing shine
Grammarly Business helps you stay on-brand
To enhance business performance, organizations need to build truly effective communication that accounts for more than just grammar and spelling. Grammarly Business provides real-time writing feedback on correctness, clarity, engagement, and delivery, along with customizable style guides to improve brand consistency and tone refinements to get messages across the way they're intended. By recognizing our commitment to world-class customer service, these awards also validate our deep understanding of the needs of customer support teams, who unlock higher customer satisfaction ratings using Grammarly Business.
These awards are especially meaningful to us because they are based on verified reviews from our own customers on TrustRadius, the trusted review site for B2B technology. To win a TrustRadius award, each nominated organization had to receive 10 TrustRadius reviews in the past year that featured specific mention of their product's customer support or feature set. Grammarly ranked first for both Customer Support and Feature Set in the Writing and Proofreading Tools category, based on the percentage of positive responses earned this year and additional vetting by the TrustRadius research team.
Want to learn more about how Grammarly Business helps organizations reach their business objectives? Check out customer reviews of Grammarly on TrustRadius and the full award results.