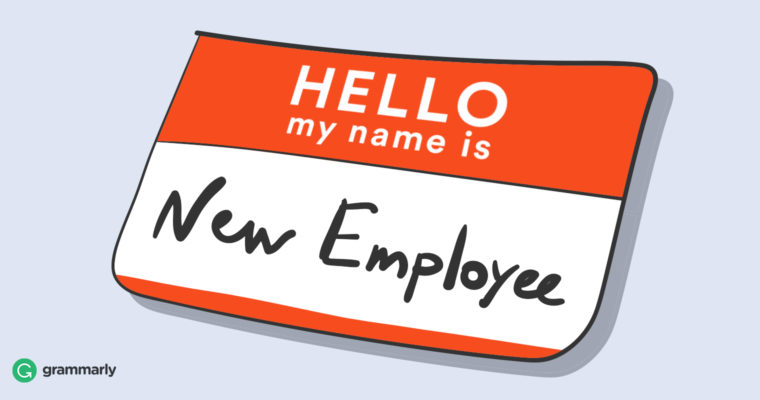 Congratulations on landing a new job!
Do you feel nervous or anxious about your first week? Being prepared will not only help you avoid stress but will also set the tone for the rest of your tenure at your new company. Check out these seven useful tips!
1 Build rapport with your colleagues. Your coworkers will be your allies if you take the time to create positive relationships with them. Don't wait for them to approach you. Take the initiative to extend a friendly greeting and learn their role in the company. For large workforces, it might help you to jot down a few notes in your cell phone or notebook. Though it's fine to check out fellow workers on professional networking sites, such as LinkedIn, some people may find it weird if you comment on things you learned about them through Facebook. Spend the most time getting to know the people you will work with on a daily basis. Lunchtime and breaks are an ideal time to chat.
Karen, red glasses, corner office, accounting, two sons in college
Brent, met in elevator, custodian, speaks Cantonese
2 Learn your way around the building. How confident do you feel when you're lost? On your first day, take a few moments to walk around the building or ask one of your new friends for a tour. For a big building, you might want to draw yourself a map of the key areas and who works where.
3 Hit the ground running, but not so hard you injure yourself. Volunteering for duties will make an impression on your superiors, but there are some surprising downsides that you should consider. First, if you bite off more than you can chew, you will seem frazzled, untrustworthy, or incompetent. Second, your coworkers might resent you if what you do seems to make them look bad. Aim for balance. Be willing to accept assignments and help others, but don't commit yourself to more than you can accomplish.
4 Set your priorities. What do you want to accomplish at this job? Why did the company hire you? Write down one or two of your top values or objectives. By determining what your priorities are, you can organize your new schedule around your goals. Many experts encourage people to attack the largest, most important projects early in the day or week. Later, you can work on some of the less pressing tasks.
5 Travel the old trails before you try to blaze new ones. If you are in a managerial role, change may create chaos if you're not careful. Find out what the old routines are. Though some policies may seem strange to you, why change them if they work? The founder of a job search consultancy firm, Jaime Petkanics, gave a rule of thumb: "My best advice for the first week at a new job is to listen and observe first, and act second. Use your first week on the job to get the lay of the land, learn and listen. Once you have a really solid understanding of what's going on, who your key partners are and where you can add value, then start moving and making an impact."
6 Manage your expectations. By the end of the first week, I will befriend everyone in the company, solve one of their major problems, and organize my work schedule for the next three months. Is this a reasonable expectation? If your expectations aren't reasonable, you will be unhappy and disheartened when you fail to reach them. On the other hand, set your expectations too low and you might end up unemployed in a few months. Make it your mission to find out your employer's expectations for your job role. (You might revisit the original job posting.) It's okay to exceed the requirements, but be realistic about what you can accomplish the first week, month, and year on the job.
7 Don't forget that you are a human being. You'll work best if you maintain a healthy lifestyle. Wake up early enough to eat a nutritious breakfast. Make smart choices for your lunch and dinner. Keep in touch with your old colleagues and friends, and spend a little time socializing with them, if possible. Get sufficient rest at night. You should also pursue hobbies that interest you. According to Psychology Today, hobbies remind you that you are not just an employee. A failed project at work won't damage your identity as a musician or an athlete. Joining a club based related to your pastime will also help you foster strong social connections.
Whether your first days at work are stressful or exciting depends on how prepared you are. Will you apply these useful tips? You won't regret getting your first week off to a great start. And soon, you'll be an old pro.