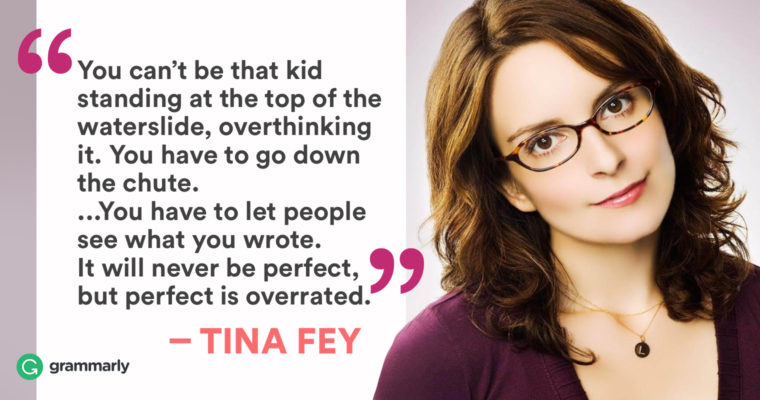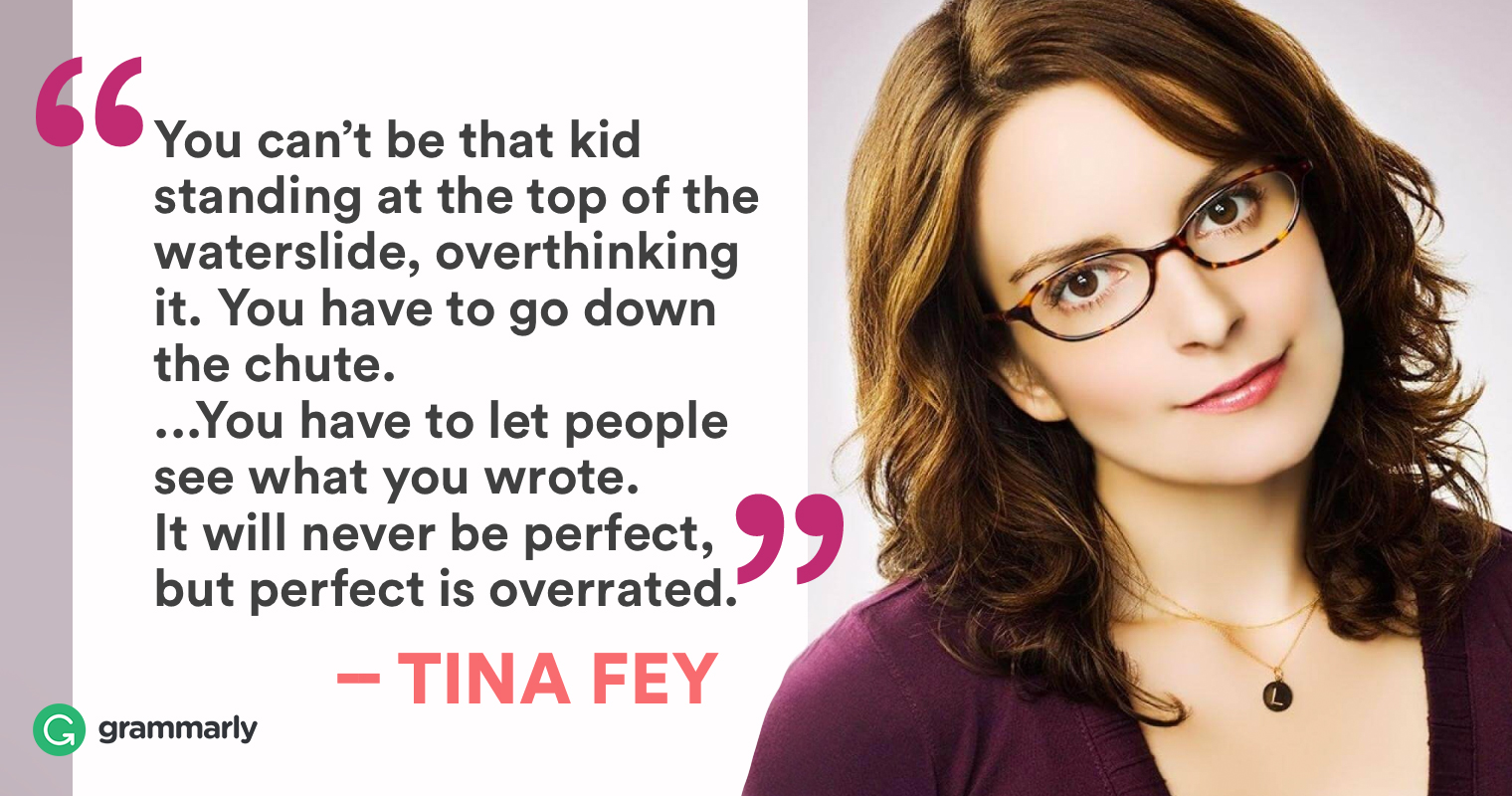 On the heels of our breakdown of Lin-Manuel Miranda's writing habits, we're serving up more writing wisdom from none other than the fabulous Tina Fey! The award-winning comedian-screenwriter-actress-producer-author has spent the past twenty years blazing trails as one of the great comic geniuses of our time.
And just in case you've been hiking the Amazon or watching only C-SPAN for the past twenty years, here's a quick recap of her career . . .
In the early '90s Fey fell in love with comedy and joined the cult of improv as a player at Chicago's Second City Theatre. Then in 1997 she made the big leap to Saturday Night Live. Originally hired as a writer, she was promoted to head writer just two years later and went on to join the cast and skyrocket to fame as co-anchor of Weekend Update. In 2005, Fey broke out on her own to produce, write, and star in the hilarious TV comedy 30 Rock.
During the 2008 election, she split our sides (and possibly influenced history) when she returned to SNL to impersonate vice-presidential candidate Sarah Palin. Her caustic and insightful autobiography, Bossypants, spent five weeks on the New York Times Best-Seller List. She's the mastermind behind Netflix's Unbreakable Kimmy Schmidt. Oh, and let's not forget, she wrote and starred in one of the greatest teen comedies of all time—Mean Girls. (So fetch, amiright?)
Read on to learn how you, too, can achieve your goals and aspire to reach the highest levels of writing like Tina Fey!
Keep Writing: Don't Get Hung Up On Your Failures
What I learned about "bombing" as an improviser at Second City was that bombing is painful, but it doesn't kill you. No matter how badly an improv set goes, you will still be physically alive when it's over.

What I learned about bombing as a writer at "Saturday Night" is that you can't be too worried about your "permanent record." Yes, you're going to write some sketches that you love and are proud of forever—your golden nuggets.

But you're also going to write some real [bad ones]. And unfortunately, sometimes the [bad ones] will make it onto the air. You can't worry about it. As long as you know the difference, you can go back to panning for gold on Monday.
Exposing your writing to the public—or even just to friends or coworkers—can be a vulnerable experience.
How will your work be received? Are you on your way to skyrocketing your company's sales, becoming a thought leader, publishing the next big YA novel? Or will your work be forgotten in obscurity, buried in the digital depths of the Internet?
In reality, this isn't an "either/or" situation. We all want to be churning out shining gems left and right, but sometimes you're going to write a piece that doesn't quite land.
And that's okay. It's all part of the process. Maybe you haven't reached the level you want to be at yet, but you have to start somewhere.
So keep working, keep writing, and don't let the fear of failure hold you back from going for your dreams.
Deadlines Are Essential: Know When to Put Your Writing Out There
The show doesn't go on because it's ready; it goes on because it's eleven-thirty. This is something Lorne has said often about "Saturday Night Live," but it's a great lesson in not being too precious about your writing. You have to try your hardest to be at the top of your game and improve every joke until the last possible second, but then you have to let it go.

You can't be that kid standing at the top of the waterslide, overthinking it. You have to go down the chute. . . . You have to let people see what you wrote. It will never be perfect, but perfect is overrated.
Did you hear that? We all want our writing to be perfect and amazing, but at some point we've got to let it go!
This can be easier for those of us with deadlines at work or school, where another human is counting on us to deliver something. But letting go can can feel more difficult if you're working on a novel or personal blog post or any project where the timing is completely up to you.
If you're struggling to put your writing out there, consider:
Setting deadlines for your work (and sticking to them).
Having a writing accountability partner (or group) who will hold your feet to the fire and force you to meet deadlines and share your work.
Reminding yourself that this is a journey, and you probably won't reach "perfection" the first or third or twentieth time, which is okay because perfection is overrated anyway!
Be Open to Where Creativity Can Lead You
The thing that always fascinated me about improv is that it's basically a happy accident that you think you're initiating. You enter a scene and decide that your character is in a bar, but your partner thinks you're performing dental surgery.

The combination of those two disparate ideas melds into something that could never have been created on its own. It's more difficult to do that as a writer, but I've found the general philosophy of it to be quite helpful. It reminds me that if I stumble onto something unexpected in my writing, something that I didn't anticipate or intend, I should be willing to follow it.
The takeaway? Don't be afraid to try new things with your writing. Keep your inner critic away from your early process.
Give your zany, inner creative writer the chance to frolic, explore, and take risks. Scribble away with abandon, then go back later wearing your editor hat and tidy things up. You can't polish your golden nuggets if you don't write them in the first place because you're too afraid to branch out.
In school we're taught to stay in line, follow the rules, and memorize the right answer. But creativity isn't about looking for one right answer, it's about exploring possibilities. So grab your hang glider and your crampons—you've got some new horizons to explore!
Choose Your Battles Wisely: Don't Get Hung Up on the Morons
When faced with sexism or ageism or lookism or even really aggressive Buddhism, ask yourself the following question: "Is this person in between me and what I want to do?" If the answer is no, ignore it and move on. Your energy is better used doing your work and outpacing people that way. Then, when you're in charge, don't hire the people who were jerky to you.
Life is full of drama, y'all. There will always be haters on the sidelines telling you that you can't do what you're doing.
Maybe you're like Tina, breaking into a field where you're underrepresented. Maybe you're trying to climb the company ladder, or establish yourself as a freelancer. Whatever your reality, remember to choose your battles wisely.
You may feel threatened or hurt by the naysayers, but Tina's right, if that person is not a real obstacle then it's up to you to move onwards and upwards. Focus on your goals, and work to become an agent for change. You have a message and a mission that people need to hear, so don't let the morons and fuddy-duddies trip you up.