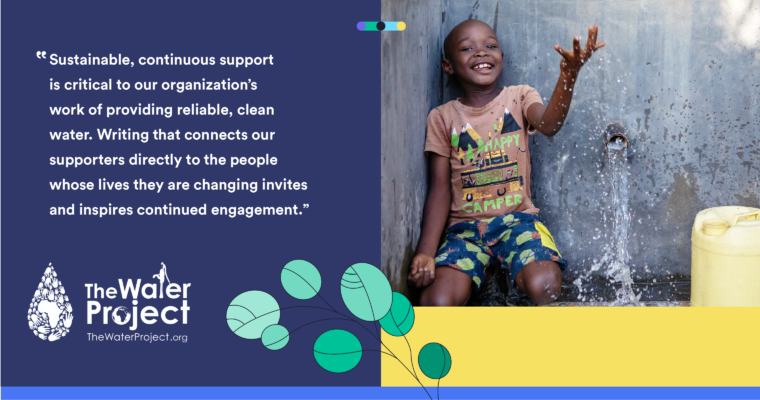 Actively engaging with communities in need to provide vital services—that's what nonprofits are focused on. There's nothing passive about it. So when organizations communicate with supporters and other important stakeholders, it's crucial that their writing conveys this sense of long-term engagement and continued effort. Writing that lacks urgency can give the impression that the work is over and done rather than ongoing.
This is one of the main reasons The Water Project, which provides reliable access to clean water and sanitation for communities throughout sub-Saharan Africa, uses Grammarly's tailored offering for nonprofits and NGOs.
Workers in the field send in reports about how current projects are delivering impact to local communities. With access to advanced writing assistant features and the team-focused administrative capabilities of Grammarly Business, the North America–based organization enhances its ability to take roughly translated texts and elevate them into compelling stories about how The Water Project is serving its mission. And that helps build closer connections with the organization's supporters. 
"Sustainable, continuous support is critical to our organization's work of providing reliable, clean water," says Peter Chasse, The Water Project's founder and president. "Writing that connects our supporters directly to the people whose lives they are changing invites and inspires continued engagement."
With such engaged supporters, the organization is able to lead 300 water projects every year while also providing ongoing support to more than 1,500 past projects. For each project, it produces multiple stages of reports—from problem assessment to proposed solution, construction to completion, moment of launch to impact one year in. 
That's an enormous amount of writing to cover with a small staff. Program officers Shannon Esrich and Tom Murphy are charged with producing captivating impact reports and stories—along with blog posts, newsletters, standards and training manuals, program evaluations, and other significant documents. Grammarly's product is a huge help in maintaining high output while keeping overhead costs down. 
"It's a crucial tool for nonprofits since we communicate so much in writing," says Murphy. "Nonprofits often have tight budgets and are short on time. The speed and ease of using Grammarly's writing assistant allows any organization to bring in a top-notch editor on a limited budget." 
Esrich similarly sees Grammarly's product as an essential time- and budget-saver. It helps her be confident in her work even before sending it to review—making the organization's collaboration that much more efficient. "I know Grammarly has my back," she says. "For any organization looking to level up their writing without adding staff or line items to the budget, it can serve as a highly effective and user-friendly alternative."
Get Grammarly's free offering for nonprofits.
Important missions need strong, clear communication.
The time the organization has saved by having access to Grammarly's offer for nonprofits and NGOs has even opened up distinct new opportunities. The Water Project has recently been able to release additional reports highlighting the experiences and perspectives of communities it serves in Kenya, Uganda, and Sierra Leone during the COVID-19 pandemic. 
Like so much of The Water Project's work, these reports are about creating bridges between people continents apart. As Esrich puts it: "Through my writing, I strive to amplify the stories of the people we serve and connect them to those reading on the other side of the screen."
Effectively building these bridges means finding ways to write about complex issues of international development or water, sanitation, and hygiene work for a broad audience—which requires detailed writing that is also as clear and direct as possible. That's crucial for delivering on The Water Project's mission—but it's not always easy. "I will, at times, write sentences or sections that are needlessly complex," says Murphy. That can be a problem "when trying to clearly communicate information to an audience that includes both experts and non-experts."
This is where Grammarly's advanced writing support has been essential. By offering suggestions to promote clearer, more engaging writing that is fine-tuned for the organization's particular audiences, the product gives The Water Project's staff that extra reinforcement it needs to create exceptional work, every time. 
It also helps them learn every day, continually building skills to deliver better results. "I have more feedback on my writing and am learning how to improve structure and tone," Murphy says. "As a result, I continue to improve at being more direct."
This brings it all back to the importance of writing in an active, not passive, voice. Every report, every blog post, every story from the field has one message in common: The Water Project has more work to do. It's an organization in motion, with further projects always on the horizon. It needs for its global team, community partners, and supporters all to feel engaged in the common goal of ensuring that every person has—and continues to have—access to safe, reliable water in every place it works. 
With Grammarly's support, it can ensure that this message is always coming across loud and clear.
Grammarly for Nonprofits and NGOs has already brought communication support to more than 1,400 organizations around the world—and is free through the end of 2020. To learn more, visit grammarly.com/nonprofits-ngos.