Grammarly teamed up once again with Geoff Foster, of The Wall Street Journal's "The Count" sports column. Previous studies, focused on the NFL and MLB, gained nationwide attention by putting sports fans' grammar to the test. The NCAA football season kicks off Thursday, September 3, so this time we set our algorithms to tackle college football fan grammar.
We focused on the teams selected in the 2015 preseason AP Top 25 poll. (The poll is a long-standing tradition that began in 1935.) We scoured comments on SB Nation's official college football team blogs and found out who's taking it to the end zone and who's turning it over on downs when it comes to spelling, grammar, and punctuation.
Alabama's Auburn Tigers scored a touchdown, ranking No. 1 with just .089 mistakes per 100 words. Interestingly, the lowest ranked team also hails from Alabama—the University of Alabama Crimson Tide got sacked, rolling in with an average 6.40 mistakes per 100 words. Universities with higher academic rankings didn't necessarily have fans with higher writing standards, either. For example, US News ranks Auburn at No. 103 in its 2015 Best Colleges report, but Auburn fans showed impressive grammar chops, edging out top-ranked colleges like Stanford (4) and Notre Dame (16).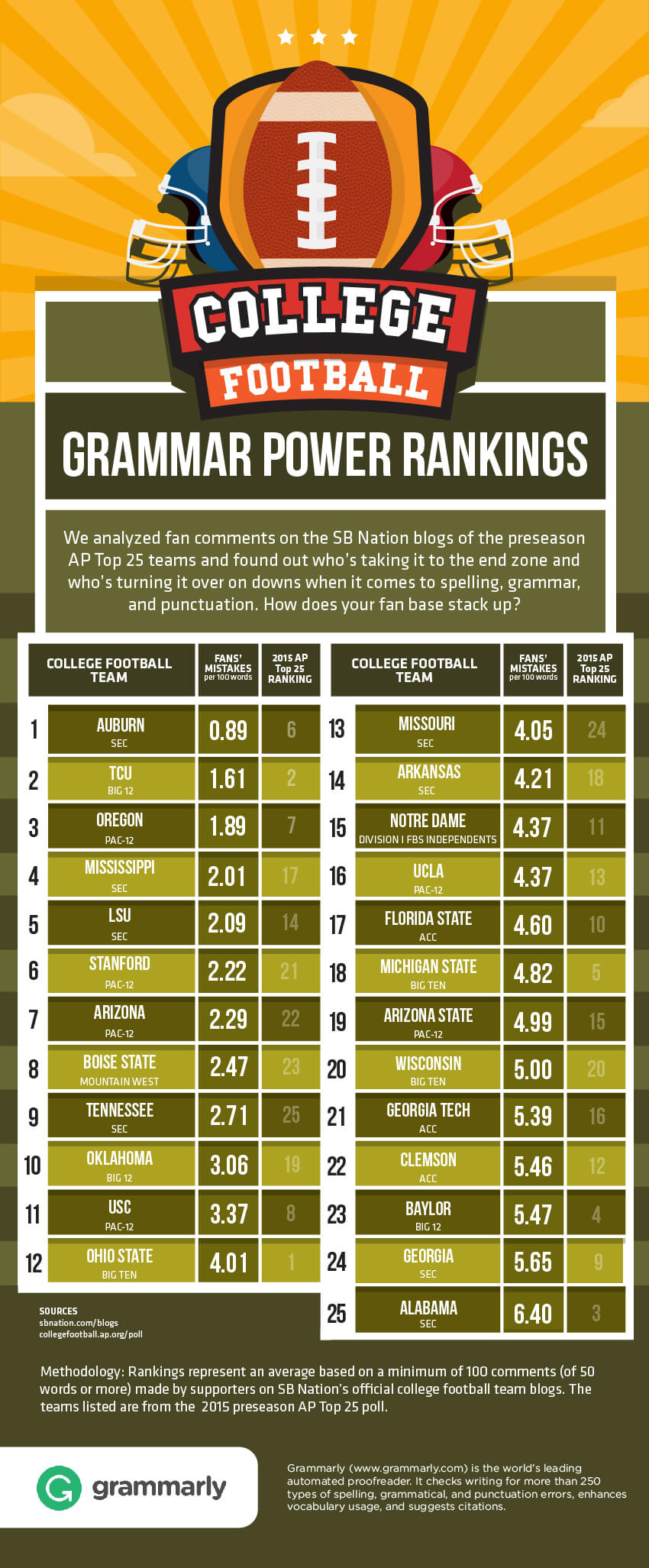 To share this infographic with your readers, embed this in your blog post by pasting the following HTML snippet into your web editor:
Please attribute this infographic to https://www.grammarly.com/plagiarism-checker.
Methodology
We began by taking the first five comments posted under each article on SB Nation's official college football team blogs until we had gathered a total of one hundred comments for each team. The comments all contained at least fifty words.
Using Grammarly, we identified the errors in the comments, which were then verified and tallied by a team of live proofreaders. For the purpose of this study, we counted only black-and-white mistakes such as misspellings, wrong and missing punctuation, misused or missing words, and subject-verb disagreement. We ignored stylistic variations such as the use of common slang words, serial comma usage, and the use of numerals instead of spelled-out numbers.
Finally, we calculated the average number of mistakes per one hundred words by dividing the total word count of the comments by the total number of mistakes for each college football team.