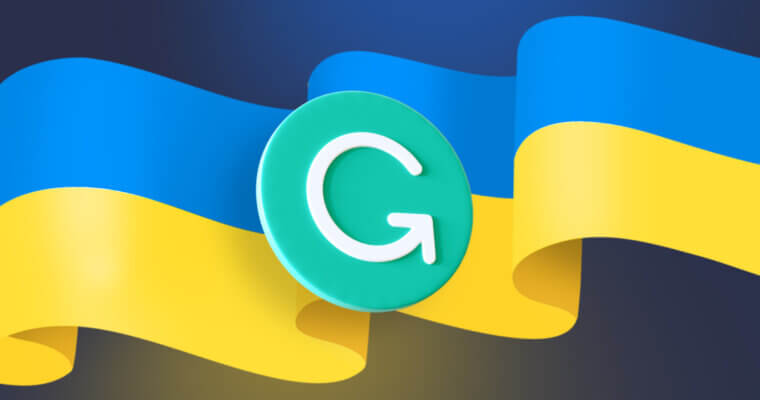 We are deeply saddened by the continued suffering caused by Russia's unprovoked war against Ukraine. As we reach the somber one-year mark since the onset of the full-scale invasion, Grammarly is unwavering in our solidarity with Ukraine. We are grateful to the many people and organizations that have joined us in taking action over the past year. We must all remain committed to supporting Ukraine's fight for freedom and peace. By sharing an update on our support, we hope to use our voice to bring continued attention and aid to Ukraine.
Even as we've grown into a global organization, we are proud to be Ukraine-founded and built, with many team members who call Ukraine home. It's an honor to witness the resilience of Ukraine and its people. Alongside the grief and loss, there's an unbreakable spirit and hope. I'm inspired by our colleagues in Ukraine who persevere through daily challenges with grit and adaptability. I admire the strength and bravery of team members who volunteer, fundraise, and serve in Ukraine's armed forces to defend their homeland. And I applaud the members of our global team for supporting their Ukraine coworkers in so many ways.
During Grammarly's talent show, our Head of ML and NLP Products, Timo Mertens, performed "Oi U Luzi Chervona Kalyna," an anthem of Ukrainian resistance. 🇺🇦

Join our team to support Ukraine by donating to our @u24_gov_ua fundraiser today: https://t.co/lpEbLbZOgb pic.twitter.com/xw6OhMb1IU

— Grammarly (@Grammarly) January 9, 2023
Ongoing support of our team in Ukraine, their safety, and their well-being remains our priority. Grammarly continues to assist our colleagues affected by the war. We provide financial and logistical help, equipment to reduce the impact of power outages, regular check-ins, and mental health support. We're grateful to be in a position to provide this support while maintaining our focus on serving our customers, including innovative product development.
While we hope the war ends very soon, the need for relief and rebuilding in Ukraine will endure for some time. We're honoring our commitment through continued action. This year, we're making financial contributions to address the critical needs of the Ukrainian people, supporting funds with Hospitallers and UNITED24, among others. We also believe in the power of community to increase our impact collectively. We recently concluded a fundraiser with the UNITED24 platform to purchase much-needed ambulances in Ukraine. To the donors worldwide who contributed to our fund toward four ambulances: We can't thank you enough.
Grammarly is dedicated to empowering people to drive positive change through effective communication, and we've sought to bring our communication assistance to essential work amid the war. We continue offering Grammarly Business for free to all nonprofits and NGOs in Ukraine. We also provide Grammarly Premium for free to media organizations in Ukraine that are courageously reporting on the facts of the war in English and helping to disseminate truthful information. We're humbled to support these many heroic efforts.
We believe in the future of Ukraine and look forward to the day when we can gather again in our vibrant hub in Kyiv. The demand for war relief is high—and so is the need to sustain hope. Learn how to help here. Slava Ukraini!