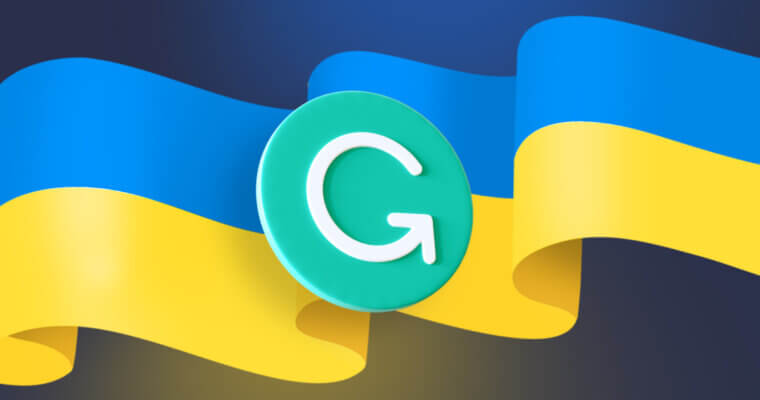 It has been two months since Russia began its unprovoked full-scale war against Ukraine. We're heartbroken over the suffering caused by the ongoing attacks. Since sharing our unwavering commitment to stand in solidarity with Ukraine in February, we've sought to use our voice and resources to support our Ukraine team members, family, and friends, as well as the country as a whole.
Grammarly has a deep, personal connection to Ukraine, where our company was founded 13 years ago. As Grammarly grew into a global company with operations across North America, we've proudly maintained a vibrant office in Kyiv, the local hub for our many remarkable team members. Amid the recent traumatic events, we're in awe of our Ukraine colleagues' resilience, strength, and compassion.
Our top priority has been the safety and well-being of our team members. We quickly activated our contingency plans to help our affected team members and their families remain safe; we've provided both relocation and ongoing financial support, including a year of paid leave to those joining Ukraine's armed forces. We are deeply grateful to be in a position to provide this while maintaining service continuity for our customers, continued innovation, and a strong business growth trajectory.
We're doing everything we can to help return peace to Ukraine. Grammarly quickly channeled help directly by funding organizations supporting the Ukrainian people and their defense. With $4.75 million already delivered, we'll fulfill our commitment to donate $5 million in the coming weeks. This totals the equivalent of all the net revenue Grammarly has earned from Russia and Belarus since the start of Russia's war in Ukraine in 2014. We've suspended service to those countries as well.
At Grammarly, we believe in the power of effective communication to drive positive change. Our mission to improve lives by improving communication is more critical than ever, and we're proud to help our growing customer base achieve their goals while staying steadfast in our support of Ukraine and its people. Grammarly Premium remains free to all nonprofits and NGOs doing essential work worldwide, including 215 Ukrainian organizations currently using our service. We champion their heroic efforts and are humbled to help how we can. We are also offering Grammarly Premium for free to media organizations in Ukraine, courageously reporting on the facts of the war in English and helping to disseminate truthful information.
We'll also continue to encourage others to learn about how they can show solidarity with Ukraine. In a matter of days, we created a landing page with a list of organizations that aid Ukraine causes and added a message in our product to direct people writing about the war to resources for helping Ukraine. Through these resources and an updated Grammarly logo, reflecting the Ukrainian national colors of blue and yellow, we're sending a clear message that we #StandWithUkraine and invite others to join us.
We're inspired every day by our Ukraine team members, who demonstrate incredible strength and grace as they carry on, whether by parenting, protesting peacefully, defending their homeland, or helping those in the greatest need. Our team members' remarkability is at the heart of our success as a company, making it possible for us to be in the position to support their health, safety, and well-being while ensuring strong growth and stability for our entire global team. Grammarly remains committed to Ukraine, and we will be there to help our team members return home and rebuild the thriving Kyiv tech scene. Ukraine is where our heart is.